Click to enlarge: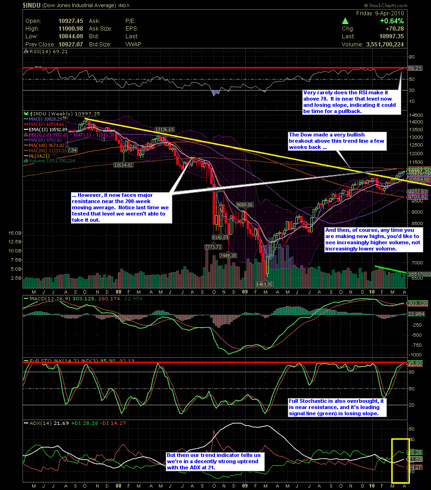 Bullish Arguments:

1. The Dow has broken it's long-term trend line which has very bullish implications for the longer-term.

2. The Dow's ADX indicator indicates the Dow is in a decently strong up trend. However, this, too, should be applied more towards the longer-term.

3. The Dow's 50- and 100-week moving averages have undergone a Golden Cross. This is also a longer-term bullish indication.

Bearish Arguments:

1. The Dow's RSI indicator is near historical resistance and is losing slope (strength).

2. The Dow is nearing its 200-week moving average, a level we were not able to break above last time we tested it. Additionally, it is approaching this level on lower volume, which is never what you want to see when you're rooting for a big break out above resistance.

3. The Full Stochastic indicator is overbought, near historical resistance, and losing slope (short-term bearish).

Summary:

In sum, the bullish arguments are all geared towards the longer-term while some of the bearish arguments are geared towards the shorter-term, causing me to be bearish right now but bullish overall (i.e. we need to see a pullback before we continue to make new highs, in my opinion).
The only real skepticism I have from a technical standpoint for the longer-term is our decreasing volume. However, if we saw a pull back to 10,500-10,600 or so, which I think would be healthy, profit takers would all be able to buy back in at lower prices, but with more money, effectively giving us the increase in volume that I think we need to break above the 200-week moving average.

Disclosure: n/a