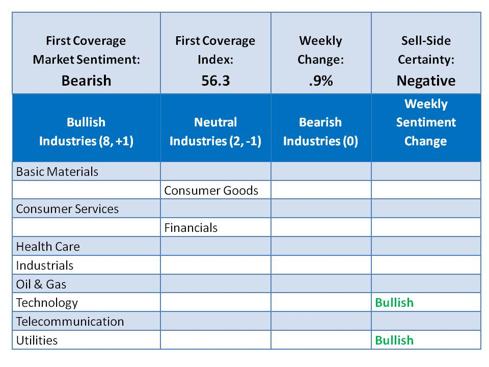 Markets and Sell-side Sentiment Post Small Gains Ahead of 1Q Earnings Season
Markets Fall Short Last Week on Major Milestones
Even though the gains last week for the major equity indexes were modest, the encouraging thing is that they continue their seemingly relentless advances, disappointing the many who think at least a technical pullback or even a full blown correction is in order. The successful auction of the 10-year notes was probably the highlight of the week for equity markets, although, the markets were not confronted with much in the way of economic news during the week. Even a well above expectations 9% rise in retailer's same store sales didn't seem to impress the market much.
The theme last week was all about milestones … sort of. Investors were watching to see if the equity and bond markets would hit any of the three psychological milestones they were approaching. Investors had visions of the yield on 10-year Treasury notes hitting 4%, the DJIA reaching 11,000, and maybe even the S&P 500 topping 1,200. The markets briefly touched two of the three but could not hold above the milestones.
After a weak auction for 10-year notes two weeks earlier and the yield rising to 3.91% the prior week, the Treasury had a very successful auction on the 10-year last week. It was the strongest demand for an auction since 1994. The yield did peak at 4.01% during trading last Monday but closed the week out at 3.89%. The DJIA briefly topped 11,000 in intraday trading on Friday, but closed at 10,997. That was only a 0.6% gain for the week, but it was the sixth straight week to show a gain.
Sell-side Sentiment Trends Show Signs of Turning Positive
Last week saw a reversal in the raw data for First Coverage's overall sell-side sentiment. However, the rise was not enough to reverse the bearish trend established by declines in the sentiment numbers for the prior three weeks. That means this could be a pivotal week for sell-side sentiment direction. Another factor in last week's sentiment data that indicates overall sentiment could shift to positive is that sell-side sentiment for eight of the 10 Dow Jones industrial groups showed increases of greater than 1%. In each of the prior two weeks, sentiment declined for seven of the 10 industry groups.
The only two industries that showed a sentiment decline last week were Consumer Goods and Consumer Services. Sentiment for both also declined in the two prior weeks. All of this may only be noise in the data, but even minor trends in these two industries deserve close attention over the next few weeks. Consumer spending is one of the main fundamental uncertainties that investors are currently focused on.
Focus Next Week on Earnings, but Economic Data may be the Big Story
This week investors get a sip from the 1Q earnings cup. Only a handful of companies will report, but there are a few that may shed light on the economy: Alcoa (NYSE:AA), Intel (NASDAQ:INTC), JP Morgan Chase (NYSE:JPM), CSX (NYSE:CSX), Bank of America (NYSE:BAC), and General Electric (NYSE:GE). Not enough reports to get much of a handle on how earnings may do relative to expectations.
Thomson Reuters puts the consensus of industry analysts for S&P 500 companies at 37%, slightly above expectations at the beginning of the quarter. Usually, the consensus estimate declines a few percentage points during the quarter. Pre-announcements always have a negative bias, but the ratio of negative to positive preannouncements for the quarter is at 1.2, far less negative than the 2.1 norm. With estimate changes and pre-announcements running more positive than normal, expectations are running high that overall earnings will beat the final estimates by far more than normal.
The 37% gain sounds big, but not unrealistic since it is comparing to such a depressed year ago number. However, with such great expectations, any disappointments would be devastating for the market. There is a possibility that the market is already discounting that earnings will outpace the published estimates and that they will show a great headline number for the year-over-year gain. That means this could be one of those times the market could sell off a bit on a barrage of good news.
Having said earnings are likely to be good for 1Q, the earnings reporting season does not really get underway on a meaningful basis until the week of April 19th. This week is a big week for economic data, so those reports may have more impact than the earnings reports for the week. On the important consumer spending issue, we get some insights via retail sales and University of Michigan consumer sentiment. Retail sales are likely to be strong given the strong same store sales announced by many retailers last week.
Housing
Maybe the most important economic data next week is housing starts. There is still some uncertainty whether the housing industry may experience a double dip. Last week's report that pending home sales rose a more than expected 8.2% from January to February may foreshadow starts will show more than the estimated gain of 6% from February. Although inflation does not appear to be a problem, the CPI and capacity utilization reports deserve attention. Manufacturing reports include industrial production and the Philadelphia Fed report. Only very modest gains are expected for both, so surprises may be on the up side.
One thing missing for the week is Secretary Geithner's appearing in front of Congress to declare whether China is a currency manipulator or not. He was required to do so on April 15th, but the White House has postponed it. A decision by China in the interim to revalue its currency could give the markets a big shot in the arm.
Telecomm Continues to be Only Industry with Strong Upward Trend in Sentiment
Despite a little hiccup a few weeks ago, the Telecom industry stretched its upward sell-side sentiment trend to almost three months. Even though only the Financials and Consumer Goods industries have lower sentiment data than Telecom, the strong 18% recovery in sentiment from mid-January should begin to have some impact on market prices for the industry. Telecomm just can't seem to get any respect despite the rising sentiment. The 4% price decline year to date makes it the poorest performing industry.
Potential that Sell-side Sentiment for Technology could be Reverting Back to an Upward Trend
A week ago, we said the Tech industry had joined other industries in not being poised for an upside breakout in sentiment trend. A healthy 3% rise in sentiment may be a hint that sentiment for Tech may be reversing the one-month downside breakout from the bottom of its prior three-month upward trend. A good earnings report from Intel this week could add fuel for another upward move in prices for the industry. Last week prices rose 2.0% for the Dow Jones Tech index and 2.1% for NASDAQ, outpacing the broad indexes, maybe indicating the market is expecting good earnings for Intel and the Tech industry in overall. Tech continues to be the industry with the highest absolute sentiment data.
There was also a slight upturn last week in sentiment for Basic Materials. Sentiment was up a meager 2% last week and only 1% the week before. Given the high volatility in sentiment for Basic Materials, it is hard to put much stock in such small changes.
Sell-side Sentiment Remains Weakest for Financials
Even though sell-side sentiment for Financials rose 2% last week, the industry continued their five month decline, even though prices have had a two-month breakout on the upside. The risk of an earnings disappointment could be a problem for this industry, since earnings are so difficult to predict. No question that the steep yield curve enables banks to coin big profits, but writedowns could be a drag. The Financial industry has the lowest absolute sentiment data.
Consumer Services has the second highest absolute sentiment data, but it took a 2% hit last week. The industry has been in a six-week downtrend, after a 17-month uptrend. Prices for the industry have been on a 13-month uptrend, with a very sharp and steady rise the last two months. Maybe the recent fall off in sentiment may be indicating prices for the industry are due for a correction.

Stocks to Watch
Over the last week, the following stocks had the largest bullish and bearish sentiment shifts amongst the sell-side.
Bullish: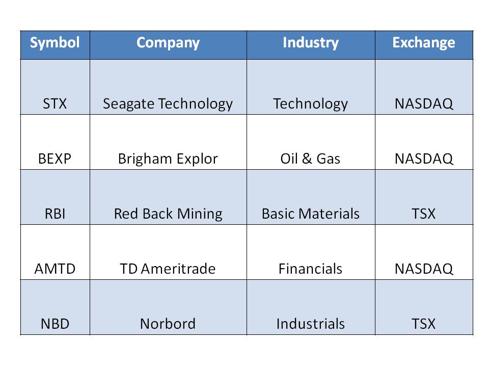 Bearish: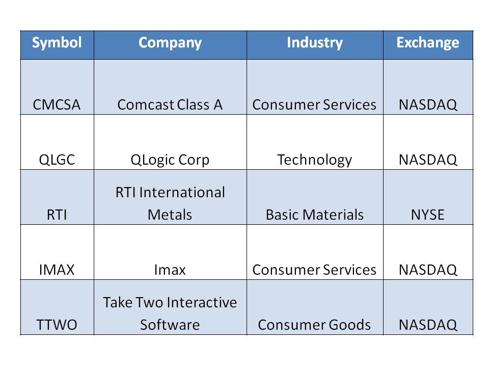 Until next week...
Disclosure: No positions

Derived from the aggregated analysis of thousands of actual trade ideas and data being sent in real-time from the sell-side to the buy-side, the First Coverage Weekly Street Sentiment provides a snapshot of market trends and a unique perspective of the mindset of the Street for the week ahead. The following data has been extracted directly from all information transmitted in the past week by sell-side representatives from more than 300 firms submitting information to portfolio and asset managers worldwide via the First Coverage platform.
Disclaimer: First Coverage's Weekly Street Sentiment ("WSS")is derived from sources believed to be reliable, but which we furnish "AS IS" and "WITH ALL FAULTS." We do not warrant or guarantee the suitability, timeliness, sequence, accuracy, or completeness of WSS. THERE ARE NO WARRANTIES OF ANY KIND, EXPRESSED, IMPLIED OR STATUTORY(INCLUDING, WITHOUT LIMITATION, SUITABILITY, TIMELINESS, TRUTHFULNESS, SEQUENCE, ACCURACY OR COMPLETENESS), ANY IMPLIED WARRANTIES ARISING FROM TRADE USAGE, COURSE OF DEALING, OR COURSE OF PERFORMANCE, OR THE IMPLIED WARRANTIES OF MERCHANTABILITY OR FITNESS FOR A PARTICULAR USE OR PURPOSE. THERE ARE NO WARRANTIES, EXPRESSED OR IMPLIED, AS TO THE RESULTS TO BE OBTAINED FROM USE OF WSS. Any analysis, observation or other opinion that WSS may contain is, and must be construed solely as, a statement of opinion and not a statement of fact, indication of preference or recommendation of any nature. Content contained in WSS is not intended to and does not constitute investment advice and no investment adviser-client relationship is formed.