The United States and Europe are back on track for a profitable 2014, with GDP growth estimates of 2.5% and 0.8%, respectively. With all the attention on the U.S. and Eurozone recovery, the Asian economies are offering some bargains. China's GDP is expected to improve from 7.7% to 8.1% this year while Japan should tread water at 1.8%. India has been a laggard for 2013 but the worst could be over as GDP expectations for this year are around 5.5% growth with more than 6% expected by 2015.
China
The U.S. and Europe have shown improving prospects, which are important to China's export business - a central piece of China's economic growth over the past 20 years. Infrastructure spending for 2014 is another factor driving Chinese growth with urban development programs and transportation projects planned as major new investments. The final piece of the puzzle for China is the growing middle class and developing consumer culture. Incomes are rising and by 2022, the middle class is projected to be around 75% of all urban households, which amounts to around 630 million people or more than double the entire population of the U.S.
China Life Insurance Company, Inc. (NYSE:LFC) is an $85 billion state-run financial and insurance giant that represents a play on the growing Chinese middle class. The stock trades at 29 times earnings but has a PEG ratio of just 0.58 thanks to an expected five year EPS growth rate of nearly 50%. Quarterly earnings growth year over year is 67% and carries little to no long term debt. The company is expanding into the private equity market which could hold huge potential for interested investors.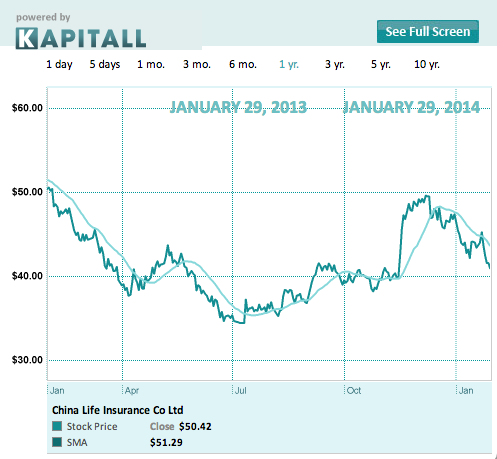 Click here to see data in full. Sourced from Zacks Investment Research.
Japan
Japan has been a bit of an investment wasteland for more than a decade, but thanks to "Abenomics," an economic plan designed by Prime Minister Shinzo Abe, that era could be coming to an end. The decline of the yen against the U.S. dollar should make Japanese exports more competitive, while aggressive quantitative easing by the Bank of Japan is targeting an inflation rate of 2%. Only time will tell if these policies will be enough to combat growing government debt and an aging demographic.
The $26 billion Japanese conglomerate Mitsui & Co. Ltd. (OTCPK:MITSY) looks undervalued, trading at only 6 times earnings. EPS growth estimates for the next five years are expected to be over 48% giving the stock a PEG ratio of an astounding 0.13. It's trading at less than its book value of $305.95 and at a price-to-sales ratio of 0.47. The average analyst price target is $625 - a discount of 123% from current price levels.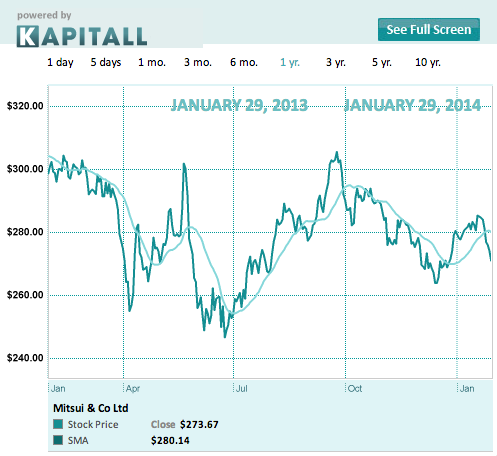 Click here to see data in full. Sourced from Zacks Investment Research.
India
Considered one of the BRIC economies, India has struggled mightily since 2011. Inflationary concerns and political turmoil have created strong headwinds for the economy, but the storm could be abating. The rupee is stabilizing and the country is looking to its export business as the leading factor in an Indian recovery going forward.
Tata Motors Ltd. (NYSE:TTM) is a $20 billion Indian auto manufacturer to consider, trading at a deep value of less than 10 times earnings. Quarterly earnings growth year over year is 69% and the stock has a PEG ratio of just 0.43. Perhaps the best growth story in Tata Motors comes from the acquisition of Jaguar Land Rover. 2013 was a record year for Jaguar Land Rover with sales of over 425,000 vehicles worldwide and the announcement of a Jaguar crossover planned for 2016. Investors should look for JLR to continue to pull Tata Motors forward.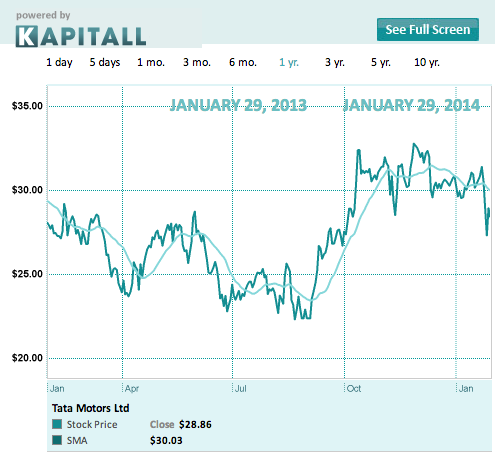 Click here to see data in full. Sourced from Zacks Investment Research.
Investors interested in Asian markets and stocks based in those countries should keep an eye on the value of the dollar relative to each country's currency. Foreign exchange risk can eat away at potential gains in overseas markets. The yen and rupee have seen double digit movements in relative value in the past year, and while beginning to stabilize, could be thrown back into volatility due to economic or political pressures.
Disclosure: I have no positions in any stocks mentioned, and no plans to initiate any positions within the next 72 hours.
Business relationship disclosure: Kapitall is a team of analysts. This article was written by Daniel Cross, one of our writers. We did not receive compensation for this article (other than from Seeking Alpha), and we have no business relationship with any company whose stock is mentioned in this article.