Once upon a time, when a company made an acquisition, investors weighed the pros and cons of the deal (otherwise known as risk/reward). Since the Federal Reserve began manipulating rates down to record lows in the summer of 2011, a handful of pharmaceutical and healthcare companies have been on a buying rampage and investors have rewarded them. However, as record low interest rates have rebounded over 100 basis points over the past 9 months, the momentum in these stocks has not relented. What, if anything, can stop them from continuing on what has been an almost parabolic move up?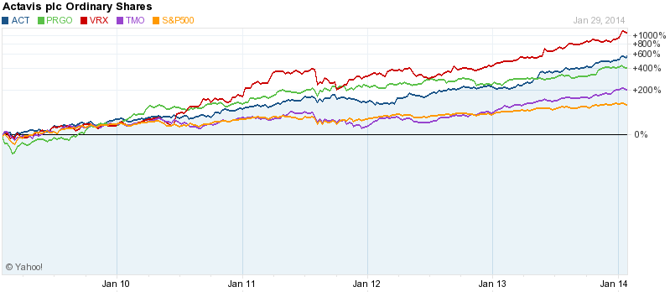 | | | | |
| --- | --- | --- | --- |
| | Adjusted *PE | UnAdjusted *PE | EV/FCF** |
| Actavis (NASDAQ:ACT) | 20.2x | 81.7x | 23.4x |
| Perrigo (NASDAQ:PRGO) | 25.4x | 33.0x | 33.4x |
| Thermo Fisher (NYSE:TMO) | 21.4x | 33.2x | 22.5x |
| Valeant Pharmaceuticals (NYSE:VRX) | 22.3x | NM | 39.2x |
*TTM **FCF = Net Income + D&A - Capex
To start with, all of the above listed firms have executed a great number and dollar amount of deals. This is not to say that none of the deals make financial sense. In some instances, the parent company makes purchases that fit in well with its current line of business, while in others acquisitions are made largely in the name of tax savings (domicile). Whatever the reason is, if the acquisitions were accretive on a GAAP basis, why report adjusted earnings instead of GAAP earnings? For as long as I can remember, companies have reported adjusted earnings, however, these adjustments were to make comparisons with prior periods easier, not to imply that earnings were better then what was being reported. Additionally, adjustments were for one-time items such as severance, plant closures, etc. When investors are looking at companies who make clear that they are looking to buy as many other companies as possible (as all of these are), it makes no sense to exclude transaction costs.
All of the above companies exclude acquisition related amortization from their Non-GAAP figures. In fact, it is typically the single largest differentiator between GAAP and Non-GAAP figures. For companies whose management teams are determined on growing through acquisition, this practice makes no sense. I suppose that it makes sense for the management teams. The average investor perceives their earnings as being higher than they are and are willing to pay a higher price, which in turn, makes management more wealthy through its ownership of stock options. While one could argue management is guilty of attempting to manipulate share price, the real tragedy here is that sell-side analysts and buy-side institutions are complicit in this practice. If asked, these parties will reason that amortization should not be included as an expense because it is non cash: this argument is without merit. When these companies report earnings, they include the benefit from sales and profits from the operations they purchase, so its stands to reason that the cost of purchasing the business needs to be included as a cost as well. The money didn't fall out of the sky. They had to raise capital or use internal funds to make the acquisition, thus making it a cost.
Transaction Characteristics Since January 2010
| | | | | |
| --- | --- | --- | --- | --- |
| | # of Transactions | Total Dollar Amount** | *Market Capitalization** | Market Capitalization Today** |
| Actavis (generics) | 8 | 15.1 | 5 | 32.5 |
| Perrigo (OTC generics) | 10 | 11 | 3.8 | 14.6 |
| Thermo Fisher (life science materials) | 12 | 23 | 18.8 | 41.7 |
| Valeant (dermatology & optometry) | 23 | 10.6 | 3.6 | 45.5 |
*January 2010 ** In Billions
These companies appear to be taking advantage of low interest rates to consolidate their respective sectors. I will not deny that there are advantages to this strategy, namely cost synergies and greater purchasing power with vendors. However, the healthcare space is different from other areas of the economy (excluding technology) in that it requires constant innovation. When research labs are combined, there is often a great deal of innovation lost, which ultimately drives sales.
In pricing shares of companies participating in ongoing consolidation at a premium to the market, investors are failing to price in the risks inherent in this strategy. Aside for the potential of lost R&D innovation, there is no certainty that the businesses they are buying will be successful over the long term. Meanwhile, the companies have already laid out billions of dollars on a bet that they will be. These companies are all saddled with billions of dollars in debt. If their businesses or the macro economy hit a rough patch, that gives them less breathing room.
The biggest chunk of spending for many of these deals was done when interest rates were at or near a record low. When these companies need to refinance their debt, they will likely have to pay a greater rate of interest. As interest rates have gone up, getting a deal done economically will be increasingly difficult. It's possible (even probable) that much of the reason shares of these companies have gone up is their constant deal making. If they are no longer making deals at the same pace, it could hold shares back. Finally, with the large volume of deals they've done to date, it is improbable that there are any large targets to fuel their M&A appetites going forward.
While we realize the benefits of consolidation, we find that investors are not properly pricing in risk at the above cited valuations. When the acquisition pipeline dries up eventually, which it will, investors will be left to value these companies based on their operations instead of the hope of perpetual growth through acquisition. This should bring valuations more in line with the market.
Disclosure: I am short PRGO, ACT, VRX, TMO. I wrote this article myself, and it expresses my own opinions. I am not receiving compensation for it (other than from Seeking Alpha). I have no business relationship with any company whose stock is mentioned in this article.