Enbridge Energy ((NYSE:EEP) and (NYSE:EEQ)) just opened one of the largest capital projects ever for a MLP (Master Limited Partnership). The Alberta Clipper project involved construction of a 36-inch diameter, 1,000 mile heavy crude oil pipeline from Alberta, Canada, to Superior, Wisconsin. It will have an initial capacity of 450,000 Bpd and allows for expansions up to 800,000 Bpd by adding pump stations. Enbridge reported two months ago that tariffs were filed with appropriate regulators in the US and Canada for service beginning on April 1st.
Enbridge has two principal divisions: crude oil (liquids) transportation and storage for natural gas midstream services. The liquids group is the largest, moving heavy crude petroleum liquids, oil from shale in Alberta, Canada, to the upper midwest in the US and Ontario, Canada. The Company entered the midstream natural gas business in 2001 with a focus on the mid continent and the Gulf Coast, which are active natural gas producing areas. Its core basins are: the East Texas Basin, the Fort Worth basin and the Anadarko Basin.
EEP has been a steady performer in the last decade. The units have been pretty much steady, trading between 45-55, while EEP kept its distribution flat at $3.70. Then they dropped in half during the financial crisis only to recover back to their longer term trend lines. Enbridge has a conservative bias on raising distributions. In 2007, EEP increased its annual distribution rate to $3.80, followed by another increase to $3.96 in 2008, where it has since remained. Given the Company's very large capital programs, not to mention its description of 2010 as being a challenging year, distribution increases will probably be limited.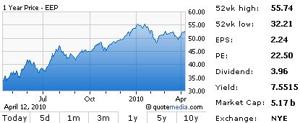 However, the yield is 7.6% on its units (and shares) and the securities have a low beta. Enbridge Energy is one of 2 MLPs with 2 classes of equity securities. Besides the traditional units with tax hassle, Enbridge Energy created Enbridge Energy Management (EEQ). This corporation owns units, as each share is backed by one unit in the limited partnership. When a distribution is paid, the corporation pays a comparable stock dividend based on the value of the distribution. The shares track price movements of the units. Since EEQ is a corporation, which pays no dividends with money, no 1099s are needed and these shares should be retirement account friendly.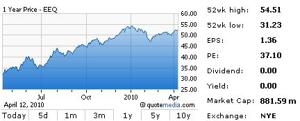 The expansion and completion of the Alberta Clipper project is impressive because of its very large size and the fact that it was done at a time of great financial stress. Enbridge Energy is moving forward and has an excellent future.
Disclosure: No positions