As a leader in money movement and payment services, Western Union (NYSE:WU) operates through a global network that encompasses over 200 countries. It estimates that over two billion people (roughly 28% of the world's population) are either unbanked or under-banked, and this is a lucrative market that the company targets. It's estimated that the unbanked market in just the U.S. is worth over $78 billion.
The wrong side of history?
While the company enjoys a diverse and incredibly valuable customer database as of now, times are changing. Western Union is currently the largest international money transfer company, but its moat is being tested by emerging technologies and competitors. The company will need to leverage its current moat with new technologies going forward.
Competition from peer-to-peer electronic payment providers such as PayPal (owned by eBay (NASDAQ:EBAY)) and the emergence of mobile payments are all potential disruptors of Western Union's core business. Even new e-currencies like Bitcoin (BITCN) could be potential threats. So could start-ups, who have poured in millions of dollars into businesses that aim directly at Western Union's throat. A senior analyst at Forrester, Denee Carrington summed it up by stating that:
"Establishing an infrastructure to operate legally and efficiently in a variety of countries will take some doing for startups... But Western Union can't just count on the fact that it's hard to insulate them forever."
Big banks are also emerging as a threat. Many are issuing prepaid cards and forms of debit cards targeting the "unbanked". Even Wal-Mart (NYSE:WMT) wants in on the action with its Bluebird "checking and debit alternative", a product launched in conjunction with American Express (NYSE:AXP).
Increasing scrutiny and legal pressures
Federal regulators are planning to crack-down on large international money transfer firms, including Western Union. The feds want to examine activities and insure that money transfer firms comply with new consumer protections and international regulations. This could be a potential headache going forward.
Another issue currently plaguing Western Union involves litigation. A federal securities fraud class action suit has been filed against the company, alleging that the Securities and Exchange Act of 1934 was violated between February 2012 and October 2013 when it made materially false and misleading statements to investors, failing to disclose certain facts related to difficulties the company was facing at the time. This is another potential upcoming headwind Western Union might have to deal with.
Going forward
Pushing past some of the negatives, Western Union still has a large moat and huge customer base. It is also fully aware that it needs to position itself for the digital age. Internally, it already processes an average of 28 transactions per second digitally. Its size and scale allow it the time to expand its digital presence as well.
Even though very little of the company's business is done online as of now, it's looking to expand its revenues from electronic channels to around 10% of overall revenues by 2015, up from the 5% it sits at now. Margins for electronic transactions are lower than those done in its physical stores, but management expects them to expand in 2015 as well. This is the company's fastest growing business, and according to CEO Hikmet Ersek, 80% of customers new to westernunion.com were also new to the franchise.
Western Union also has technology that it's using to help avoid some of the potential regulatory risks that might arise in the future. It's regulatory compliance system (a proprietary system developed over decades) ensures that transactions comply with the "many layers of federal, state and local regulations", while also generating a risk profile for both transactions and individuals. All of this is done in less than a second. CIO David Thompson explained that the system "is a significant barrier to entry to our industry".
Another growth outlet opening up in 2014 involves a partnership with Walgreen (WAG). Western Union will be adding its consumer money transfer and bill payment services to the chain of drugstores-- currently a network of over 8,000 locations. Other additions include an expansion of direct-to-bank services to China, a tough market to crack for companies like Visa (NYSE:V) and MasterCard (NYSE:MA), which will include mobile and money transfer services.
Cheap Valuations
The company has been experiencing tough times ever since a weak quarter dropped shares. Short interest has also ticked up.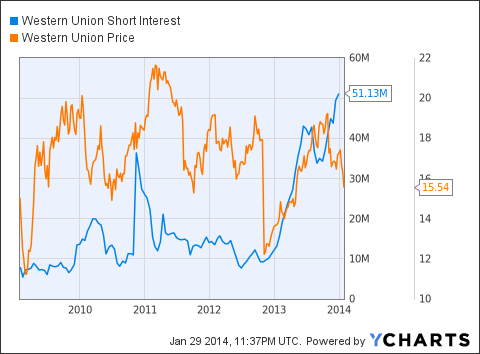 WU Short Interest data by YCharts
As a result, it looks like Western Union is sitting in the bargain bin. Shares also appear to be oversold. Shares trade at just 10.28 times trailing earnings and 10.78 times forward earnings.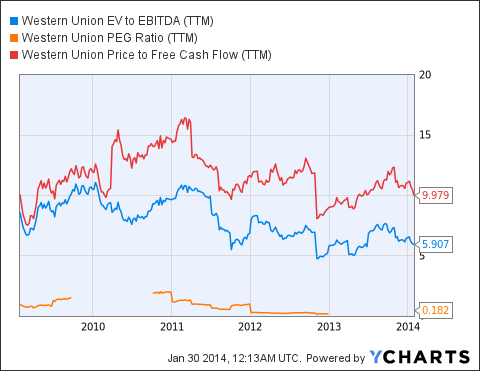 WU EV to EBITDA (TTM) data by YCharts
The company also pays out a decent dividend, with its yield on the higher end when looking over a period of ten years.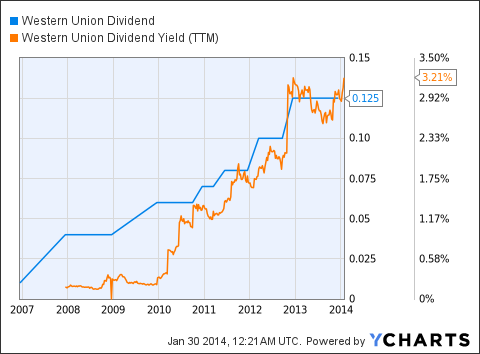 WU Dividend data by YCharts
A dividend raise might not be in the cards, however, as a temporary cash crunch has led management to voice some concerns during the most recent conference call. Regarding the company's buyback situation, Western Union's CFO Scott Scheirman explained that:
So it's going to be much less than the $400 million that we're targeting for this year. And probably -- an important point is that 75% of our cash flows, roughly our $1 billion cash flows, are international cash flows. And then we also have a goal to keep our desired investment-grade credit rating. So with all those things, it does provide some limitations for 2014 with buyback. But there could be some modest debt capacity there, too.
A continued dividend freeze isn't a certainty at this point, but it's a possibility if the cash-concerns related to the buyback are any indication.
The bottom line
I wouldn't buy Western Union for an increasing stream of reliable dividends, but it's definitely a credible turnaround story. The company's moat is still intact and management recognizes where it needs to position itself going forward, aggressively growing its electronic presence. Throw in its cheap valuations and Western Union looks like an interesting value play, but it will also continue to face some headwinds and risks going forward as well.
Disclosure: I am long WAG, WMT, V. I wrote this article myself, and it expresses my own opinions. I am not receiving compensation for it (other than from Seeking Alpha). I have no business relationship with any company whose stock is mentioned in this article.