Apple (NASDAQ:AAPL) announced its earnings for the first quarter of 2014 and the stock declined nearly 8% within a day, despite the company's excellent performance. According to the management team, the company had a record quarterly revenue of $57.6 billion, net profit of $13.1 billion and earnings per diluted share of $14.50. In terms of unit sales, Apple sold a record 51 million iPhones and 26 million iPads during the quarter. In this article. I want to suggest that the market might be behaving irrationally in pricing Apple's stock and that its stock should worth significantly more than its current price at $506.50, as of Jan. 28, 2014.
The Market's Irrational Valuation of Apple
At the time of writing this, Apple has these valuations compared to its major competitors and similar technology companies (see below image):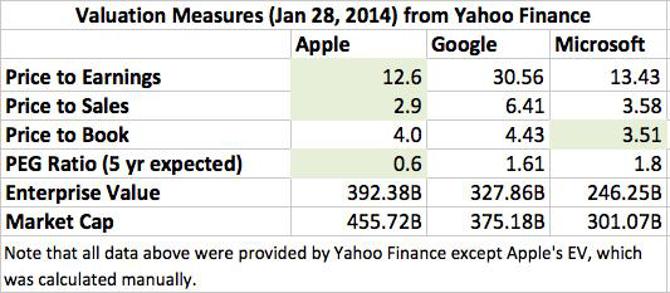 Note: Samsung's (OTC:SSNGY) data is unavailable as it is not traded in North America.
There are many ways to evaluate a stock to determine whether it is undervalued, fairly-valued or overvalued. Based on the most common valuation metrics (Price to Earnings, Price to Sales, Price to Book and Price/Earnings Growth Ratio (PEG)), Apple is priced lower than Google (NASDAQ:GOOG) and Microsoft (NASDAQ:MSFT). While Apple has the largest market cap, its PEG of 0.6 shows that it is undervalued. A PEG ratio of 1.2 (from Morningstar) is probably more reasonable since Apple's earnings-per-share growth has slowed down in the past two years. Other metrics also show that Apple's current stock price is undervalued relative to its competitors.
If we consider the amount of growth potential that Apple has (e.g. Apple HDTV, iWatch, bigger screen iPhone 6, iPad Pro, iBeacon, China Mobile's iPhone deal, etc.), I am sure that most readers would agree that Apple's current stock price at around $506.50 is greatly undervalued. This is why billionaire investor-Carl Icahn-increased his Apple holdings to about $4 Billion after adding $500 million worth of shares after the stock dropped nearly 8% on Jan. 28, 2014. The market is clearly irrational in pricing Apple's stock even though Apple had a great quarter with record sales of iPhones and iPads.
A Fair Valuation of Apple
As an investor who likes to invest in great companies that are undervalued, I have estimated Apple's current intrinsic value (fair value) using a Discounted Cash Flow Model.
I have used three scenarios-fair, conservative and optimistic valuation-with different average growth rates for each.
Free cash flow is defined as operating cash flow minus capital expenditure.
Terminal value is 10 times of 2018's estimated free cash flow.
Discount rate is assumed to be 7.5%.
Shares outstanding is based on the latest Q1, 2014 financial report.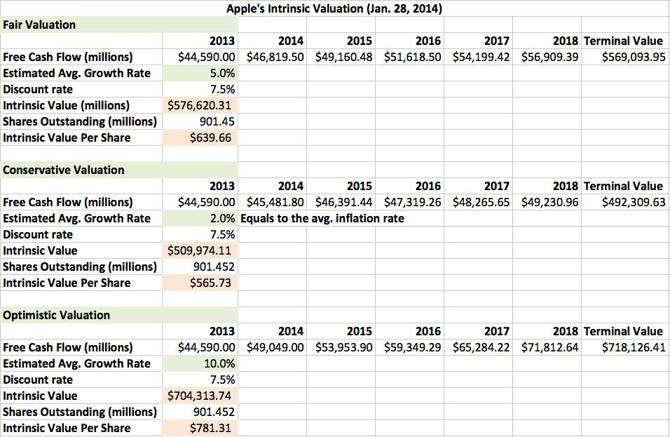 Based on my Fair Valuation, Apple should be around $577 billion in market cap or $640 per share. Based on my Conservative Valuation, it should be around $510 billion in market cap or $566 per share. And based on my Optimistic Valuation, it should worth around $704 billion in market cap or $781 per share. I believe that the fair valuation is the most probable scenario considering that Apple's revenue growth rate is lower than before. Its revenue growth rate should increase once it releases a new product category such as the Apple HDTV or iWatch.
The Bottom Line
Apple's stock is clearly undervalued and the market is irrational in its valuation. Since Apple still has a lot of growth opportunities in the iPhones, iPads and its to be announced new product categories, I believe that it will only be a matter of time before the company increases above $577 billion in market cap or $640 per share. As Warren Buffett once stated, "If a business does well, the stock eventually follows."
Source: Data was from Yahoo Finance, Morningstar and Apple's Q1, 2014 finanical report. This article we originally published in Intelligent Stocks.
Disclosure: I am long AAPL, GOOG. I wrote this article myself, and it expresses my own opinions. I am not receiving compensation for it. I have no business relationship with any company whose stock is mentioned in this article.