What do the winter Olympic games in Sochi and the world's food supply have in common? Both are subject to the business-as-usual corruption, intrigue and graft in Russia. The Sochi Games have cost a mind boggling $51 billion -- five times as much as the next most expensive games -- though it's hard to say they'll be five times better. Meanwhile potash is a key input in the fertilizer used to grow most crops on the planet, from Kansas to Kathmandu, and the Russian-Belarusian cartel Belarusian Potash Company (BPC) controlled over 40% of global production, keeping prices high and profits predictable -- until last summer.
Then in July 2013 BPC fell apart when the Russian half of the cartel accused the Belarusian half of breaking their agreement. (The Belarusians said the same about the Russians.) It came as no surprise to those who know Putin when the President's fingerprints appeared on the spectacular implosion of BPC. In a move that seems more at home in a John le Carré novel than the newspaper, Belarus invited the president of Uralkali to Minsk and promptly threw him in jail. Meanwhile Uralkali slashed its prices in what looked like a bid to drive Belaruskali out of business. Industry watchers have predicted a Putin-brokered agreement would cause potash prices to rise from their lows of $300 per ton to $400 per ton (where they were before the split-up), but is there reason to doubt anyone outside of Russia will benefit from such a deal?
Recent news that Uralkali has signed an agreement to deliver 700,000 metric tons of potash to China in 2014 at $305 per ton -- a 24% discount on 2013's contracts -- have kept shares of Western potash companies Potash Corp. of Saskatchewan, Inc. (POT), The Mosaic Company (MOS) and Agrium Inc. (AGU) well below their 52 week averages. The biggest short-term beneficiaries of cheap potash will be agricultural (for instance, Monsanto Company (MON)) and non-agricultural consumers of potassium chloride, hydroxide and carbonate, including brewers (Anheuser-Busch InBev SA/NV (NYSE:BUD)) bakers (Compass Minerals International Inc. (NYSE:CMP)) and other chemical makers (The Dow Chemical Company (DOW)), who account for the other 15% of US potassium consumption.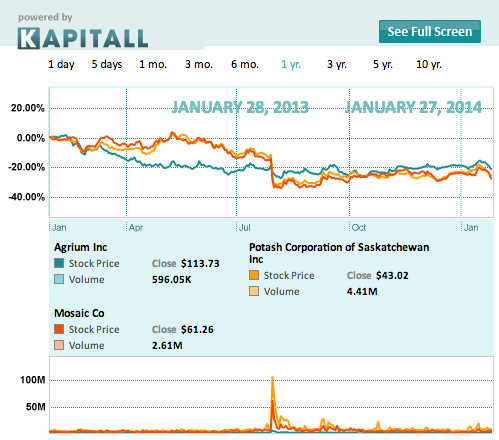 Click here to see data in full. Sourced from Zacks Investment Research.
Secondary players like Monsanto and InBev benefit doubly from the price decline of potassium-derived chemicals used in production and from an overall secular improvement in demand (everyone needs to eat, and consumers the world over enjoy beer). Development in BRIC countries means more consumers want more energy-intensive, status-signifying foods, like meat and beer, and that means sustained, long-term growth for food related industries.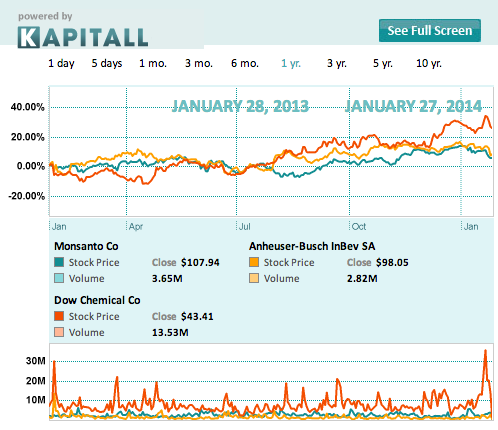 Click here to see data in full. Sourced from Zacks Investment Research.
A little contrarian wisdom should tell us that potash producers might not be down for the count. Though potash critics see little to no growth in the industry due to the breakdown of the cartel on the heels of a worldwide glut, value investors may want to take a second look at Potash Corp.
As Potash Corp.'s Executive Vice President and CFO Wayne Brownlee said at Scotiabanks' Agriculture & Fertilizer Conference last year, the company is reducing its capex and diversifying its chemical portfolio to make sure investors continue to receive the 4%+ dividend returns they have come to expect from Potash.
With uncertain growth for some commodity prices, and the unpredictability of the Russian economy in the mix, it's a potential speculative play with major upside in the short run while earning cold, hard cash as the Olympics unfold in Sochi.
Disclosure: I have no positions in any stocks mentioned, and no plans to initiate any positions within the next 72 hours.
Business relationship disclosure: Kapitall is a team of analysts. This article was written by Will Kenton, one of our writers. We did not receive compensation for this article (other than from Seeking Alpha), and we have no business relationship with any company whose stock is mentioned in this article.