Time Warner Inc. (NYSE:TWX), the sole vertically integrated media conglomerate, has been in the prime news recently. Firstly, for the dispute over the Weinsteins' claim for share in the proceeds from the new "Hobbit" films, and secondly, for the huge success of "The Hobbit: The Desolation of Smaug" worldwide.
The company has been making constant efforts to widen its presence in the market and enhancing consumers' experience in media and entertainment.
The company has three prime business segments:
Networks (Turner Broadcasting & HBO): The segment mainly consists of cable television networks that provide programming.
Film and TV Entertainment (Warner Bros.): Initially referred to as Film Entertainment, the division covers the production and distribution of feature film, television and home video.
Publishing (Time Inc.): This segment largely deals with magazine publishing.
Segment-wise Revenue breakup for the FY 2012 is indicated in the following chart: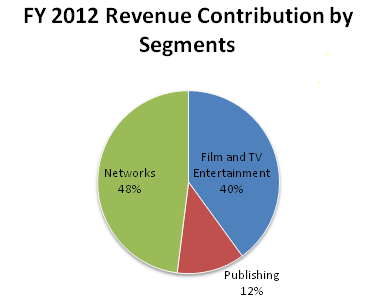 However, Time Warner Inc. has decided to spin off its publishing business as an independent company and perform only as a purely media and entertainment company.
Networks: Key Performer For TWX
For the Networks segment that comprises Turner and HBO, revenues grew by 5% ($182 million) to a whopping $3.5 billion, reaping benefits from growth of 4% ($92 million) in Subscription revenues and 11% ($96 million) in Advertising revenues. The increase in Subscription revenues resulted mainly from higher domestic rates and international growth. Advertising revenues benefited from the success of Turner's domestic entertainment networks, principally due to higher pricing and demand, and also from the escalated Turner's international networks.
Operating Income rose 20% ($245 million) to $1.5 billion. In September 2013, HBO received 27 Primetime Emmy Awards, the most of any network for the twelfth consecutive year. HBO has acquired total control over HBO Asia and HBO South Asia, together referred to as "HBO Asia", hence, the revenues are expected to boost up further in the FY2014.
Augmenting Its Horizons
Time Warner operates in the United Kingdom, Germany, Canada, France, Japan and other countries apart from the United States, and its strong international exposure will drive ample success in the near future. Turner is at present concentrating to expand its purview in existing territories through investments in local production and gaining distribution rights for new networks. Time Warner is also contemplating to earmark its potential in the Chinese entertainment market, a crucial market for media and entertainment companies.
The company is expanding its digital presence to facilitate consumers to enjoy contents on more platforms and devices. Time Warner enhanced the reach of HBO GO streaming service to mobile devices. HBO GO is now available on the Xbox, Samsung TV, the Kindle Fire and Android tablets. The company also launched a digital movie technology, UltraViolet, that facilitates consumers to watch movie on their preferred Internet-connected devices. Recently, Warner Bros. became the premier movie studio to offer video on demand, and acquired Flixster, a movie search application on smartphones and mobile devices.
All these moves initiated up by the company signify that it is firmly committed towards achieving a long-term momentum in progress and growth.
Aiming High With Fresh Stuff
Warner Bros. achieved global success and warm accolades for the motion picture "The Dark Knight Rises" that earned $1.1 billion at the global box office. And then came "The Hobbit: The Desolation of Smaug" at $653 million. "Gravity" and Man of Steel" also provided significant contributions to the revenues in the year 2013. "The Conjuring" and "The Great Gatsby" were the other earnest earners for the company.
Warner Bros. ruled the movie world in 2013, with $5.03 billion globally ($3.14 billion from overseas and $1.89 billion Stateside).
For the year 2014, the company is expecting whopping revenues from the sequel of the movie "300", entitled as "300: The Rise of an Empire" and "Godzilla".
The Financials
Time Warner ended the 3rd quarter with cash and cash equivalents of $1,567 million, long-term debt of $19,145 million and total equity of $29,930 million.
During the 3rd quarter, Time Warner incurred capital expenditures of $131 million and generated free cash flow of $2,888 million. From Jan 1, 2013 through Nov 1, 2013, Time Warner bought back about 50 million shares, aggregating approximately $3 billion under its share repurchase program of $4 billion announced in Jan 2013, overriding the previous authorization.
The company continues to expect its full-year percentage growth rate in adjusted income per common share from continuing operations to be in the mid-teens off a 2012 adjusted earnings per share base of $3.24.
Impending Threat From Competitors And Recession
The company derives substantial revenue from the field of advertising, which in turn depends upon the sound health of the economy. The recent recession has impacted severely in the advertising world, and its demand has receded extremely. Publishing companies have been struggling hard with the downtrend in print advertising demand, with advertisers migrating to the Internet driven by increasing online readership and lower ad prices online than print. Management expects that both the advertising and subscription revenues would be adversely jolted in the fourth quarter for Time Inc. Also, the company faces intense competition across its distinctive segments. To compete efficiently in the Networks and Filmed Entertainment segments, Time Warner has to provide qualitative and popular entertainment products, adept new technologies and distribution platforms and ultimately achieve widespread distribution. Furthermore, the company's publishing segment faces significant competition from several direct competitors and other media, including the Internet.
In the year 2013, Warner Pictures was marginally ahead of its near competitor, Walt Disney (NYSE:DIS), in terms of market share.
The market share of Top 5 studios in billions of $ is given in the following table:
| | | | |
| --- | --- | --- | --- |
| Studios | Global | International | Domestic |
| Warner Bros. | 4.95 | 3.1 | 1.85 |
| Disney | 4.68 | 3.0 | 1.68 |
| Universal | 3.68 | 2.26 | 1.42 |
| Fox | 3.39 | 2.33 | 1.06 |
| Sony | 3.02 | 1.90 | 1.12 |
However, a note has to be kept in mind that Disney had less than half the number of releases as Warner.
Market Growth Prospective
The global movie and entertainment industry has anticipated to acquire an estimated US $139 billion in 2017, with a CAGR of 4.2% over the next five years. This growth is likely to be driven by the acceleration of online and mobile distribution of movies, lower admission prices, and government policy initiatives in developing countries. Online and mobile distribution of movies is expected to be the fastest-growing sector in future, with growing dominance of the internet experience over all content consumption and increasing broadband penetration.
Therefore, Time Warner can opt for better growth prospects in the online media market.
To Invest Or Not?
Considering the price movement of the stocks of TWX in the past 3 months, it becomes quite difficult to suggest one single strategy, whether to long or short.

If we look at different growth avenues, TWX has a long way ahead and its efforts to sustain are also commendable. However, the burgeoning competitions and the recent slump in the global market intimidate as an approaching threat to the company's overall profitability. But its decision to spin off its publishing division is certainly justified and expected to trigger its profits for upcoming years.
But the stocks are not performing well compared to these growth vistas, over the last 3 months, there are wide fluctuations in the price movement of scrips. However, Buy and Hold can be suggested, as the target price of the stock is $76 and its price is hovering around $65.
Disclosure: I have no positions in any stocks mentioned, and no plans to initiate any positions within the next 72 hours.
Business relationship disclosure: The article has been written by Analysts at EurEx Consulting. EurEx Consulting is not receiving compensation for it (other than from Seeking Alpha). EurEx Consulting has no business relationship with any company whose stock is mentioned in this article.