The stock price of Starbucks (NASDAQ:SBUX) rose by 40.31% in 2013. This is a very nice return considering the S&P 500 index made a 25.27% return during the same period. Analysts are forecasting that 2014 will be another year of good stock price performance. Let's see why analysts are optimistic about Starbucks for 2014.
Starbucks rose as a global leader in the coffee industry in the past few years. It has created one of the most recognizable and exciting brand images of supreme quality coffee. Starbucks knows how to create a desire in customers to walk in to their nearby Starbucks coffee shop for a unique Starbucks experience. The company offers an inviting environment where customers come to escape the commotion of daily life and customers love it.
Starbucks grew at a phenomenal rate since its foundation in Pike Place Market Seattle and now has over 20,000 stores in over 60 countries. It can be forecasted quite easily that Starbucks will expand to over 25,000 stores over the next few years.
Apart from the threat of big rivals such as McDonald's (NYSE:MCD) and Yum Brands Inc. (NYSE:YUM), Starbucks faces threats from thousands of small and large coffee shops operating in competition with Starbucks stores worldwide. Small enemies pose a bigger threat than the big brands owing to their large numbers. In its defense, Starbucks has an effective economic moat in the form of scale advantage and a strong brand image.
Starbucks has been successful in differentiating itself from other small and large rivals through its new products offerings and creativity (such as new store design concepts) and has complemented these factors with its strong marketing strategies. Starbucks is expected to maintain its superior brand image as specialty coffee king.
In the face of huge competitive pressure, Starbucks' revenue growth has now slowed down. Some analysts express their concern that Starbucks is facing a saturation point in its home US market but Starbucks is already working on many solutions to this problem. One of them is that Starbucks is expanding into new growth markets like China, India and Brazil to keep its growth rate in the double digits. Its expansion strategy is helping it to sustain cash flow to further pursue its growth strategy and is causing its critics to think a bit more before criticizing.
Starbucks is also pursuing the idea of expanding through franchises along with company-owned shops. This strategy has proven to be a great success for its rivals such as McDonald's and Dunkin' Brands (NASDAQ:DNKN). From its inception Starbucks preferred company-owned outlets but realized that the franchise model can decrease the volatility of revenues. Franchise fees are a mouthwatering income that Starbucks now wants to earn. This strategy will help to expand and share its volatility with franchisees.
All Good Performance Forecasts
Yahoo Finance gives an analyst forecast EPS for the current year ending at September 2014 to be $2.65 and an EPS for the next year ending September 2015 to be 3.18$ as given below. Last year the EPS was $2.26.
As given in the table below, analysts are expecting a growth in SBUX's stock at an average of 17.3%. This expectation is higher than the estimates for the industry, sector, and S&P 500. Next year's average growth estimate is 20% which is below the estimates for the industry and sector but above the S&P 500 index's return of 9.60%.
In the next five years Starbucks' stock growth is expected to be 19.5%. This rate beats the growth rates of the industry and sector that are expected to be 12.8% and 16%, respectively. The five year average growth estimate of Starbucks' stock is also expected to beat the S&P's expected five year average of 9.66%.
Starbucks' growth of the past five years was terrific at 32.86% (see table below). The forecast for the next five years is not that rosy but still well above the rates expected for the industry, sector and S&P 500 index.

(Source: Yahoo Finance)
So far our analysis shows that Starbucks is a company with good prospects and is expected to perform well. Now the next thing to determine is whether or not its stock price is attractive enough to invest in. Let us complete a valuation measures of the price multiples to determine an answer.
Last year's earnings were depressed due to a huge nonrecurring expense of $2.52 billion that Starbucks had to pay in respect of litigation. For this reason the price/earnings multiple is distorted. The price/earnings and PEG ratio given below are adjusted. The adjusted price/earnings multiple of Starbucks is 27.77 times below the industry multiple of 45.85. Its multiple is near the sector multiple of 25.61 and above the S&P 500 multiple of 22.64. Given the growth prospects of Starbucks its stock price appears to be valued high enough to invest.

(Source: Yahoo Finance)
The company's PEG ratio further strengthens the inference made above. Starbucks' average PEG ratio is 1.42 and this ratio is well below the PEG ratio of the industry, sector and S&P 500. Therefore it appears to be the right time to put Starbucks in our portfolios.
If we look at analysts' average estimates (given in table below) concerning the target price of Starbucks then it is an attractive $88.88 which is 21.11% above the current stock price of 73.39. The highest estimate for the stock is $98 and that is 33.35% above the current price. Even the lowest price estimate is $78 and is still above the current stock price. This price estimate target gives us further confidence that Starbucks' stock is currently worth investing in.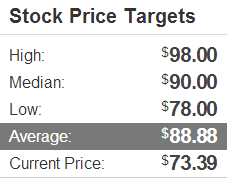 (Source: Wall Street Journal website)
Takeaway
Considering the growth prospects and attractive price, Starbucks' stock is currently a good investment. Investors should not miss this opportunity and should add Starbucks to their portfolio before the market causes a hike in the price and renders the stock price unattractive. All in all Starbucks is a buy that you should not miss.
Disclosure: I have no positions in any stocks mentioned, and no plans to initiate any positions within the next 72 hours. I wrote this article myself, and it expresses my own opinions. I am not receiving compensation for it (other than from Seeking Alpha). I have no business relationship with any company whose stock is mentioned in this article.