One of the unfortunate problems with penny and pink sheet stocks is that they are often subject to organized promotional campaigns to pump the stock's price to lofty levels, with the goal of dumping the shares into the hands of excited, but unsuspecting buyers. It appears that as of January 30, 2014, Medical Marijuana, Inc (OTC: OTCPK:MJNA) could be the in the early stages of a "pump & dump", because it appears that a newsletter may be being paid to tout the stock.
MJNA has had an exciting January, with the Jan 27, 2014 close of $0.3999 being a nearly 160% increase from $0.155 close of December 31, 2013. Daily volume has increased dramatically as well, with the volume on January 28 exceeding 117 million shares, or twelve (12) percent of the outstanding shares, though the stock closed down 3.2% at $0.387.
January 29, saw a further decline in price, with MJNA closing at $0.3298, a 14.8% decline. Perhaps this was due to normal profit taking, or maybe it was because of the news contained in an 8-K filed by CannaVest (OTC: CANV) on January 28, 2014, an hour before the U.S. markets closed. In that filing CannaVest announced that on January 22, 2013, it had converted a $6 million note due Roen Ventures into 10 million shares of its common stock at a price of $0.60 per share. This conversion both increased the number of CANV shares outstanding to an estimated 24 million (a 71% increase,) and since MJNA is a holder of CannaVest shares, reduced its percent ownership of the company.
Whatever the case for Wednesday's decline, when the markets opened on the morning of January 30, MJNA immediately spiked higher to nearly $0.38, a 15% gain from the prior day. While most of the initial gain was given up in the next forty minutes, the stock worked its way back to the high of the day by the end of the session and closed at $0.38, for a 15.22% gain. It was quite a day, if you were an MJNA long.
Author's Note: The following chart covers Jan 30, 2014, but shows a Jan 31 date.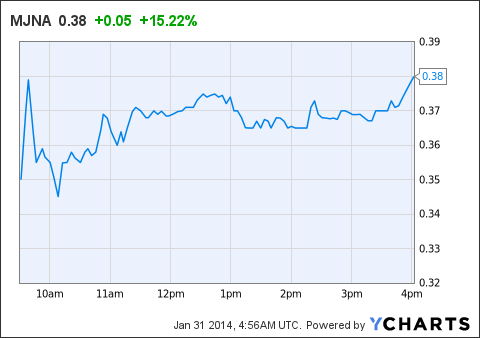 The initial reason for the interest and volume at the start of trading was likely a press release issued by Medical Marijuana before the open, announcing that its HempMedsPX subsidiary had signed an agreement with an unnamed home-based business organization to supply that organization with the Cannabis Beauty DEFINED™ product line of anti-aging beauty products containing Cannabidiol [CBD] extracted from industrial hemp. The press release stated that the value of the first purchase order, deliverable in the first quarter of 2014, was nearly $1.1 million.
It should be noted that terms of the agreement were not disclosed, and that HempMedsPX is a distributor of the Cannabis Beauty DEFINED™ products. Therefore, its margin on the sale of these products will likely be that of a normal distributor of consumer goods, in the range of 15% to 25%. Still, and additional $1.1M in revenue and $165 thousand to $275 thousand in gross profits will certainly help MJNA's first quarter. (We'll worry about the operating expenses some other time, once we see MJNA's annual filing for 2014 sometime in late March or early April, and can use them to better guide expense estimates for 1Q/14).
It is possible however, that some of the rise in the price could have been caused by outside forces. Take another look at the 1-day chart for MJNA above, and notice the small spike in the price at approximately 2:15 PM EST.
Shortly before 2 PM, EST, a message was posted on the Investors Hub message board by "Madkins" who wrote, "MJNA about to get some action" and included a link to a website, OTC Dynamics. On that web page, was displayed the following: "Medical Marijuana, Inc., promotional campaign starting Jan 30, 2014 @ 12:55 PM CST". OTC Dynamics said that the promotional newsletter was released by Wise Alerts. (Note that their website is "under construction", but will accept sign-ups).
I was able to track down the full Wise Alerts newsletter at StockReads.com, which had many glowing things to say about Medical Marijuana, Inc, such as:
A few alerts that we urged you to research recently are performing well RIGHT NOW! MJNA, the medical marijuana play, is one of them that is up another 14% on strong VOLUME!
Here is another:
With medical marijuana getting the majority of attention in the news recently even MORE attention will be coincidentally added with BOTH teams in the Super Bowl this year coming from the only two states that legalized it! Shareholders of ground floor companies like MJNA will benefit in a HUGE way in my opinion!
Two other things should be noted:
12:55 PM CST is 1:55 PM EST, and
The Wise Alerts newsletter was published at 2:04 PM EST, shortly before the small MJNA price spike at 2:15 PM EST.
Was this apparent spike in price caused by the release of the news, or was it simply a coincidence?
Normally, a newsletter blurb like this wouldn't raise a red flag, but if one reads to the bottom of the nine-hundred (900!) word disclaimer section, there is the following statement:
* Wise Alerts LLC may be contracted to receive $10,000 for a 7-day advertising campaign on MJNA from a non-affiliated third party in the near future.*
Wait. What? Apparently, some non-affiliated third party may be contracting Wise Alerts for the tidy sum of $10,000 to soon promote MJNA.
This is beginning to sound a bit dicey, isn't it?
Is this the start of a pump & dump of MJNA? I'm not sure, because one paid tout might not be a big deal, but anyone thinking about investing in or trading MJNA should ask themselves the following questions:
Who is this non-affiliated third party that may be paying Wise Alerts?
How much MJNA stock do they own, or are they paying for this promotion out of the goodness of their heart?
What do they think is a "fair" price to begin selling that stock?
I can't answer these questions, but will offer the following advice. If you have a position in MJNA, keep a weather eye for other newsletters hyping the stock, and read the disclaimer to see if they're being paid.
Disclosure: I have no positions in any stocks mentioned, and no plans to initiate any positions within the next 72 hours. I wrote this article myself, and it expresses my own opinions. I am not receiving compensation for it (other than from Seeking Alpha). I have no business relationship with any company whose stock is mentioned in this article.