I believe that the market is overlooking the significant transformation in business model for E-House (NYSE: EJ), one of China's largest real estate services companies, and that shares are undervalued. My price target is $20.00 per ADS.
Originally dominant in traditional primary brokerage, E-House leveraged existing relationships with developers to accelerate growth in its e-commerce business over the past year. The e-commerce business model employed by E-House allows prospective homebuyers to purchase "e-vouchers" online and trade in vouchers at the developer office for a sizable discount on a home purchase. I believe this is a clever and extremely effective model that is beneficial for home buyers and developers, as well as E-House's bottom line.
Beneficial for Homebuyers: Typical e-vouchers can be purchased online for ~10,000 RMB and worth 2-4x in discounts, making the site an attractive destination for home buyers to research prospective purchases. As of January 28th, 2014, the E-House e-commerce website had around 400 current e-commerce projects nationwide.
Beneficial for Developers: Developers who agree to give these discounts see the channel as a trackable source of highly qualified leads that is cheaper than typical commission costs. In fact, since E-House is generating sales from home buyers, developers do not have to touch their marketing budget to sell units, and simply pay a listing fee. It has become the fastest and cheapest way to generate quality leads for a large inventory of property.
Profitable for E-House: E-House in return has been able to monetize based on transactions rather than listings, taking the Groupon model instead of the Zillow model. In addition, the new business model allows E-House to collect cash upfront, instead of waiting 90-120 days for remittance from developers as in primary brokerage. Revenues for the e-commerce segment have grown from $10mm in Q3 2012 to $51mm in Q3 2013, exceeding that of SouFun's (NYSE: SFUN).
I expect e-comm revenues to exceed $250mm in 2014 and $300mm in 2015 because of the huge runway for penetration growth and developer affinity to the product, compounding at a 60-70% incremental operating margin.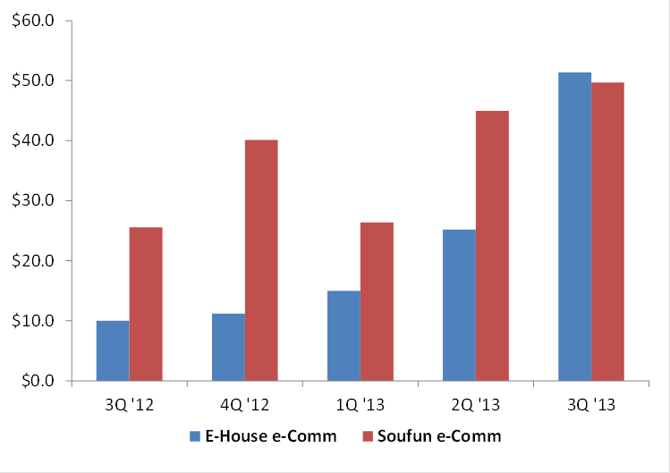 E-House's Information Services business, China Real Estate Information Corp ("CRIC") is another asset currently being overlooked. This segment provides research, consulting and data services for developers. The company announced plans to begin monetization of the CRIC Home Price product in 2014 starting at 150,000 RMB annually per developer. The Home Price product allows developers to analyze pricing and sales trends for properties around the country and has become a staple research tool for developers. There are >1,000 developers currently subscribed to the basic free offering, and 60 of the top 100 developers have already subscribed to the full CRIC Home Price product. Additionally, the company has become actively involved in land and property consulting jobs, posting a 47% YoY growth in segment revenues for Q3 2013. I believe that CRIC's revenues can grow at 25%+ CAGR for the next two years at a 70-80% incremental operating margin.
On top of overlooking the revenue growth opportunities of the company, the market is assigning an unnecessarily large discount toward the risks of this investment.
While E-House's primary brokerage operations are tied to the Chinese residential real-estate market, the e-commerce and online advertising businesses are still taking share at a rapid pace away from traditional brokerage and media.
Investors still associate E-House with traditional Chinese property brokers, trading the shares down 18% YTD as SouFun has been up 2% YTD 2014.
ADRs have been under the microscope recently and could face stricter auditing and regulation, but I believe E-House's highly quality management team mitigates this risk. They demonstrated honesty in communication during 2009 when the commission rates collapsed in their core brokerage business, and are consistently conservative and non-promotional on calls and guidance. The team has had significant experience in the real estate market (CEO is an influential figure in Chinese property development, CFO built career in NY real estate investment firms).
These revenue growth opportunities coupled with cost leveraging get me to ~$1.50 EPS in CY 2015E growing at 35%+, implying a 2015E multiple of 8.5x and a PEG ratio of 0.3x, vs. SFUN at 15.8x 2015 P/E and a 0.7x PEG ratio. While there are risks associated with this investment, I believe the market is assigning an unnecessarily large discount and overlooking a quality company with significant growth opportunities.
Disclosure: I am long EJ. I wrote this article myself, and it expresses my own opinions. I am not receiving compensation for it. I have no business relationship with any company whose stock is mentioned in this article.