Who's Cool Now?
Warren Buffett has a rising young executive on his Berkshire Hathaway (NYSE:BRK.B) team, the 29-year-old Tracy Britt Cool. Buffett hired Cool in 2009, just out of Harvard Business School, to look after a commercial real estate finance operation he had just purchased. Under her stewardship, the company, Berkadia Commercial Mortgage, did remarkably well, earning back a large proportion of its $217 million cost. This stellar performance propelled Cool's career and earned her a position as a trusted assistant to Buffett.
On The Farm Roots
Cool's interest in business started at a young age as she was running her family farm business in Manhattan, Kansas. During her sophomore year at Harvard College, she became interested in financial markets and later did internships at leading financial institutions, ranging from Bank of America (NYSE:BAC) to Fidelity Investments. At Harvard, she presided over Harvard Undergraduate Women in Business, and co-founded Smart Women Securities to educate women about business, investments, and financial independence. It was through SWS that she met Warren Buffett.
Decisive and Tough
Buffett has publicly endorsed Cool's way of evaluating and running businesses, seeing her approach in line with his own. Cool oversees numerous small companies for Berkshire Hathaway (NYSE:BRK.A), as well as keeps an eye out for promising new stars to add to Berkshire Hathaway's current basket. Despite her youth, Cool is decisive and tough. She has presided over turnarounds, dismissed chief executives, and put top managers out of work.
Her work as Chairman of Berkshire subsidiaries also includes coordinating big projects like purchasing and employee healthcare. Two years ago, after Buffett purchased Oriental Trading, a party-supplier, on Cool's advice, he appointed her CEO. Later in 2012, Cool also took charge of subsidiary, Benjamin Moore Paints. Both companies have over 10,000 workers, and their combined revenue companies exceeds $4B.
The Three "T's"
Although there are rumors that Buffett is grooming Cool to be heir to Berkshire Hathaway, Buffett has made it clear that she is one of the aides who will assist the eventual successor. Cool is part of a team of three close aides, whom Buffett refers to as the "T's" because their first names start with "T." See our previous article on "the 'Ts'" here.
Tracy Cool is the youngest member of the triumvirate, joining 43 year-old Todd Combs and 52-year old Ted Weschler as part of Buffett's trusted aides, a team that was formed over the past four years. Both Comb and Weschler are previous hedge-fund managers who now keep tabs on a $100B stock portfolio.
Berkshire Is a Core Holding For The Years To Come
In 2009, when Cool was brought on board, BRK.B gained 21.8B in net worth. This growth has been consistent -- 22.8B net worth growth in 2012 -- and an obvious uptrend throughout 2013 as seen below.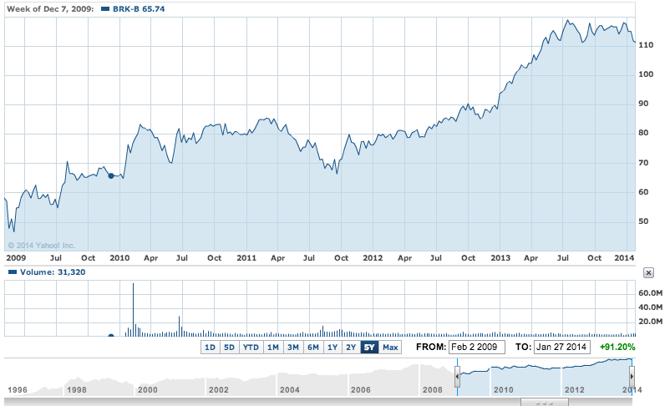 (Source: Yahoo! Finance.)
BRK.B should continue to be a core holding for growth portfolios, as its clear Buffet's top pickers -- one of whom could be the next Berkshire Hathaway heir -- are very high performers.
The Key Berkshire Hathaway Advantage
A clear advantage that this company has had and will continue to have is that the best and the brightest women and men are willing and hungry to work for Warren Buffett.
His outstanding team assures us that BRK.B will continue to be a solid long-term performer.
Disclosure: I have no positions in any stocks mentioned, and no plans to initiate any positions within the next 72 hours. I wrote this article myself, and it expresses my own opinions. I am not receiving compensation for it (other than from Seeking Alpha). I have no business relationship with any company whose stock is mentioned in this article.