Disclosure
I am short Galena Biopharma (GALE) in via the purchase of put options at varying expiration dates/strike prices.
Summary
"There is no training - classroom or otherwise - that can prepare for trading the last third of a move, whether it's the end of a bull market or the end of a bear market. There's typically no logic to it; irrationality reigns supreme…" - Paul Tudor Jones
While pondering of a way to sum up Galena Biopharma (GALE), I remembered that quote from Paul Tudor Jones and realized how applicable it is to GALE. The ~200% rise GALE has seen over the past two months is nothing short of incredible. After trading range bound for over three months, shares of GALE saw a massive break-out in mid-November and momentum traders who got in on the move during the early stages were handsomely rewarded with triple digit returns by early January.
Now that the parabolic move has finally exhausted itself and momentum traders (along with company insiders) are exited out of their long positions, reality and logic can set in.
On the surface one might think that Galena is a good speculative biotech stock with a nice risk/reward profile. However, the purpose of this article is to shed some light on the numerous risks the GALE poses and present the case for why the risk/reward profile favors the short side.
I intend for this article to be the first of two pieces that provide a comprehensive and fact-based look into GALE. This article is more high-level in nature and covers numerous different areas. The next piece however will cover three specific areas in a much greater level of detail:
1. Abstral sales data
Here is a little preview- for Q4 '13 Abstral sales appear to be ~$2.4M (according to initial NRx, TRx, and WAC data I've seen), however GALE will only realize a portion of that figure as revenue because of the current Abstral coupon promotion offering a free first month's prescription. For that reason, investors should temper their expectations going into GALE's upcoming earnings release.
2. A detailed look into past examples of seemingly fraudulent acts conducted by management
This will include a look into a potential SEC Investigation into GALE for securities fraud (which nobody is talking about) and the accusations of fraud made by Neuvax co-inventor Constantin Ioannides and accompanying ongoing lawsuit.
3. A NPV analysis detailing GALE's valuation based on different scenarios
This will take into consideration GALE's entire pipeline of products, as well as industry standard valuation approaches
Company Overview
"Galena Biopharma, Inc., a biopharmaceutical company, focuses on developing oncology treatments to address major unmet medical needs to advance cancer care. It is developing a pipeline of immunotherapy product candidates for the treatment of various cancers based on the E75 peptide. The company's lead product candidate includes NeuVax (nelipepimut-S or E75), which is in Phase 3 clinical trials for preventing the recurrence of breast cancer. It also develops Folate Binding Protein-E39, a targeted vaccine that is in Phase 1/2 clinical trials for the prevention of recurrence in gynecological cancers, such as ovarian and endometrial adenocarconimas. The company was formerly known as RXi Pharmaceuticals Corporation and changed its name to Galena Biopharma, Inc. in September 2011. Galena Biopharma, Inc. was founded in 2003 and is based in Lake Oswego, Oregon."
(Per yahoo finance)
A Quick Look Galena's history
Galena Biopharma can be tracked all the back to 1995 and a company by the name of Apthera. Apthera was a small biotech with one peptide-based immunotherapy product in clinical trials looking to treat low-to-intermediate HER2+ breast cancer patients. In 2011, RXi Pharmaceuticals acquired Apthera in a stock based deal for 4.8 million shares of RXi's common stock. Additional payments based on development and commercial milestones relating to NeuVax were also suggested at the time. (Link to PR Here) Shortly after, Galena Biopharma was formed as a result of RXi Pharmaceuticals' decision to split into two publicly-traded companies. RXi Pharmaceuticals was to remain focused on RNAi-Based Therapeutics, while GALE would be spun off as a company focused on targeting cancer therapies through their one product, NeuVax. In retrospect, it is evident that management placed almost zero value on Galena and used the spin off to erase an unenviable balance sheet and history. In an attempt to offset the loss of RXi, GALE shareholders received an aggregate of 100M shares in RXi in conjunction with the spin-off transaction. The 100M represented ~11% of the fully diluted share count, essentially placing a value on the newly formed Galena somewhere around $15M. (Link to PR Here)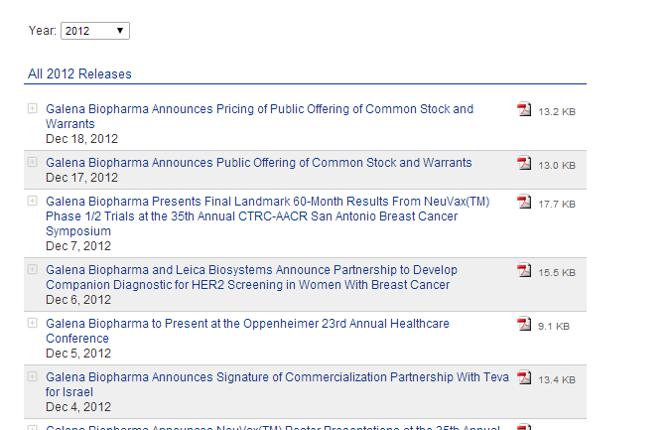 Galena wasted no time making their name heard. An onslaught of press releases ensued, many of which contained extremely bullish and subjective language.
After four consecutive press releases in December, the inevitable public stock offering was announced. A few more press releases later, and Galena Biopharma Inc. was up and running.
Before we start moving on to the more interesting topics, there are a couple of key points that should be taken away here:
Interim results the NeuVax phase II trial data were presented in 2006 by Dr. George Peoples. (That is an important name to remember as well)
It took 4 years of the market essentially writing off NeuVax as a legitimate therapy before they found a willing buyer.
The combination of a spin-off, mergers, and name changes make it extremely difficult to track down accurate data/SEC filings.
Embellishment and a lack of transparency have been common themes since day 1 of "Galena"
NeuVax Will Fail to Ever Generate Significant Revenue for Galena
Why the NeuVax PRESENT Phase III Trial is Poised for Failure
Simply put, science and logic will prevail here. There is little to no evidence to support the notion that NeuVax will demonstrate a 30% disease-free progression differential in a large, randomized trial.
NeuVax (nelipepimut-S) is a vaccine that claims to train T-cells in the patient's body to terminate cancer cells that express HER2. The current Phase III PRESENT trial is attempting to prove that NeuVax will prevent or delay breast cancer recurrence after standard of care treatment such as chemotherapy, radiation therapy or hormone therapy. The primary outcome of the trial is listed below (as obtained from clinicaltrials.gov)
Primary Outcome Measures:
Comparison of disease-free survival in vaccine treated patients and control patients
The primary objective is to compare the disease-free survival (DFS) in subjects with operable early-stage, node-positive breast cancer who receive standard of care multimodality therapy plus NeuVax™ as the treatment group or standard of care multimodality therapy plus the vaccine adjuvant, Leukine (sargramostim, GM-CSF) as the control group.
Based on previous data obtained for NeuVax, the PRESENT trial is poised for failure. Let me explain.
Data presented at ASCO 2010 revealed the following:
Out of the 188 patients enrolled in the study, results for NeuVax failed to show a meaningful benefit with a p value of p = 0.08. At 24 months, the vaccine group revealed a 6.5% recurrence rate and the control group revealed a 14.5% recurrence rate.
As noted in the primary outcome for the PRESENT trial, the time frame is 36 months. Wait, NeuVax failed to display significant data after 24 months; how will disease-free survival be reached after 36 months? Good question.
The data presented at ASCO 2010 also highlighted a sub-group of subjects with low and intermediate levels of HER2 displayed statistically significant recurrence rates of 7.8% in the vaccine group (n=50) compared to a 23.5% recurrence rate in the control group (n=34) after 36 months. This data was reported to be statistically significant with a p-value of p=0.045. This data is important because it's exactly how the PRESENT trial is designed. The Phase III PRESENT study is enrolling breast cancer patients with tumors that express low and intermediate levels of HER2.
The problem that I have with this data is that the sub-groups were too small to justify a successful study. In my opinion, the disease-free survival benefit in this sub-group is random chance. Basically, I believe it was pure luck that the control group had a few more patients with recurrence of breast cancer. There is a noteworthy underlying issue with this original study. The methods that we currently use to detect breast cancer disease have limits of detection that are not low enough to prove that the subjects enrolled were in fact disease free to begin with. A number of patients could have been enrolled in the study with disease that was "undetected". With such a small sub-group of patients; by chance, it is not that far-fetched to believe that the control group could have had subjects with undetectable disease that progressed further, possibly skewing the study results in favor of NeuVax.
Therefore, we should rely on the overall study results of the data for all 188 patients enrolled in the study. This data is more likely to predict the outcome of the PRESENT Phase III trial. Let me remind you, NeuVax failed to show a meaningful benefit.
With a larger 700 patient Phase III PRESENT trial, random chance will be removed and reveal the true ability of NeuVax. Keep in mind, the p-value was only p=0.045 for the original study, which doesn't give NeuVax much room for statistical error in the larger trial. In addition, I believe that there will be a number of patients enrolled in the trial with "undetected disease" that will run a higher risk of recurrence of breast cancer. With a larger population of patients, the vaccine group and control group with patients with "undetected disease" are more likely to be equivalent and likely disease-free survival will not be significant for NeuVax. If NeuVax truly worked, why is the study aimed to treat patients who are already disease free? I predict that NeuVax will not meet the primary outcome of the PRESENT Phase III trial. In fact, I also predict the PRESENT trial won't even continue past the interim analysis.
The interim data will sufficient to prove that there is no meaningful benefit of Neuvax and further funding of the PRESENT trial won't be necessary.
It is also worth noting that Dr. George Peoples was the primary investigator of the Phase II study. Dr. Peoples has a working relationship with Galena and is compensated by the company as outlined below in their annual reports:
"This Scientific Advisory Agreement (the "Agreement") dated as of May 1, 2011, is made by Dr. George E. Peoples (the "Advisor") and RXi Pharmaceuticals Corporation, a Delaware corporation ("RXi" and together with the Advisor, the "Parties"). As of the Effective Date, the Advisor agrees to make himself available to render the Services, at such time or times and location or locations as may be mutually agreed, from time to time at the request of RXi.

RXi will compensate the Advisor for providing the Services to RXi as follows, with such compensation to be the full consideration for the Services:

Cash Compensation. The Advisor will receive a monthly consulting fee of $25,000 during the Term, payable on the last day of each calendar month and pro- rated for each partial month of engagement hereunder."
Unfortunately for GALE, the PRESENT trial won't be associated with extensive data mining and potentially misguided interested. The data will speak for itself and determine the fate of Neuvax (as well as GALE).
Galena Lacks Vital Exclusivity Rights to NeuVax
Even PRESENT Phase III trial does prove to meet its agreed endpoint, and the FDA does not require an additional Phase III study (which is possible based on GALE's assessment of the situation stated in their latest 10K), Neuvax faces some difficult challenges as it relates to intellectual property.
Neuvax's Key Composition of Matter Patent expires in 2015
Issued U.S. Patent No. 6,514,942, titled "Methods and Compositions for Stimulating T-lymphocytes" will expire next year…YEARS before NeuVax even has a shot to hit the market.

Here is where you can full the full patent language and content
Intellectually property (IP) in biotechnology can get quite tricky and tough to track in some cases. But one thing is for certain, strong "Composition Patents" are one of the key components of strong IP. GALE even says so in their quarterly filings:
"Composition of matter patents are a particularly effective form of intellectual property protection for pharmaceutical products, as they apply without regard to any method of use."
In addition to the expiration of Patent 6,514,942, an additional patent for Neuvax recently received a Non Final Rejection Notice from the USPTO.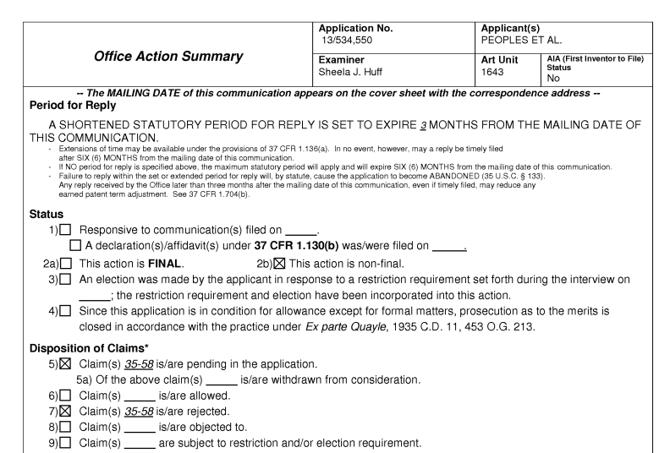 The full Non Final Rejection Document can be viewed in the Patent Application Information Retrieval section of the USPTO.gov website
Galena's Pipeline and "Partnerships" add very little value
The Press Releases concerning partnerships have been misleading.
In December 2012, GALE announced "signature of commercialization partnership with Teva in Israel". (Link to PR Here)
However, GALE's sec filings provide some clarity into the specifics of the "partnership" with Teva. "Effective December 3, 2012, we entered into a license and supply agreement with ABIC Marketing Limited."
This press release raises a red flag for a couple of reasons:
While the full financials terms haven't been disclosed, it appears GALE did not receive any upfront payment in the deal. It seems GALE will be entitled to royalties based on future sales of Neuvax in Israel. My question is, if Neuvax was the potential blockbuster drug like GALE management claims, then why would they agree to a deal with such miniscule financial benefit?
The timing of the press release, coupled with the terminology and verbiage used seems to be misguided.
Gale also touts their "collaboration with Genentech/Roche as illustrated in a November 2011 press release (Link to PR Here).
However, as Adam Feuerstein of thestreet.com points out, the company is not a partner in a phase II study testing the combination of NeuVax and Herceptin in breast cancer. He writes:
"Galena has issued many press releases claiming Roche/Genentech's involvement in this small phase II study, but that's misleading because Roche/Genentech's participation is limited to a small amount of funding and the donation of Herceptin supplies to the investigator so he can conduct the study, says company spokesman Ed Lang."
Abstral
In March 2013, GALE announced the following via press release: "Galena Biopharma Acquires Abstral(R) (fentanyl) Sublingual Tablets in U.S., a Novel, Best-in-Class Treatment Approved for Breakthrough Cancer Pain" .(Link to PR Here)
"In exchange for the U.S. rights to Abstral, (1) we paid Orexo $10 million in cash from our cash on hand, and (2) we agreed to pay to Orexo: (A) $5 million in cash upon the earlier of (i) the approval by the FDA of a specified U.S. manufacturer of Abstral and (ii) the first anniversary of the closing; (B) three one-time future cash milestone payments based on our net sales of Abstral; and (C) a low double-digit royalty on future net sales. No further milestone or royalty payments will be due after the date on which all claims of the last remaining licensed patents expire (currently 2019) or become invalidated by a governmental agency."
However, Abstral is in a similar situation as Neuvax in terms of a cloudy intellectual property future (although it is fair to say that Abstral has stronger patent protection compared to Neuvax). In summer 2011, Orexo filed an official complaint for Patent Infringement in Civil Action against Mylan Pharmaceuticals Inc. Full details of the case can be viewed via this link.
In fact, Galena warns about the potential for Generic competition in their 10Q filed in August 2013:
"We may not be able to obtain and enforce patent rights or other intellectual property rights that cover Abstral and that are of sufficient breadth to prevent third parties from competing against us.

Our success with respect to Abstral will depend in part on our ability to obtain and maintain patent protection in the United States, to preserve our trade secrets, and to prevent third parties from infringing upon our proprietary rights. Fentanyl, the sole active pharmaceutical ingredient, or "API," in Abstral, has been approved for many years and therefore our ability to obtain any patent protection is limited. Composition of matter patents are a particularly effective form of intellectual property protection for pharmaceutical products, as they apply without regard to any method of use. However, we will not be able to obtain composition of matter patents or methods of use patents that cover the APIs in Abstral. As a result, competitors who obtain the requisite regulatory approval can offer products with the same active ingredients as Abstral so long as the competitors do not infringe any formulation patents that we may have or may obtain or license, if any"
It is also concerning that GALE limited their contractually obligated marketing responsibilities to a two-year span. Logic would dictate that if a company expected a drug to succeed and achieve growth in sales, they would have no problem committing to marketing it throughout its lifespan.
GALE states the following in their latest 10Q:
"Under our agreement with Orexo, we assumed responsibility for the U.S. commercialization of Abstral and for all regulatory and reporting matters in the U.S. We also agreed to establish and maintain through 2015 a specified minimum commercial field force to market, sell and distribute Abstral and to use commercially reasonable efforts to reach the specified sales milestones. Orexo is entitled to reacquire the U.S. rights to Abstral from us for no consideration if we breach our obligations to establish and maintain the requisite sales force throughout the marketing period."
Mills Pharma Acquisition
On January 13th, GALE announced that it had acquired Mills Pharmaceuticals and the rights to GALE-401. (Link to PR Here)
The terms of the deal are as follows:
$1.6M in cash upfront
Mills owners will receive 4M shares with the achievement of specified regulatory milestones.
Mills owners are entitled to up to $3 million once the FDA approves the NDA for GALE-401
I won't elaborate anymore on the Mills Pharma acquisition because, frankly, the terms of the deal really speak for themselves.
Paying Companies for Stock Promotion and Significant Insider Selling are Major Red Flags
Stock Promotion
When I first started investing in/trading biotech stocks, I was fortunate enough to have several trading mentors impart valuable insight and words of wisdom that has helped contribute to my success. These "words of wisdom" included a warning about stocks that are constantly "pumped" over the internet.
As outlined in a March 2012 article by SeekingAlpha contributor Michael Morhamus, GALE's moves higher can be partially attributed to heavy promotion of the stock via the internet. After reading the article, I thought it brought up some interesting points and additional research into the matter was warranted. Needless to say, I came across some noteworthy pieces of information as it relates to Galena's stock being "promoted" via various outlets.
Stockpromoters.com is a website that (among other features) allows users to type in a company symbol and see whether or not they are involved in any current promotions and if they are, how much they paid for it. A search for "GALE" yielded results that certainly validate the claims made in the aforementioned article. According to the website, there have been 27 different instances of GALE being "promoted" since March 2012. I am not suggesting that this is good, bad, or indifferent. I am simply pointing out some of the information I came across.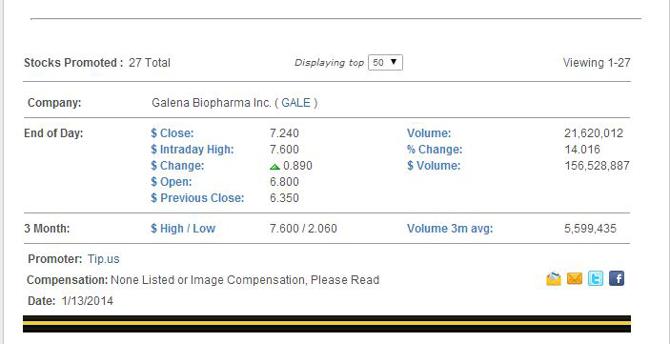 However, further investigation revealed that Galena was paying for these promotions. This, for me, is definitely a red flag.
According to a disclaimer found on the tip.us website, MissionIR received compensation from "GALE for 240 days of advertising, branding, marketing, investor relations and social media services provided by MissionIR and affiliate DreamTeamGroup Business Brands."
This potentially explains a part of the massive increase in the company's SG&A Expenses (obviously a large part of the increase was due to the Abstral launch).

Insider Selling
As shown in the illustration below, there has been significant insider selling in GALE since the beginning of 2014. The insider-selling activity was also called out in a recent article by SeekingAlpha contributor Markus Aarnio.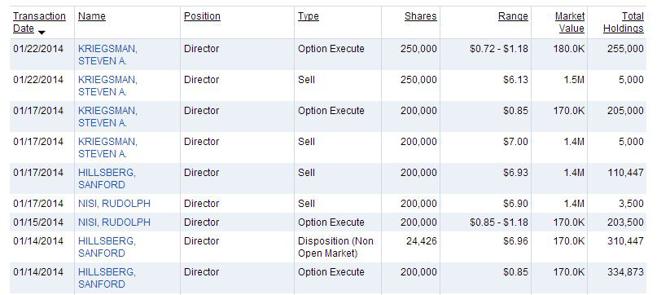 However the aforementioned does not include the most notable of insider sales to have taken place this month. On January 27th, CEO and President Mark Ahn sold nearly 800,000 shares of GALE stock at a weighted average price of $4.83.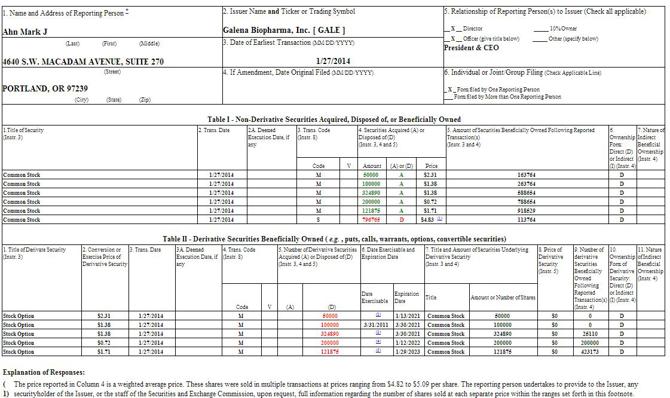 So if members of Senior Management (including the CEO) are liquidating significant portions of their holdings at current levels, what does that suggest about their views of future prices?
Per the latest 10Q, GALE has approximately 35M in shares reserved for future issuance. And if history is any indication of future actions, I am a strong believer that those warrants and options will be exercised well before they expire. Additionally, the large number of warrants add another negative dimension due to the potential for an increase in short interest. It is common to see an increase in selling pressure on stocks with a large number of warrants, let me explain. Once the stock price reaches a level that satisfies a warrant holder's expectations and desired return, they will short/sell the stock at those levels and essentially lock in a fixed return while using the warrants as a cover.
Trade Outlook
I started off this article with a quote from Paul Tudor Jones about how the moves in some stocks lack logic. As a result of the recent ascent from the low $2 level seen in early November, GALE now has a fully diluted market cap over $700M. For the reasons I discuss in this article, I feel that this make GALE significantly overvalued at this point in time and is due for a pullback in the near term.
While predicting near-term price targets in small-cap biotech stocks is never easy, we can use technical analysis to give us some target areas. One tool that is commonly used to predict pullback levels is Fibonacci Retracements. The chart below outlines some key retracement levels to eye in the near term as the stock continues its pullback, with an especially close eye on the 78.6% level, or $3.32. The 78.6% fib retracement is considered by some the last relevant retracement level and last chance for a given move to stall out and resume the underlying course of the trend before considering a full 100% retracement. As such, establishing reversal positions off of the 78.6% fib will often present highly compelling risk/reward trade set-ups. I strongly believe that much of this move in GALE has been due to the "January effect" seen throughout small-cap biotech stocks (as shown below by the chart of XBI), as the period after Christmas until mid-January is historically a time when these stocks see significant returns. This year was no exception as traders didn't hesitate to add speculative biotech positions after seeing the parabolic move that ICPT made early this year.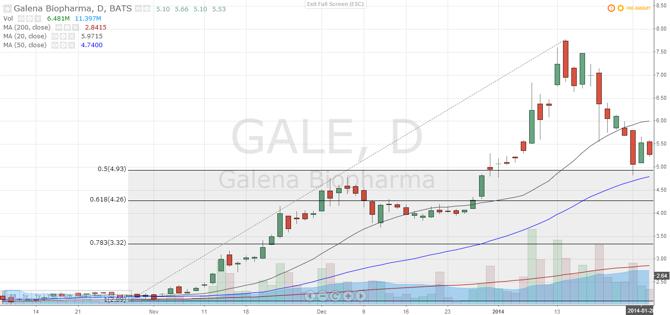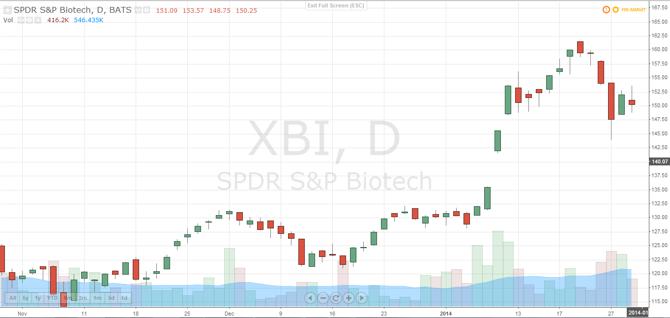 In the long term, GALE's stock price will be determined by most of the underlying factors I discuss in this article. And for reasons that I discuss in this article, I remain quite bearish in the long term.
Summary
I will keep this summary short and sweet, as there is a lot of new information presented in this article for individuals to digest.
I am short GALE for the following reasons:
The company has a history that I consider questionable
GALE's key drug in development is likely to fail its pivotal trial and also lacks key intellectual property rights
I see very little value in their current pipeline and so called "partnerships"
GALE has compensated other companies to promote their stock to retail investors over the internet
Company insiders recently sold significant amounts of stock
I believe the recent appreciation in the stock is largely due to the overall market for small cap biotech stocks and there will be a considerable pullback in the near-term
Disclosure: I am short GALE. I wrote this article myself, and it expresses my own opinions. I am not receiving compensation for it (other than from Seeking Alpha). I have no business relationship with any company whose stock is mentioned in this article.
Additional disclosure: I am short Galena Biopharma (GALE) in via the purchase of put options at varying expiration dates/strike prices. This article was written with the assistance and guidance of: professionals in the biotech industry, legal professionals, and financial analysts. They too have no business relationship with any company whose stock is mentioned in this article.
Disclosure: The author is long GALE.
The author wrote this article themselves, and it expresses their own opinions. The author is not receiving compensation for it (other than from Seeking Alpha). The author has no business relationship with any company whose stock is mentioned in this article.
Additional disclosure: Additional disclosure: I am short Galena Biopharma (GALE) in via the purchase of put options at varying expiration dates/strike prices. This article was written with the assistance and guidance of: professionals in the biotech industry, legal professionals, and financial analysts. They too have no business relationship with any company whose stock is mentioned in this article.