It's been a great eight months for ChannelAdvisor (NYSE:ECOM). Since going public back in May 2013, their stock price has rocketed upwards, more than tripling off their initial $14 offering price. As a small company pursuing an aggressive growth plan, ECOM took advantage of their surge in stock price by issuing an additional 1 million shares in November at $34. I've followed ECOM since their IPO and have written two articles covering them, both bullish in nature, which can be found here on Seeking Alpha. I took a long position in ECOM in the days following the IPO, but recently closed it out.
While I am still a fan of the company and am confident they will continue to grow, I believe the current valuation has gotten far ahead of itself.
ChannelAdvisor: A Software-as-a-Service provider in the growing global e-commerce market
As explained more in-depth in my first and second articles, ECOM is a provider of e-commerce solutions to vendors such as retailers and manufacturers. Through its cloud-based software-as-a-service platform, ECOM allows vendors to better achieve economies of scale with minimal additional cost or operational complexity. A common misconception here is that ECOM offers "shopping cart" type services - this is incorrect. While those types of solutions benefit a retailer once a consumer has already found their site and is ready to make a purchase, ChannelAdvisor helps those retailers to be found by consumers in the first place. In short, ECOM allows online retailers to easily be seen across hundreds of different websites, through one simple interface. As such, ECOM positions itself as a "scaling solution" for e-commerce vendors as opposed to a "starter package," and believes their products provide the most value for merchants with at least $1 million in annual sales.
The Company is currently pursuing an aggressive growth strategy. While they are not yet profitable, their single largest expense (56% of revenue in Q3) goes towards "demand generating" sales & marketing efforts. These have proven successful thus far, as the company has grown quarterly revenue by at least 20% on a y/y basis through Q3 2013, and is on pace to grow its annual revenue by 25-30% going forward. The company is not yet cash flow positive, however this is not an immediate concern as they are sitting on a relatively large pile of cash ($90m) with a minimal debt load ($8m). The secondary offering of shares which took place in the fourth quarter of 2013 will further improve their current cash position.
Reasonable Valuation Range
A quick preface on my approach to valuation: I understand that forecasting long-term growth and valuation is complex and consists of countless moving parts. Because of that I generally avoid trying to calculate a precise "price target", but rather a range of prices at which the stock would be "reasonably" valued from a long-term buy-and-hold approach. Investors, especially those with a different time horizon and risk profile than mine, should always conduct their own research and analysis prior to making an investment decision.
In my first article (dated May 23, 2013), I reasoned that ECOM's "reasonable valuation range" was between $18 and $33. This was determined by applying a 15-20% revenue growth rate through 2016, paired with a range of P/S multiples from 4-6x. The 15-20% growth rate assumption was based on historical results, and the 4-6x P/S multiples were determined based on where other small-cap "cloud" e-commerce companies were trading at the time.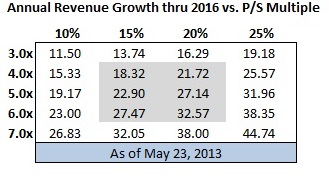 In my second article (dated August 13, 2013), I raised my reasonable valuation range to between $22 and $38. This was after ECOM's first quarterly earnings call, where management's guidance implied an annual revenue growth rate of 24%. Accordingly, I revised the range of what I considered to be reasonable growth rates to 20-25%.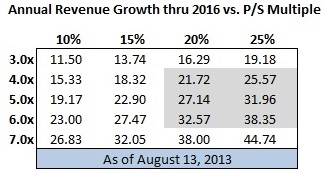 ECOM is scheduled to report their full-year 2013 earnings on Thursday, February 6th. Per Yahoo Finance, analysts currently estimate ECOM's 2013 full-year revenue to be $67.45m, or approximately a 26% annual growth from 2012. Given this, I believe the current reasonable valuation range for ECOM is between approximately $23 and $40.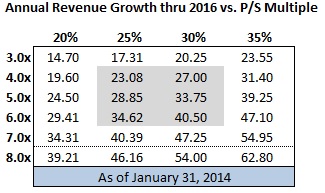 (The above valuation table assumes 22,672,635 shares outstanding, which takes into account the additional 1 million shares from the Q4 2013 secondary offering)
Note that the above range of P/S multiples remain unchanged from my original valuation range back in May. While the range of P/S multiples for similar companies has expanded (and is now much more variable), I have a hard time justifying multiples higher than the mid single-digits. Investors with different risk profiles will likely differ on this. My thoughts on the matter are best summed up in the following quote from a 2002 Businessweek interview with Sean McNealy, the co-founder of Sun Microsystems:
"At 10 times revenues, to give you a 10-year payback, I have to pay you 100% of revenues for 10 straight years in dividends. That assumes I can get that by my shareholders. That assumes I have zero cost of goods sold... That assumes zero expenses... That assumes I pay no taxes, which is very hard. And that assumes you pay no taxes on your dividends, which is kind of illegal. And that assumes with zero R&D for the next 10 years, I can maintain the current revenue run rate... Do you realize how ridiculous those basic assumptions are?"
Additionally, in the recent months there have been two buyouts worth noting. In June of 2013, Salesforce (NYSE:CRM) purchased ExactTarget (NYSE:ET) for approximately $2.5 billion. Last December, Oracle (NYSE:ORCL) purchased Responsys (NASDAQ:MKTG) for approximately $1.5 billion. These buyout amounts represented P/S multiples of approximately 7.9x and 7.4x, respectively. While neither ET nor MKTG were direct competitors to ECOM, their buyouts are relevant comparison points in that they were small cap, cloud-based companies providing services to the e-commerce industry. Because of this, an extra row for an 8.0x P/S multiple was included in the above valuation table for reference. ChannelAdvisor, however, currently trades at nearly 19x P/S.
Conclusion
As I've written before, the above is obviously a simplified look at ECOM's valuation, and the resulting price range is large. However, given ECOM's current lofty valuation, it reinforces the notion that shares currently have more downside risk than upside potential. It is certainly possible that ECOM's increasing revenues will allow it to grow into its current valuation, however it's also entering dangerous territory where shares could plunge substantially if they miss (or even "beat but by less than expected") on future earnings reports.
Disclosure: I have no positions in any stocks mentioned, and no plans to initiate any positions within the next 72 hours. I wrote this article myself, and it expresses my own opinions. I am not receiving compensation for it (other than from Seeking Alpha). I have no business relationship with any company whose stock is mentioned in this article.