On January 28, 2014, Kulicke and Soffa Industries, Inc. (NASDAQ:KLIC) reported its latest quarter results. Latest quarter performance was the company's worst in the last years, in terms of revenue, net income and operating margin. Nevertheless, the market reaction to the report was extremely positive, and the stock climbed 11.4% in the same day (K&S reported before the market open). I find the market reaction logical since semiconductor and semiconductor equipment manufacturers have historically been highly cyclical, and one poor quarter does not change the fundamentals of a great company. In this article, I will explain why, in my opinion, KLIC stock is still a strong buy and that it has plenty of room to move up.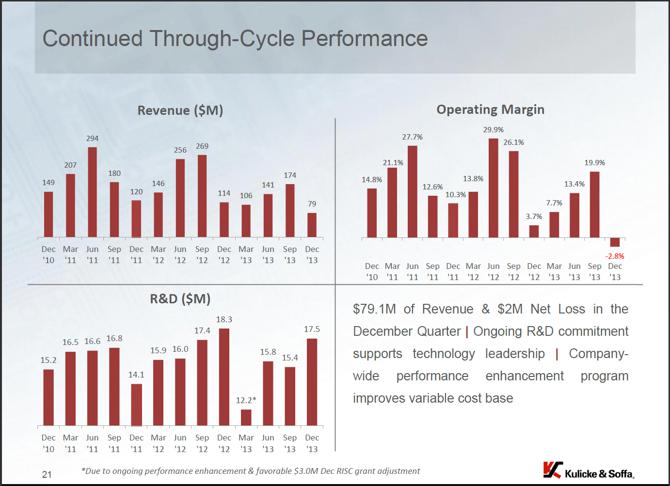 Source: December Quarter Q1 FY14 Investor Presentation
The Company
Kulicke & Soffa is a global leader in the design and manufacture of semiconductor assembly equipment. As one of the pioneers of the industry, K&S has provided customers with market leading packaging solutions for decades. In recent years, K&S has expanded its product offerings through strategic acquisitions, adding wedge bonding and a broader range of expendable tools to its core ball bonding products. Kulicke and Soffa Industries, Inc. was founded in 1951 and in 2010 it moved its headquarter from the U.S. to Singapore.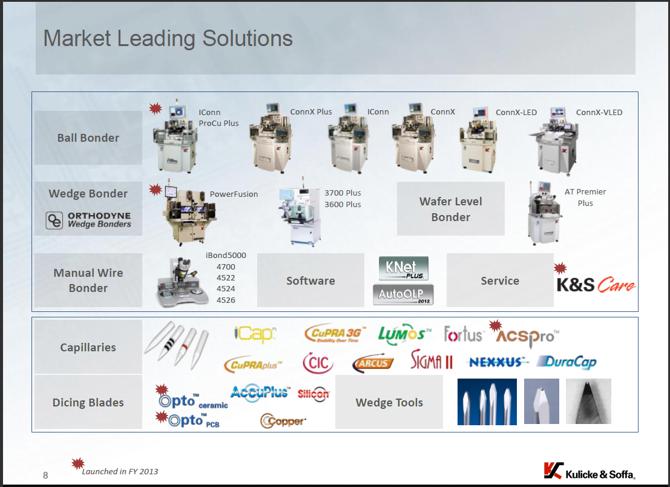 Source: December Quarter Q1 FY14 Investor Presentation
Latest Quarter Results
On January 28, 2014, Kulicke & Soffa reported its first-quarter fiscal 2014 financial results, which beat EPS expectations by $0.06.
First Quarter Fiscal 2014 Financial Highlights
Net revenue of $79.1 million.
Gross margin of 48.5%.
Net loss was $(2.0) million or $(0.03) per share.
Cash, cash equivalents and short-term investments were $557.2 million as at December 28, 2013.
First Quarter Fiscal 2014 Key Product Trends
Ball bonder equipment net revenue decreased 67.5% over the September quarter.
81.5% of ball bonder equipment was sold as copper capable.
Wedge bonder equipment net revenue increased 7.3% over the September quarter.
In the report, Bruno Guilmart, Kulicke & Soffa's President and Chief Executive Officer, said:
We have demonstrated the ability to drive significant operational leverage at reasonable costs, in periods of strong demand and have now demonstrated the ability to lower our break-even point and minimize losses, in periods of soft demand. During the December quarter, the shift in product mix and our ability to adjust manufacturing capacity by over 50%, has enabled us to drive meaningful gross margin improvement.
Also in the report, the company gave an outlook for the second-quarter of fiscal 2014. The Company expects net revenue in the second fiscal quarter of 2014 ending March 29, 2014 to be approximately $110 million to $120 million.
Looking forward, Bruno Guilmart commented:
According to Gartner and VLSI Research, 2014 and 2015 semiconductor unit growth forecasts are anticipated to significantly outpace the prior two calendar years. This positive market outlook combined with our operational model, growing balance sheet, core market strength and ongoing investments in advanced packaging allows us to look ahead with continued optimism.
Valuation
K&S is a highly cash generative company with no debt, it has done an excellent job during the last seven years by succeeding to reduce its total debt from $251 million in 2007 to zero already in 2012, and to increase its cash position and short-term investments from $170 million in 2007 to $557 million at the end of 2013.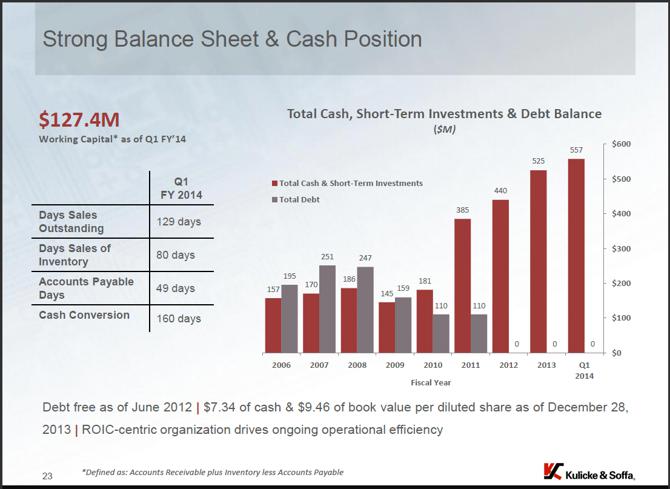 Source: December Quarter Q1 FY14 Investor Presentation
K&S has an extremely low price to cash ratio of 1.70. In order to compare this value with other tech stocks, I ran the finviz.com Screener and I found out that, among the 539 tech stocks with a market cap greater than $300 million, only twelve companies have such a low or lower price to cash ratio
As of January 29, KLIC's closing price was at $11.83, and it had a trailing twelve months EPS of $0.71, this corresponds to a trailing P/E ratio of 16.66. But, if we subtract its cash per share value of $6.98 from the current stock price, we get net price of $4.85, which gives an extremely low trailing P/E ratio of 6.83. According to finviz.com, the forward P/E is at 12.93, and after subtracting the cash, we get an exceptionally low forward P/E of 5.30.
Growth
K&S has recorded strong revenue and EPS growth during the last five years. The average annual sales growth for the past five years was quite high at 10.30%, and the average annual EPS growth for the past five years was very high at 29.90%. The Street's average annual earnings growth estimate for the next five years is high at 15%. The PEG ratio, using forward P/E of 12.93 and the annual earnings growth estimate of 15%, is very low at 0.86 (forward P/E divided by growth).
The Industry
Semiconductor and semiconductor equipment manufacturers have historically been highly cyclical, with periods of strong growth and high margins, which have caused companies to raise capital investment, and in effect have caused excess supply followed by periods of weakness. The economic data and companies' comments are all saying essentially the same thing, which is that the semiconductor equipment industry has already passed through the bottom of the current cycle. New internet applications will extend the compute environment to every day devices like smart television, wearable, cars, light bulbs and more. This development will increase the demand for semiconductor test equipment.
Book-to-Bill Ratio
One very important parameter when analyzing a semiconductor company is the book-to-bill ratio, which is the ratio between new orders to actual sells. A ratio of above one implies that more orders were received than filled, indicating strong demand, while a ratio below one implies weaker demand. On January 23, 2014, the SEMI.ORG announced that the North American semiconductor equipment industry posted December 2013 book-to-bill Ratio of 1.02. The three-month average of worldwide bookings in December 2013 was $1.38 billion. The bookings figure is 11.1 percent higher than the final November 2013 level of $1.24 billion, and is 48.3 percent higher than the December 2012 order level of $927.4 million. The three-month average of worldwide billings in December 2013 was $1.35 billion. The billings figure is 20.8 percent higher than the final November 2013 level of $1.11 billion, and is 33.8 percent higher than the December 2012 billings level of $1.0 billion.
On that occasion, Denny McGuirk, president and CEO of SEMI said:
Through the final quarter of 2013, both bookings and billings continually improved. The December three-month average bookings were at the highest level since June 2012 - a positive sign for the 2014 spending outlook.
The table below presents the North American semiconductor equipment industry's billings, bookings and the book-to-bill ratio since the beginning of 2012.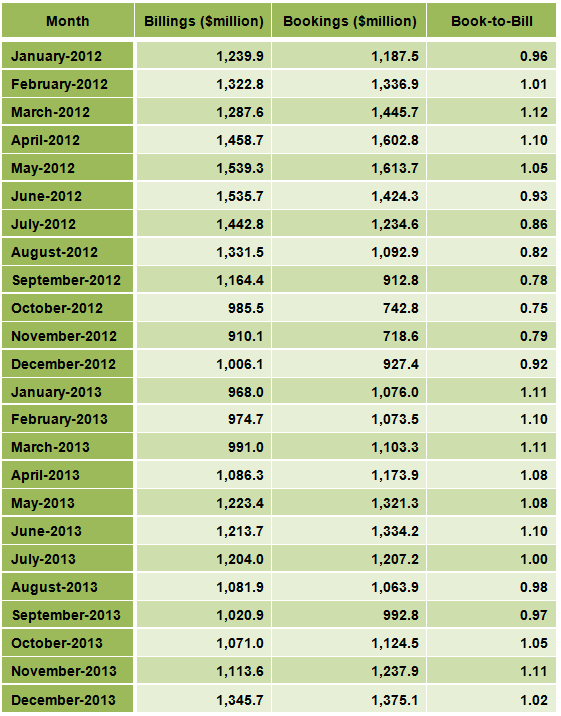 Source: SEMI.ORG
The charts below present the North American semiconductor equipment industry's billings, bookings and the book-to-bill ratio since 1991.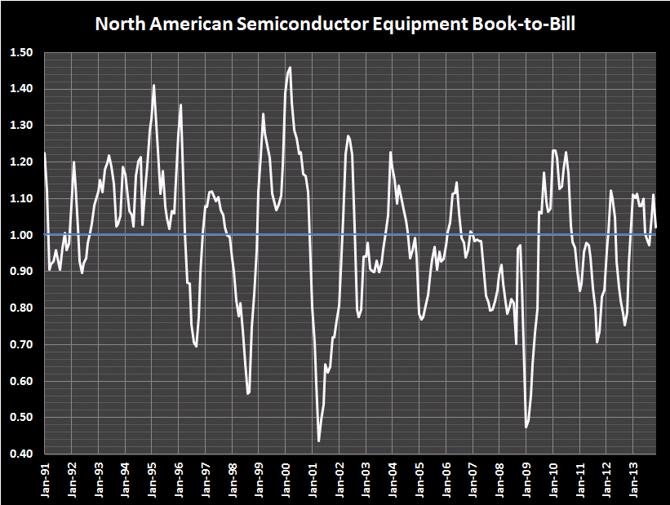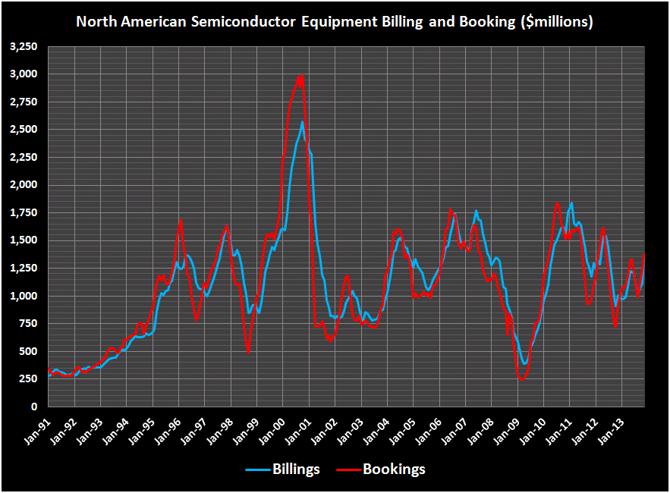 Source: SEMI.ORG
Technical Analysis
Personally, I am using only fundamental analysis for my investment decisions. After many years of experience, and after having tried all kinds of decision making including technical analysis, I have reached the conclusion that relying on fundamental information is giving me the highest return. Nevertheless, some investors are successfully using technical analysis to find the proper moment to start an investment (I am not talking about traders; my analysis is only for investors). The charts below gives some technical analysis information.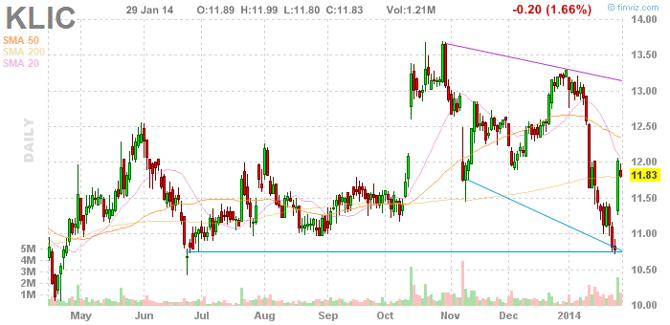 Chart: finviz.com
The KLIC stock price is 2.49% below its 20-day simple moving average, 4.39% below its 50-day simple moving average and 0.17% above its 200-day simple moving average. That indicates a short-term and a mid-term downtrend and a long-term uptrend.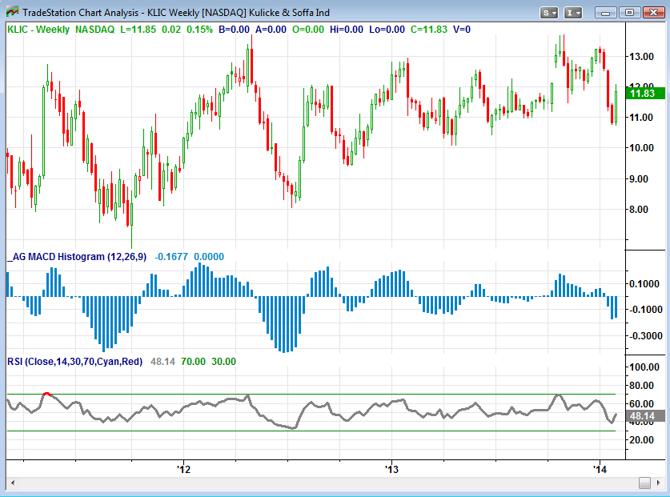 Chart: TradeStation Group, Inc.
The weekly MACD histogram, a particularly valuable indicator by technicians, is at -0.1677, and ascending, which is bullish (a rising MACD histogram and crossing the zero line from below is considered an extremely bullish signal). The RSI oscillator is at 48.14, which do not indicate oversold or overbought conditions.
Analyst Opinion
KLIC stock is almost neglected by analysts, only three analysts are covering the stock, two of them rate it as a strong buy, and one rates it as an underperform. Personally, I think that it is more an advantage than disadvantage, in general a stock covered by not many analysts has a better chance to increase its price by a significant rate.
Discussion
In my opinion, Kulicke & Soffa will outperform the worldwide wafer fab equipment in 2014. According to SEMI.ORG, in its publication of December 03, 2013, worldwide sales of new semiconductor manufacturing equipment will increase in 2014 by 23.2% to $39.46 billion. System-on-chip (SOC) orders should trend up in 2014 as semiconductor manufacturers and test providers resume equipment purchases following a period of digestion last year.
Since 2010, Kulicke & Soffa has more than half the global market share, this means that the company's revenue is in direct relationship to the total global semiconductor sales. Kulicke & Soffa's equipments are used in the last phase of the IC production so that they can be purchased in the last moment of the assembling of the production line and the assembling companies do not have to keep a stock of Kulicke & Soffa's equipment. In contrast to most other semi equipment producers, which get their orders in advance, K&S gets orders for an immediate supply and that explains the high volatility of the company's revenue and its financial results, and naturally the high volatility of the stock price.
K&S has been doing well as assembly firms are moving from gold bond wires to copper due to the escalating cost of gold. The average copper wire cost saving is about 67%, and depends on the lead count. Currently 40% of ball bonders in production are copper capable, copper binders are expected to reach 55% of the total bonder market by 2016.
Kulicke & Soffa sees some markets as very promising for the demand of its products. The Light Emitting Diodes (LED) market is expected to grow at an annual rate of 21% - CAGR. Kulicke & Soffa's explanation:
Largest growth expected from general lighting applications.
Declining price points are the main growth driver.
K&S has multiple solutions that address various interconnect alternatives within the High-Bright LED market.
Risk
According to Kulicke & Soffa, the semiconductor industry is volatile, with periods of rapid growth followed by industry-wide retrenchment. These periodic downturns and slowdowns have adversely affected its business, financial condition and operating results.
The semiconductor manufacturing industry is highly concentrated, with a relatively small number of large semiconductor manufacturers and their subcontract assemblers and vertically integrated manufacturers of electronic systems purchasing a substantial portion of the company's semiconductor assembly equipment and packaging materials. Sales to a relatively small number of customers account for a significant percentage of K&S net revenue. Sales to its largest customers, defined as more than 10% of its net revenue, was 11.0%, 37.3%, and 21.8%, for fiscal 2013, 2012, and 2011, respectively. If K&S loses orders from a significant customer, or if a significant customer reduces its orders substantially, these losses or reductions may materially and adversely affect the company's business, financial condition and operating results.
Conclusion
As the world leader in the wire bond, wedge bond, stud bump and capillary markets, Kulicke & Soffa will benefit from the rebound in semiconductor manufacturing equipment spending in 2014. The company has compelling valuation metrics and strong earnings growth prospects, its PEG ratio is very low at 0.86. Furthermore, Kulicke & Soffa has an unusually strong balance sheet and zero debt, its price to cash ratio of 1.70 is among the lowest in the tech sector. KLIC's net trailing P/E (after deducting cash) is extremely low at 6.83, and its forward net P/E is also exceptionally low at 5.30.
All these factors bring me to the conclusion that KLIC stock is a smart long-term investment.
Disclosure: I am long KLIC. I wrote this article myself, and it expresses my own opinions. I am not receiving compensation for it (other than from Seeking Alpha). I have no business relationship with any company whose stock is mentioned in this article.