AXT, Inc. (NASDAQ:AXTI) is a developer and producer of compound and single element semiconductor substrates, including substrates made from gallium arsenide (GaAs), indium phosphide (InP) and germanium (Ge).
It manufactures its semiconductor substrates using the vertical gradient freeze technology. AXTI manufactures its products in the People's Republic of China. It sells compound substrates manufactured from GaAs and InP, as well as single-element substrates manufactured from Ge. AXTI supplies GaAs substrates in two-, three-, four-, five- and six-inch diameters. It manufactures InP substrates in two-, three-and four-inch diameters, and Ge substrates in two- and four-inch diameters.
What first struck my interest in AXTI was the fact that it had an incredible balance sheet. When I'm investing in Chinese growth stocks, a clean-as-a-whistle sheet is the first thing I look for. Many of these companies are beaten down just by virtue of being listed on our beaten-down exchanges. The difference between many of the Chinese companies you'll find and their American counterparts is that these companies have great cash positions and little or no debt, but yet are still rewarded only extremely low P/E ratios.
Test #1 for investing in Chinese small caps should be geared toward just such an analysis. Let's take a look then, as it applies to AXTI:
Cash/Cash Equivalents have increased in each of the past 4 quarters.
Inventory has decreased in each of the past 5 quarters, so the product is still selling even amidst tough economic times. In fact, this is one of the main things I look for in companies right now. If they can not only survive during these times, but are either continually selling their product at a normal pace or even a quicker pace, then they will flourish as the US economy recovers and the Chinese economy continues to expand. The exclamation point on good inventory reduction is that consumer confidence is strengthening.
Total Long-Term Debt is only 420k and Total Debt is only 496k. These debt figures have been paid down in each of the past 5 quarters (and remember that the company is still increasing its cash position). Notable is that last quarter the company reduced its Total Debt from 3.5M to the above-stated figure. With nearly 17M in cash on hand and virtually no dilution over the past 5 quarters, the company's capital structure is very strong.
How do we account for the loss the company reported in FY09? Yes, AXTI reported a loss last year, due to a significant drop in revenues from 2008 to 2009. However, the company's profit margins have actually increased.
Yet the real story here is the quarterly performance. Revenues increased in every quarter last year, which caused the huge dip in YOY revenues to be a bit misleading. The cost of these revenues has just about leveled off, which accounts for the increasing margins. Selling, general, and administrative expenses decreased in all four quarters, as did total operating expenses.
As revenues continue to grow, and the company continues to trim down on expenses, I believe it will again be profitable in 2010. In fact, E*Trade's consensus estimate for FY10 (which I know doesn't carry much weight, but is still worth a mention) is .22/share.
The company suffered a huge loss in the first quarter of 2009 (-.18), but was able to reduce that loss to (-.04) in the second quarter, and then saw gains of .07 and .09 in the third and fourth quarters, respectively. The loss for the year is in a large part due to the substantial loss in the first quarter.
Since the yearly results fail to distinguish the positive quarterly trends, most investors make the mistake of placing too much weight on that annual figure. In actuality, this loss is due to a higher-than-normal loss in the first quarter which has since been not only diminished, but actually turned into a very nice gain in the fourth quarter.
So what caused the huge loss in the first quarter of 2009? Aside from generally poor market conditions, the semiconductor industry as a whole suffered a huge down turn in 2008, before finally correcting after the first quarter of 2009.
Thus, AXTI's Q109 loss (which, remember, causes the yearly results to come off as quite lopsided) is likely attributable in the most part to that fact (see chart below and notice the semiconductor and equipment industry [$GSPSE] double bottomed in late '08/early '09 but has been on a tear ever since).
The fact that the company was able to trim down during a red year, coupled with the fact that the market for the product has vastly improved, makes a great case for investing in AXTI now. The stellar balance sheet, the tremendous down payment made to reduce its debt to virtually nothing, and the fact that the company continues to be able to hoard vast amounts of cash is only the initial layer of icing on the cake.
From a technical standpoint, AXTI has formed a bullish ascending triangle pattern on its weekly chart. Due to the fact that its RSI is close to breaking resistance, I think that event will serve as a precursor to the PPS following suit shortly thereafter.
AXTI's full STO appears to be putting in a bottom near 50 for the second time, a testament to the strength of the stock. Lastly, with the +DI trending above the -DI and the ADX at 33, AXTI is in a very strong uptrend.
Investors should attempt to purchase AXTI near its lower trend line, in my opinion, which is currently near the 3.20s. It should also be noted that the 50- and 100-week moving averages have just made a bullish golden cross.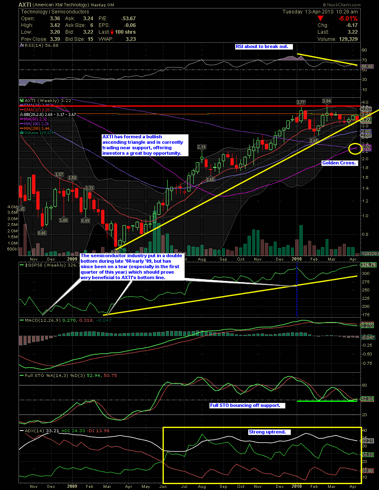 ;
(Click to enlarge)
Disclosure: Author long AXTI