In the race to find a treatment for neurological injuries and disease using human stem cells, StemCells, Inc. (STEM) and Neuralstem, Inc. (NYSEMKT:CUR) are neck-and-neck. They both use a form of human neural stem cells to derive therapies that in pre-clinical studies have proven to repair and replace neurons and regenerate cell growth in central nervous system, or "CNS", disorders. We'll look at a side by side comparison to determine which company offers the most potential for return on investment.
All About the Cells
STEM uses tissue derived (adult) human neural stem cells from human brain tissue and progenitor cells which STEM describes as human liver engrafting cells. STEM's neural cells appear highly purified and expandable for a number of generations while retaining their potential.
CUR also uses tissue derived human neural stem cells. However, they specifically highlight that their neural cells are "specialized". In other words, they believe neural cells for the spinal cord are distinct from neural cells for the brain. CUR's technology enables the isolation of neural cells from each of these regions of the CNS. Like STEM, CUR's cells are highly purified and expandable.
STEM and CUR are fierce competitors striving for dominance in the same space using similar cells albeit derived in a slightly different fashion from different sources. The similarity of the IP has caused protracted litigation between the two companies that started in 2006 when STEM sued CUR for infringement of a number of their patents. Since the original suit was filed there's been a number of suits and countersuits. It's impossible to determine what the outcome will be at this juncture but after eight years of litigation with no settlement or judgment in sight, it's hard to pick a winner if there is one.
I would view a comparison of their manufacturing and production techniques and cell potential as a toss up.
Low-Hanging Fruit
Low hanging fruit is a metaphor that is often used to describe the process of doing the simplest or easiest work first. In the case of CUR and STEM, developing the stem cell lines and completing the pre-clinical studies to ensure their potential was the most difficult phase. Now that the work has been completed, the foundation has been set to move forward with therapies that will hopefully improve a variety of human conditions. At this stage, developmental stage biotechs have limited capital resources competing for initiatives that will bring the most money to the company in the quickest amount of time. With similar science, STEM and CUR have climbed that tree of opportunity and reached out in different directions. STEM decided to pursue the following indications:
Myelination Disorder
Pelizeaus-Merzbacher Disease is a fatal myelination disorder in the brain. STEM presented two year data from their phase 1 trial that suggested departure from the natural history of the disease.
Chronic Spinal Cord Injury
STEM expanded their phase I/II spinal cord injury trial to North America at the beginning of 2014. Twelve month data from the ongoing trial in Switzerland has demonstrated safety and sensory gains in some of the patients which is highly encouraging.
Dry AMD
In October 2012, STEM injected their first Dry AMD patient. To date, seven of the sixteen patients have been dosed. A phase II efficacy study is planned for later this year with patients at earlier stages of the disease. Preclinical studies using neural stem cells were highly promising, particularly for early stages of the disease before RPE cells have a chance to die off. And, the market for Dry AMD worldwide is huge.
Alzheimer's Disease
In April 2013, STEM entered into an agreement with the California Institute for Regenerative Medicine (CIRM) for a forgivable loan in the amount of $19.3 million. An IND is on the horizon most likely in 2016.
The CEO gave an update to shareholders recently outlining all of their various initiatives.
CUR on the other hand has decided to pursue the following indications:
Amyotrophic Lateral Sclerosis more commonly known as ALS
Phase II trial for ALS started in September, 2013. The phase I safety trial revealed strong signs of efficacy in some of the patients. A couple of patients have been very vocal about their progress. FDA Breakthrough Status is the latest buzzword thrown around with a number of biotechs these days but I truly believe CUR's ALS therapy has a strong chance of obtaining it.
Chronic Spinal Cord Injury
The FDA Phase I safety trial is expected to commence in 2014.
Ischemic Stroke
A wholly owned subsidiary, Neuralstem China, commenced a Phase I/II trial in China in 2013. Trial protocol was developed for FDA approval in the U.S. A successful stroke therapy using neural cells represents a huge worldwide market potential.
Major Depressive Disorder
The Phase Ib trial for the small molecule drug has been completed and data is under review. The Phase II trial should commence during 2014.
Taking into consideration the progression of the trials and the potential for early commercialization and market potential, I would give execution of the low hanging fruit strategy to CUR. However, the race is still in the early stages.
Stock Performance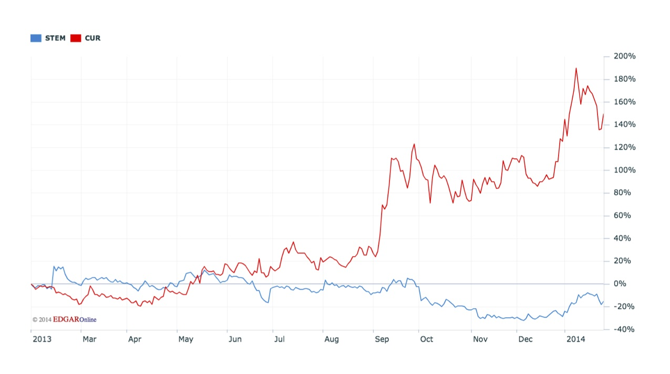 From the chart above CUR has been the clear winner in stock performance over the past 12 months. However, based on the potential of the science for both companies and the low hanging fruit strategy of each, is the performance differential justified by progress and the potential of their respective therapies?
Balance Sheets
With developmental stage biotechs, cash is king. Low cash equals imminent dilution. It's a key factor when comparing STEM and CUR.
Based on STEM's 10-Q for the quarter ending September 30, 2013 STEM had approximately $21 million in cash. The cash burn rate for the nine month period (cash used by operations) was close to $16.5 million so assuming STEM spends at their current rate, there's a sufficient cash runway for the next twelve months.
CUR's 10-Q for the quarter ending September 30, 2013 revealed cash of approximately $16.5 million and a cash burn rate for the nine month period of approximately $8 million so again assuming CUR's current spending rate, there's a sufficient cash runway for the next 18 months.
Conclusion
Jason Napodano, an analyst I follow and respect, talks about the three C's of biotech investing; cash, catalysts, and charisma with charisma being treating a serious unmet medical need with a new therapeutic approach. I would argue that STEM and CUR both meet this criteria. However, I would add a fourth C; capitalization. Due to the strong price appreciation of CUR over the past twelve months in comparison to STEM, CUR has a current valuation of $247 million vs. $80 million for STEM. I firmly believe that neural stem cells will be a winning therapy no matter which company you're invested in. But, I would also argue that the race is much closer than the market suggests and based on the fourth C of biotech investing, STEM is the clear choice when choosing between the two companies to maximize return on investment at this point in time. Even if you conservatively think CUR is winning the race by a large margin and STEM has only half of CUR's potential, in terms of market capitalization on a relative basis, that would give STEM a value of $123 million. Based on the current stock price, that still represents a greater than 50% upside in the stock price of STEM!
Disclosure: I am long STEM, CUR. I wrote this article myself, and it expresses my own opinions. I am not receiving compensation for it (other than from Seeking Alpha). I have no business relationship with any company whose stock is mentioned in this article.