Earlier this week, I published a list of several stocks you want to own this week, and certainly on the list was one of the companies we've been following most closely, Neostem, Inc. (NBS). If you still haven't picked up any shares, you may want to, because things are about to get a lot more interesting for this undervalued "stem cell play with a twist."
Recently, the company announced the recent approval from the State Food and Drug Administration (SFDA) in China to manufacture the sterile active pharmaceutical ingredient (API) of the anti-infective cloxacillin sodium. This is the second of seven drugs in Erye's pipeline to be approved since the October 31st, 2009, acquisition of the 51% interest in Erye. Both drugs are on the China's National Medical Reimbursement Insurance list, and thus eligible for reimbursement by the government's healthcare programs. The Commercial launch for both drugs is planned for this summer.
The acquisition of Erye has completely re-shaped the company, and investors have barely noticed. After having owned only 2 months of Suzhou Erye, the company reported over $11 million dollars in revenues for 2009. Year end financials support Suzhou Erye's growth and Revenues for 2010 should be over $80 million and potentially higher with acceleration of the relocation to the new plant which should double their capacity.
Additionally, the company expects to see a number of new license deals from the US to sell in China. This is a significant development and it will mean big profits without big investments. In additon, the fact that a trusted American company can guide other American companies through the "license to China" process, in order to get their products into the hands of consumers, this will be a major step which can be repeated time and again by Neostem. As I've said before, when NBS acquired the Chinese pharmaceutical operation, they, in essence, created their own printing press for new money.
Neostem announced its move to Deloitte for completing the business of its 2010 audit. Why? Because the markets more readily trust that the numbers are real. Insiders increased their buying of shares, through the purchase of warrants, at a price much higher than where the stock is trading now. This should tell investors just how undervalued those close to the company believe shares are.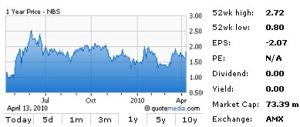 Additionally, RimAsia, the largest NBS shareholder, exercised its NeoStem warrant to purchase 1,000,000 shares, issued in a September 2008 private placement ("2008 Warrant"), at a price of $1.75 per share for gross proceeds to the Company of $1,750,000. RimAsia is currently subject to a lock-up agreement. The transaction was approved by the independent audit committee when the Company's common stock was trading at $1.42.
Let's not forget the potential impact of the stem cell side of the business in an industry projected to generate $88 billion annually world wide by 2014. The launch of therapeutic programs, with innovative stem cell technologies cosmetic and anti-aging applications, in the People's Republic of China (PRC) and in Taiwan appear to be on track. Wendeng Orthopedic Hospital commenced operations in the first quarter of 2010, with revenues expected during the second quarter of 2010.
Enhance BioMedical Holdings Limited (EBH) is expected to begin in the second quarter of 2010 adult stem cell collection and storage activities to enable it to launch the application of cosmetic and anti-aging therapies in Taiwan during the summer of 2010. EBH is also a strategic investor, buying $5 millionworth of equity in April 2009.
As therapies emerge, NeoStem's stem cell collection and storage business in the US will undoubtedly grow. In the first quarter, the Company expanded into the southwestern region of the US, with the addition of the physician group at Westlake Orthopaedics Spine & Sports in Austin, TX launching in the second quarter.
NeoStem is preparing to launch an adult stem cell collection center at its new R&D facility in Cambridge, MA, this quarter.
These collection centers will not only provide expected new sources of revenue, but also further strengthen the Company's leadership in adult stem cell collection and storage.
Letters of Intents (LOI) have been executed between the Company's Chinese consultant and Shandong Life Science and Technology Research Institute as well as Peking University Diabetes Center, Beijing Institute of Geriatrics, Ministry of Health and Shandong University to expedite the clinical trials of their promising adult stem cell VSEL technology.
These are the very small adult stem cells with properties similar to those of embryonic stem cells. These cells have the potential to achieve the positive benefits associated with embryonic stem cells without the ethical or moral dilemmas or certain of the potential negative effects associated with embryonic stem cells.
As the worldwide license holder to VSEL technology, NeoStem remains in discussions with a number of researchers to generate data relating to other clinical applications of very small embryonic-like stem cells, including neural, cardiac, and ophthalmic disease, to expand research efforts and maximize the value of this technology.
Disclosure: Author long NBS