By Carla Fried
A proprietary five-factor model the Leuthold Group uses to rate 3,000 stocks funneled into 120 industry groups, generated a 40.4% return last year for groups rated attractive. That was eight points more than the en fuego S&P S&P 500.
Leuthold's model amalgamates its read of recent technicals (momentum), as well as its VLT metric: (the very long term momentum outlook), profitability, as well as growth and value metrics to arrive at an Attractive, Neutral, or Unattractive rating for each industry group. For the record, groups rated Unattractive in 2013 generated a 25% gain; the value add for Leuthold clients was a steep 15 percentage points between its attractive and unattractive group ratings.
Before we get to what the Leuthold Group is finding attractive right now, it's important to lay out that Leuthold expects the market averages to post 2014 gains in the range of 3% to 6%, and that will include a market correction in the range of 12%-18% during the year. Now that's just the firm's outlook for the averages; its Attractive groups may outperform, but clearly hitting a double digit return is going to be a very good showing based on what it foresees for the market averages this year.
Technology is a broad sector Leuthold expects to move into a leadership position this year, after lagging with "just" a 28% gain last year. Leuthold's interest in tech tilts toward the old-school players, not the headline grabbing (and overvalued) Facebook (NASDAQ:FB), LinkedIn (LNKD), Twitter (NYSE:TWTR):
From their January investment report: "Info Tech's strength in our rankings comes primarily from the older, more conservative IT groups that rely on outsourcing and turnover to drive profitability. These groups aren't nearly as expensive as the more speculative Tech groups and rate well in almost every category of our scores. IT Consulting Services, Data Processing & Outsourced Services, Tech Distributors, and Electronic Manufacturing Services rank Attractive here."
Back in November YCharts dove into two midcap tech distributors Leuthold was investing in: Arrow Electronics (NYSE:ARW) and Avnet (NASDAQ:AVT). Both have outperformed over the past few months.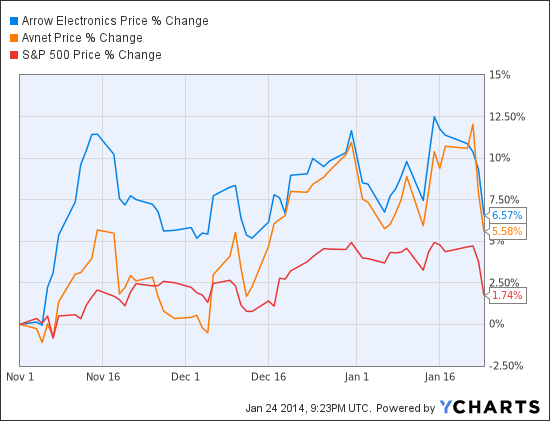 ARW data by YCharts
Heading over to the YCharts Stock Screener, 90 stocks show up in the IT Services group. As a rudimentary valuation screen, demanding a PE ratio less cash below 20 narrows the field to fewer than 20 stocks, including big boys IBM (NYSE:IBM) and Accenture (NYSE:ACN). As recently covered at YCharts, IBM clearly isn't going to make anyone's list of interesting growth stocks right now, but as a value play in an industry expected to see a pickup in demand this year, it isn't expensive and IBM's strong buyback bent generates a shareholder yield near 5%.
Accenture, A $54 billion mix of consulting, technology services and outsourcing was recently tapped to rescue the troubled healthcare.gov website. (For a quick Kimmel-esque spin on what Accenture does, enjoy this YouTube clip.)
If you're on board with the notion that IT spending is bound to ramp up this year as companies address a long cycle between upgrades and a brightening economic backdrop makes it easier to pony up more for cap-ex, Accenture is the sort of company ideally positioned to benefit. It swoops in as a consultant to establish the IT upgrade plan and efficacy and then deploys its services group to make it happen. And that plays out in more than 120 countries.
Accenture is one of those fly-under-the-radar stories where operationally it is delivering: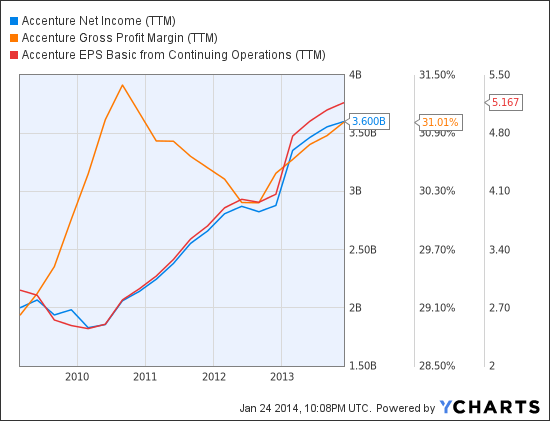 ACN Net Income (TTM) data by YCharts
Yet its valuation -- we look at EV/EBITDA and other gauges -- is what you might expect from a company lugging around some big operational question marks: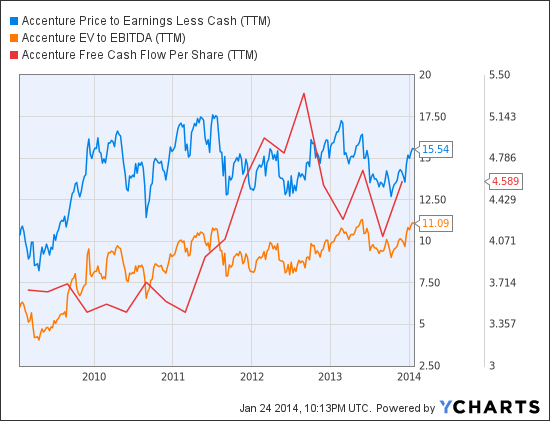 ACN Price to Earnings Less Cash (TTM) data by YCharts
And for the income enthusiasts, Accenture currently has a 2% dividend yield. But just be aware Accenture was in the camp of dividend cutters during the financial crisis; that said, a sub 35% payout ratio makes it likely the current dividend is safe and has room to grow.
Leuthold also calls out the Insurance sector as attractive, including the Life & Health, Multi-Line, Property-Casualty and Reinsurance industry groups. Two auto industry sectors are also pegged as attractive right now including Auto Parts & Equipment, Automotive Retail.
Disclosure: None