Late last week Metals USA Holdings Corp (MUSA) made it's stock debut being offered to the public at $21.00 per share. The deal was relatively small with just 11.4 million shares being offered and a broad assortment of underwriters took the lead in distributing the shares to the public. Recently, new issues have performed well in the after-market but MUSA was an exception. It may be that the underwriters reached too far on this one, setting the bar a bit too high with the $21 offer price.
While at first blush the prospectus states that the shares are primary (with the shares being distributed to the company) further reading highlights the fact that private equity holders will actually retain the majority of funds from this transaction. In no more than 60 days, the company is required to make an offer to purchase Payment In Kind (or PIK) notes which are held by the asset manager Apollo Group and some of its subsidiaries. So while all the information is public, it appears this is a bit of a stealth deal to allow Apollo to cash out.
At this point there is still significant incentive for Apollo Group to support the stock and also provide MUSA with the necessary support to grow its business. While 11.4 million shares were offered to the public, a full 37 million shares are outstanding with Apollo Group still owning a majority position. I wouldn't be surprised to see these additional shares hit the market later in the year – especially if equities markets continue to price in a recovery scenario.
Metals USA is an industrial company which is heavily dependent on sustained economic growth. In the prospectus, management indicated that they expect demand for steel products to increase alongside improving general economic conditions. The company believes that its customers are continuing to operate with low inventory levels which could bolster demand if these inventories are rebuilt.
To show how economic conditions affect this company, consider the wide swings of the last three years. In 2007, the company collected $1.8 billion in revenues and produced 55 cents in earnings per share. 2008 was an even better year with revenues of $2.2 billion and earnings of $2.87 per share. But 2009 was quite a challenge – revenues were cut in half to $1.1 billion and through cost cutting and managing expenses MUSA was able to generate just 14 cents per share.
Improving trends this year should push earnings higher but we are unlikely to see returns similar to 2008. It is very difficult to forecast future growth because manufacturing and broad economic conditions are so unpredictable. But lately the price of steel has been rising and competitors like US Steel (X) are expecting strength in 2010 and a much more profitable year in 2011.
MUSA operates three primary business segments
Plates and Shapes accounted for 47% of 2009 sales
Flat Rolled and Non-Ferrous commanded 45% of revenue
Building Products is much smaller with 8% of revenues.
Looking through the prospectus materials, it is clear that the company has been slowly working both its inventory and its debt level lower. This should provide a more stable fiscal foundation which is encouraging for shareholders. But the failure of the IPO deal and the overhead resistance from Apollo's shares which could eventually be dumped on the market will likely keep this stock lower.
As I write Thursday, the stock is trying to rally a bit and very well make a run back towards the IPO price. If it reaches $20.50 or even $21, I will be interested in setting up a short position. The position would not be entered until the stock began to fall again, but using a sell stop to get short and a tight stop above the IPO price, there is a good chance that traders could capture $2 to $3 in profits quickly, while only risking about $1.00. Timing is critical and it might take more than one trade to get it right, but busted IPOs are some of my favorite short opportunities to pursue.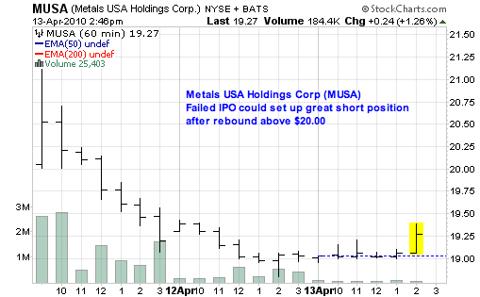 Full Disclosure: Author does not have a position in MUSA