Arena (NASDAQ:ARNA) investors can be a bit encouraged by the progress in weekly prescription sales so far in 2013, but to be honest, we are not seeing a record setting pace as yet. Typically the first half of the year is the strongest season for weight-loss products, and thus, good week-over-week numbers should be expected even without an impetus of television ads. In the coming days or weeks, we should see television advertising begin, and that could be just the fuel needed to get the street and active traders behind the prescription weight loss story.
Marketing partner Eisai (OTCPK:ESALY) has been running print ads and internet ads for about 5 months now. Television ads is the next logical step in the marketing progression. It is something that competitor Vivus has not done, and the growth curve on Vivus has been flatter. One of the advantages of having a big partner like Eisai is that it will put some dollars and muscle behind a product that it has invested heavily in. The casting company for Belviq ads shot commercials over the past week. Putting in some reasonable assumptions for editing and contracting ad space, we could be as little as a couple of weeks away from seeing advertising. If those ads are good, it will begin to show in the weekly prescription numbers.
This week Belviq sold just over 6,300 prescriptions for a week over week drop of about 2.5% according to industry tracker Symphony Health. I have long maintained that growth of 10% week over week at this juncture is neutral to positive for the equity in the immediate term. Taking a proverbial step backward is not the best situation. That being said, Belviq did not drop as much as Qsymia at 4% down or generic phentermine at about a 10% week over week drop. If the stock is overbought, then the 10% or so would be more neutral. If the stock is oversold, then the news would be more bullish. A negative in the week over week numbers at this juncture is bearish in every sense. It also makes the lack of television ads more of a glaring need than a building block. Last week the growth was about 12%. In theory, given that the weight loss season is ramping up, we want to see growth in each successive week make a bit of an uptick. In about 5 more weeks, that uptick would naturally begin to flatten out a bit. This week's downward number only gives the bearish argument strength.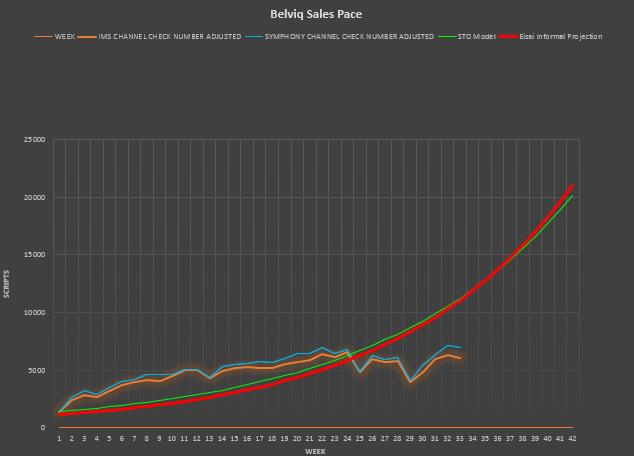 I have established what I feel is a very reasonable target for sales to consumers this quarter. That number is about $25 million in gross sales. This week, the company did about $1.2 million in sales to consumers. For the quarter the sales to consumers stands at an estimate of $3.66 million. The cumulative sales since the launch in June of 2013 stand at $31.67 million. I feel that sales of $25 million in the quarter can happen organically with the larger sales force and current print ad campaign. A successful television campaign can boost that number even higher in my opinion. A lot will depend on when the campaign goes to air, and how aggressive it is.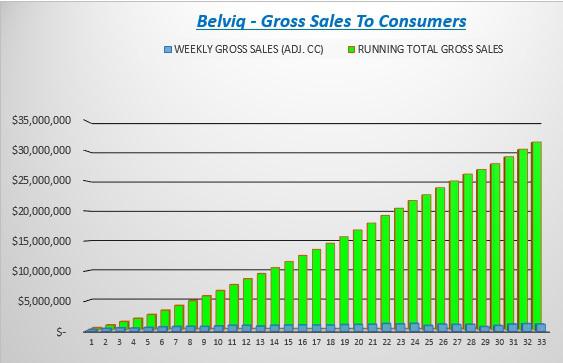 In other news this week, Blackrock disclosed that it had increased its ownership stake in Arena to 16.02 million shares, or 7.3% of the company. This brings the Blackrock stake up from 12.86 million shares and a 5.92% stake almost a year ago. Just a few months ago, and subsequent to the filing last year, Blackrock ownership was at 14.55 million shares. Essentially, in the last quarter, Blackrock added just under 1.5million shares, and increase in its stake of about 9%.
Increasing institutional ownership is a positive for investors, but we still remain at about the 50% level (+/- about 5 points as reporting is not all in) on that front. Blackrock has been committed to the concept of anti-obesity for quite some time. The company has large stakes (above 5% of the float) in Arena, Vivus (NASDAQ:VVUS), and Orexigen (NASDAQ:OREX). On the institutional front, the traction is still positive. A nice development would be to see a new player take on a major interest. Strong sales data can perhaps make that an eventuality.
In summary, we should see some positive week over week results organically in the next few weeks. If that is not happening, the equity may well suffer from it. Television ads, when they air, will cause a short-term pop in the equity that traders will play on. What we want to see is the television ads extend the upward week over week growth into a longer term trend before those numbers begin to flatten out. The bare minimum we want to see on week over week growth as the quarter closes is 5%, and that number may be too low. The strategies that active traders are developing for the quarter are still being developed. Stay Tuned and Pay Attention!
Disclosure: I am long ARNA. I wrote this article myself, and it expresses my own opinions. I am not receiving compensation for it (other than from Seeking Alpha). I have no business relationship with any company whose stock is mentioned in this article.
Additional disclosure: I have no position in Vivus, Orexigen, or Eisai