Thesis
With strong competitive advantages accompanied by a number of drivers for growth, Aegion looks like a potentially profitable investment. On the other hand, it might be a good idea to wait for a slight dip in the price, and the company's returns and effectiveness have to be closely monitored.
Company Overview And Recent Performance
Aegion Corporation (NASDAQ:AEGN) is a company that creates products that protect the pipes and infrastructure of the world from corrosion and damage. They also provide products for pipe rehabilitation and strengthening. Operations are broken into five segments: Energy and Mining, North American Water and Wastewater, European Water and Wastewater, Asia-Pacific Water and Wastewater, and Commercial and Structural. Aegion was founded in 1980 and has 3,400 full time employees. The company's operations span across the globe.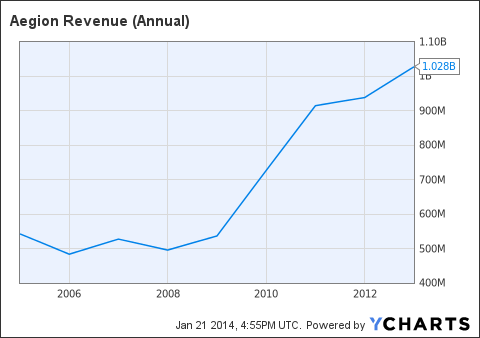 AEGN Revenue (Annual) data by YCharts
As you can see, Aegion has been raising its revenue at an impressive rate throughout the past ten years. The company, formerly known as Insituform Technologies, had revenues of $1.028 billion in fiscal 2012, with net income of $52.7 million.
Overall, the company's goal is to improve the way that the infrastructure of the world is designed, built, and maintained in order to benefit society. The corrosion in pipes, weakening beams in buildings, and leaks that let oil into our environment are being combated everyday at Aegion. They do this by creating complex technologies that improve the strength of infrastructure.
Competitive Position And Strategy
At the 2013 Southwest IDEAS Conference (webcast and presentation), Aegion's CFO, David Martin, declared:
"We look to be the leader in the markets that we serve, and very infrequently are we not the market leader."
This says a lot about the type of business Aegion is and how they achieve success. Aegion is in a market of infrastructure protection. With that being said, it shouldn't be too surprising that they have many niche businesses. In these markets, Aegion expects to be the leader. For example, their North American Water and Wastewater segment has a 40% market share. So far, this strategy of moving head first into niche markets has been a great success for Aegion.
The company is also making progress in the U.S. energy and mining sectors. Much of the ground being gained here is largely due to customer relationships that started with small maintenance contracts. After Aegion gets a chance to prove themselves with maintenance operations, they can start expanding their relationship with a specific customer to new areas of the business.
This means that the business can gain a number of new projects, which is critical in this project oriented business. Aegion depends on large projects to enhance margins and enter new markets. As a side note, this aspect of the company can make quarterly earnings difficult to compare, as well as eliminate the point of quarterly guidance altogether. Overall, Aegion's schedule and income depends more on their customers than themselves. For this reason, it is usually better to look at Aegion's growth on at least an annual basis. If Aegion continues to maintain project and bidding discipline, they will find success in the coming years.
Also, Aegion has strong financials and is ready to take on any expensive yet profitable project or acquisition within reason.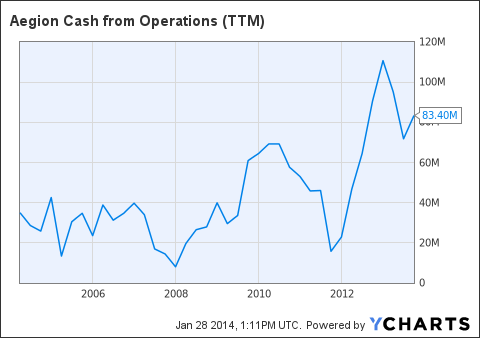 AEGN Cash from Operations (TTM) data by YCharts
The chart above shows that Aegion has been increasing their cash flows in recent years, despite the fact that they did it a bit inconsistently. The company has its debt well under control, as indicated by the chart below.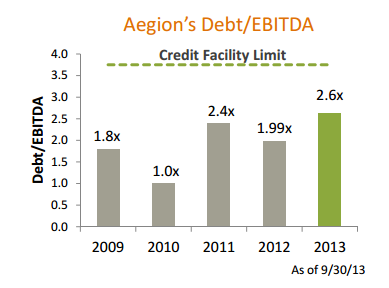 Aegion's debt to EBITDA ratio is well within the limits of the company's $650 million credit facility. This credit facility and the room that the company has until the limit is reached give Aegion a significant amount of capital to deploy on future projects as needed. Also, Aegion's debt to equity ratio is 0.55. Overall, Aegion is positioned for a successful run at expanding the business, both internally and externally, in coming years. But management is well aware of the threat of growth that comes too rapidly. The company has been increasing its effectiveness, but it's still not exactly where it needs to be. To successfully expand, expansion should serve profitability rather than be the sole driver of it. First, Aegion should establish a base with what they have, and reach acceptable returns. Then the company redirects into a growth period. This is the type of expansion that turns good businesses into great businesses. While Aegion has been growing their returns, they are still, from a competitive perspective, a bit disappointing. Until returns catch up with the competition, this should be watched, as it appears to be one of the main risks of investing in Aegion.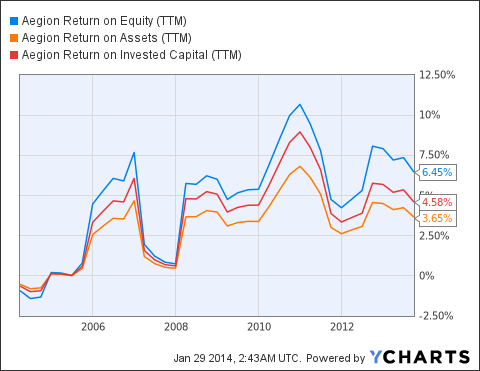 AEGN Return on Equity (TTM) data by YCharts
A quick comparison of Aegion and a few similar companies (Statistics from Yahoo! Finance):
| | | | | |
| --- | --- | --- | --- | --- |
| | Aegion | Singapore Technologies Engineering (OTCPK:SGGKY) | MasTec (NYSE:MTZ) | Vinci (OTCPK:VCISY) |
| Profit Margin | 4.23% | 8.81% | 3.31% | 4.69% |
| Return On Equity | 7.53% | 29.58% | 15.87% | 14.35% |
| Return On Assets | 3.22% | 5.23% | 6.80% | 4.32% |
A Series of Growth Opportunities And Catalysts
Aegion has a number of businesses that ultimately come together to create a whole that is greater than the sum of the parts. First, we have Insituform, a company that makes up much of Aegion's North American Water and Wastewater segment. They provide cured-in place pipes (CIPP) and other technologies that rehabilitate pipes. Insituform and this segment are looking at a bright year for 2014. First of all, the segment has been continually building its backlog. This is generally frowned upon in most markets, but for Aegion, increasing backlog is important because of the project based nature of the work they do. The chart below shows the climbing backlog (taken from an investor presentation).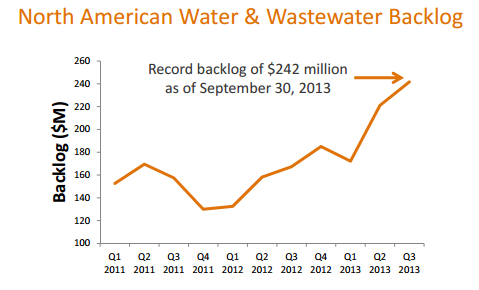 In 2013, the North American CIPP market grew by 20%. This was largely a bounce back from a contraction in 2012 that happened after the U.S. stimulus funding ended. In 2014, this market should continue to grow, and Aegion reports that the public can expect record yearend backlog. As of September 30, 2013, the company has $50 million out of $242 million in backlog going toward projects in Baltimore and St. Louis. These projects will be carried out in 2014 and 2015. Growth for this segment can be expected to continue in coming years, as municipalities are required to meet EPA regulations to avoid damage to the environment caused by leaks. With pipes that are many decades old continuing to age and corrode, Insituform's market is growing every day. The company's contracting market share is currently around 40%, but this isn't necessarily a bad sign. Management has purposely initiated a strategy of paying more attention to bidding discipline in order to increase margins by attaining more profitable projects.
Another catalyst for growth is the $28 million Saudi Aramco Wasit project. Aegion acquired this project through their subsidiary, CRTS, a robotic coating company. This should be a big profit contributor in 2014. This project was acquired by CRTS after proving itself in many smaller projects in the area. Like I stated earlier, this market allows companies to start out with small projects, such as simple maintenance, and ultimately let the quality of their services take them to higher levels.
Next, Aegion has a number of opportunities for growth with their Commercial and Structural segment, which currently makes up less than 5% of revenues. Fyfe is a company owned by Aegion that manufactures Fiber Reinforced Polymer (FRP) systems. These are used to strengthen structures made out of materials such as wood, steel, or concrete. The main advantages are that there is little capital required to construct/use them, and they are lightweight and easy to apply. Aegion is currently investing heavily in Fyfe and other Commercial and Structural operations so that the company can extend its leadership position in the North American market. It is estimated that the size of this market is $650 million, and more than a third of it is FRP products. One of the main regions that Aegion will look to in coming years is the Pacific Rim. This seismic sensitive area has a high demand for strengthened structures, which Aegion can help them fulfill.
Finally, the company acquired Brinderson in June of 2013. The company is:
"A leading integrated service provider of maintenance, construction, engineering and turnaround activities for the upstream and downstream oil and gas markets."
This is an especially exciting acquisition for a number of reasons. Not only does the acquisition add to Aegion's upstream (exploration and production) and midstream (transportation) capabilities, but it launches them into the new downstream (processing and refining) space. Brinderson operates in the California area. California was ranked fourth in crude oil production in 2012 for the U.S. and third in U.S. refining capacity (2 million barrels per day from 20 refineries). As the oil industry continues to have its boom in California, Brinderson can profit by expanding its share in engineering, construction, and maintenance services. Also, Brinderson has 60% recurring revenues, and the company aims to get that number to 66%-70%. Going back to the project nature of the business, it is a nice strategic advantage to have a little bit of recurring revenue as well. As a matter of fact, Brinderson pushed Aegion to 57% recurring revenues after the acquisition from 48% before the acquisition. As Brinderson continues to provide high quality, integrated services to its customers, it will help Aegion to grow and prosper. Overall, these strong growth prospects, which exist in many different areas of Aegion's operations, should drive the company's earnings higher.
Valuation
Although the growth prospects are quite impressive, the market has not failed to price this in. Below is a comparison of Aegion and a few similar companies.
| | | | | |
| --- | --- | --- | --- | --- |
| | AEGN | SGGKY | MTZ | VCISY |
| P/E | 18.45 | 20.43 | 22.01 | 15.02 |
| P/S | 0.75 | 1.80 | 0.66 | 0.71 |
| P/B | 1.13 | 6.03 | 2.78 | 2.07 |
| EV/EBITDA | 10.27 | 14.07 | 8.75 | 7.59 |
Overall, Aegion's stock is trading at very low multiples right now, as are the stocks of the other three companies. Individually, Aegion looks like a solid buy at the current price. But this peer comparison reveals that it might be wise to wait for a dip, depending on how much risk you can personally afford to take on.
Overall, Aegion looks like a company that has a very bright future, and the current price could be a decent entry point depending on personal preferences.
Additional Disclosure: I will not be held accountable for any losses of any type that are incurred as a result of following my investment advice. Although my advice reflects my honest opinion, readers are always expected to follow through with their own due diligence.
Disclosure: I have no positions in any stocks mentioned, and no plans to initiate any positions within the next 72 hours. I wrote this article myself, and it expresses my own opinions. I am not receiving compensation for it (other than from Seeking Alpha). I have no business relationship with any company whose stock is mentioned in this article.