My long held education positions are all gone as of the close Tuesday. I sold the last of my DeVry (DV) shares as they were up nearly 10%, I had sold out of Capella Education (CPLA) on the 7th of this month. Below are the two charts which show my buys and sells for each position, you may go through the StockTwits streams for each ticker by clicking the symbols above to match them up if you like, it's actually kind of cool to see, it's like a trade journal, pretty awesome. Both positions were rather large, making up almost 15% of my book at one point at a time where I was holding 25+ positions.
Click to enlarge: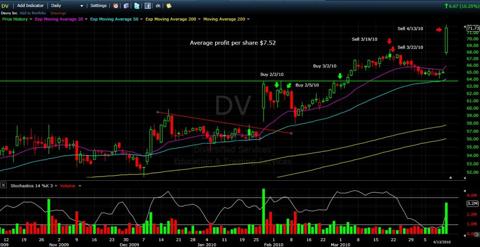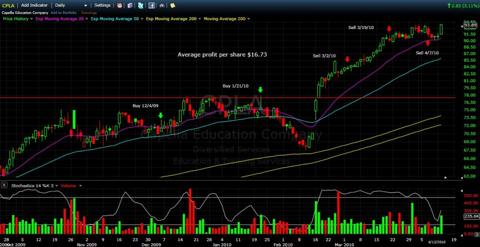 First, let me reiterate a little bit of my thesis for being long the education names. There is a secular trend going on here and the fundamentals of these companies look excellent. The government is trying to send as many people as possible who were displaced by the collapse in manufacturing back to school for retraining. On top of that, secondary educational institutions have supreme pricing power right now as there has been a surge in demand for education. Just look at the average cost of a four year private school secondary education, it's growth has far outpaced both inflation and average income. Margins for this industry are expanding at a rapid pace and many names were not heavily held by institutions a few months back.
The guys over at Ycharts wrote a great piece on the sector about a month ago, you can find it here, I encourage you to read it.
Technically, both stocks set up extremely well at their entries. Both were just about to make new all time highs, breaking those from back in late 2007. These two stocks showed the best relative strength of the group, were liquid, and didn't trade too wild.
Now, you might be asking, why did I sell out? I won't go through each transaction, but here's what I'll say: I believe I traded both these names just about as good as could have been traded over this period, minus two mistakes. In DV, I should have bought the pullback to the 50 day moving average in early February. I had made the decision to set my stop under it, and had a lot of fundamental conviction, there was no reason not to go balls to the wall there. As well, I should have added more the past few days to the position as it was basing above support, I even got loud on the stream about it, but didn't pull the trigger. In CPLA, the pullback to the 200 day moving average should have been bought as I had decided to hold on and set my stop below that level. Other than those, I can't complain with my trading, my exits were all good.
The stocks and the group as a whole is getting extended on the intermediate term time frames. Long term, this is a group that you want to have capital allocated to, it is a secular growth story. Here are the two weekly charts.
Click to enlarge: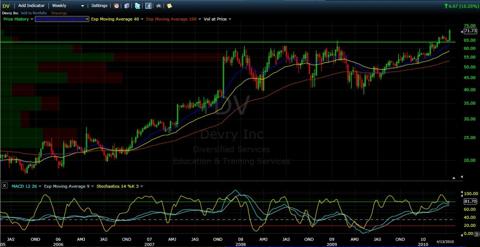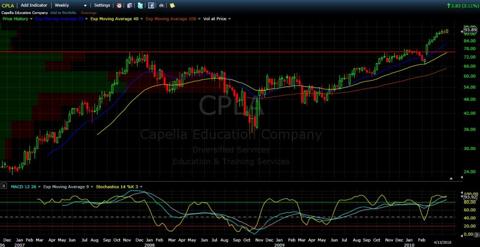 As you can see, both charts are rather far from their major weekly moving averages, but have broken out in a big way. I want to see a few weeks of consolidation now, time for those moving averages to catch up. To be sure, the angle of ascent has increased, as it should. This is positive, but some sideways action is needed. DeVry has a history of going on crazy straight up runs without stop. Capella has a smoother track record, pacing itself as it moves north.
Here is the list of tradeable education names, I will be keeping track of these in the weeks and months to come, looking for entries.
Of these, my favorites are DeVry, Capella, Strayer Education (STRA), New Oriental Education & Technology Group (EDU), Grand Canyon Education (LOPE), and Lincoln Educational Services (LINC).