The impact of lower home appraisals. The FDIC wants to change the rules for Deposit Insurance Fund assessments. Intel scores better than expected earnings for a third consecutive quarter. The Dow continues to grind higher on strong MOJO on its daily chart.
My son and I are homeowners who bought a home a year ago and have no intention to sell. We welcome a lower home appraisal, as that reduces the property taxes we will pay in 2011. The State of Florida also has a Homestead Act, where a home's tax base is $50,000 below the home appraisal. In 2010 we were not eligible for this benefit. In the 2011 tax year the appraised value of our home is down 20% from a year ago, and our tax base is down 40% after the Homestead Act benefit. Tax rates may be higher, but it's reasonable to assume that our property taxes will be lower in 2011 from 2010.
When we bought the home we estimated that we purchased 40% down from the housing peak of mid-2006. We knew that there would be a risk of lower prices, but a deal is a deal, and we have a 4.5% 30-Year fixed rate mortgage.
Those who get hurt by lower appraisals are the sellers, who become underwater or even more than 25% underwater, which appears to be the threshold for mortgage mitigation programs. The lower the appraised value, the less likely a servicer will be willing to offer a Short Sale and the more likely that the homeowner will default and then foreclose. This could propagate into even lower home prices, exacerbating the problems in the housing market.
This will also hurt the homebuilders because new homes may become unprofitable to build and sell given the higher costs of building materials. In a market where new homes are being sold, the same model can be appraised at a lower price due to defaults up the block from the builder's site.
I have not suggested a way to avoid this problem, but it will likely lead to 3.5 to 4.0 million foreclosures this year, up from 2.8 million in 2009. Also keep in mind that the Case Shiller Housing Market Index is 50% higher than in 2000, so home prices have room for another leg down.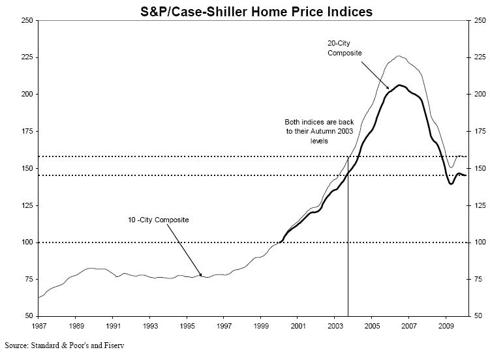 The FDIC wants to have a three-tiered Deposit Insurance Fund - Under a proposal being considered by the FDIC, small banks with less than $10 billion in assets would pay the same fee structure, or have reduced fees. Deposit insurance fees would rise for banks with more than $10 billion in assets. Finally banks considered "highly complex institutions" with $50 billion or more, and a holding company with $500 billion would have yet a higher fee schedule. I do not know how the Deposit Insurance Fund will be affected in 2010 through 2012, as these fees have been pre-paid.
The FDIC thinks that banking regulators should be allowed to apply these new standards based upon their judgment of a bank's risk profile. How do they dream up these ridiculous notions, when our banking regulators ignored guidelines for C&D and CRE loans set at the end of 2006?
Will Intel be the earnings tell for the second quarter? Subscribers to the ValuEngine Morning Briefing know that Intel was my Stock of the Day on Tuesday. Here's how I framed the profile:
Intel Inc (NASDAQ:INTC) – has been rated a BUY according to ValuEngine, with fair value at $25.00, which makes the stock 9.9% under. Intel is expected to earn 38 cents per share after the close Tuesday. The stock has been in the ValuTrader model portfolio since February 8th. Intel Corporation develops integrated digital technology products, primarily integrated circuits, for industries, such as computing and communications. The company also develops platforms, which are defined as integrated suites of digital computing technologies that are designed and configured to work together to provide an optimized user computing solution.
Analysis – The daily chart for Intel shows declining MOJO with the stock above its 21-day, 50-day and 200-day simple moving averages at $22.24, $21.14 and $19.93. My annual value level is $16.47 with a monthly pivot at $21.44 and weekly risky level at $22.93. Assuming the stock holds after hours gains Wednesday morning, profits will be booked at Wednesday's open. A GTC order to sell at $22.93 will be executed at the open. At my monthly risky level at $23.47 the gain will be 21% since the stock entered the ValuTrader model portfolio on February 8th.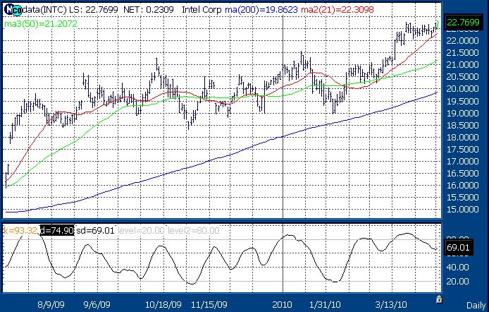 Chart Courtesy of Thomson / Reuters
Dow 11,000, but major resistances loom. The strength of earnings from Intel should have the Dow challenging Tuesday's resistance at 11,085, but remember that "Wall of Resistance"; monthly resistance at 11,228, annual resistance at 11,235, weekly resistance at 11,330, and semiannual resistance at 11,442.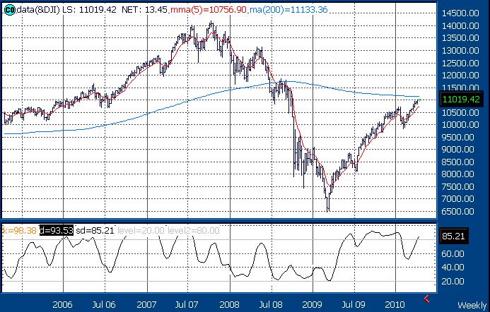 Chart Courtesy of Thomson / Reuters
Disclosure: No positions