Equity markets stayed relatively flat in Tuesday trading, as the Dow hovered just above the 11,000 mark despite the fallout from poor earnings from Alcoa (NYSE:AA).
Meanwhile, commodities weakened with oil finishing the day below $84/bbl. and gold trading near the $1150 mark. Alcoa sunk in Tuesday trading as the company announced that it had beaten last year's results but still produced a loss of 20 cents a share.
In after-hours trading, Intel shares soared more than 2%, possibly setting the stage for a strong opening on Wednesday."The market has ground higher steadily," said Adrian Cronje, chief investment officer at the investment firm Balentine in Atlanta. "It's up a little bit every day, a little bit every day. And that tends to lull people into complacency."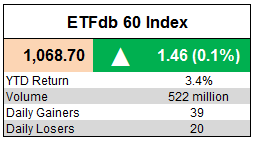 The ETFdb 60 Index climbed 1.46 points, or 0.1%, to a new 2010 high of 1,068.70.
Among the biggest losers on the day was Market Vectors Agribusiness ETF (NYSEARCA:MOO) which sunk by 1.3% in Tuesday trading. This came after a downgrade of Monsanto by Argus, which sent shares down more than 1.8%. In addition, a new study on genetically modified foods suggests that farmers will see less gains than they have in the past from using these modified products. The report also noted that overuse of weed resistant products such as Roundup and equivalents "has skyrocketed to the point that weeds are rapidly becoming resistant to the chemical." If substantiated, this report could have an adverse affect on agribusiness firms that make up MOO.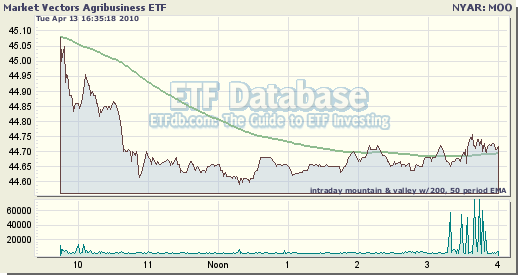 One of the biggest gainers on the day was the United States Natural Gas Fund (NYSEARCA:UNG) which soared higher by 3.22% on the day. This came after traders looked for bargains in the natural gas market, which many believe to be oversold. Gas prices have sunk more than 18% since the beginning of the year as an increase in supply and an unusually warm spring in the Northeast and Midwest helped to clamp down on demand.
"Keep in mind, as weather-related demand decreases during the shoulder months, speculation increases," wrote Stephen Schork, president of Schork Group, a Villanova, Pa., energy advisory, in a note to clients Tuesday, suggesting that prices could be in for a continued rocky road ahead.
Disclosure: No positions at time of writing.