While optionable cancer drug makers like Keryx Biopharmaceuticals (NASDAQ:KERX) have had a very nice run, a number of good opportunities still exist.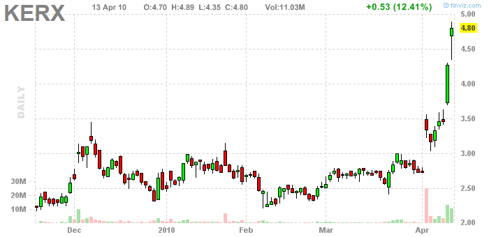 In my ongoing quest to find undervalued and underappreciated optionable cancer drug makers, I ran across Infinity Pharmaceuticals (NASDAQ:INFI), though the discovery of INFI was made awhile ago. In early 2010, I emailed subscribers of Rx Investors about INFI and recommended it as a buy while trading at or near the current price. On January 19, 2010, I also alerted Seeking Alpha readers about INFI. From my view, INFI remains an underappreciated cancer drug maker which I believe merits the attention of investors.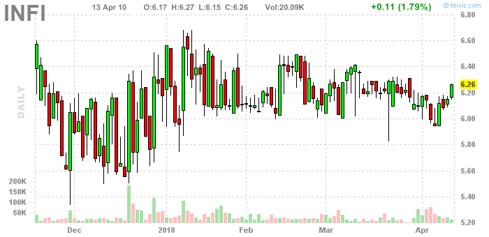 INFI Is Financially Sound
With a market cap at or near $160 million, INFI is currently trading at a very low 1.23 X cash. In a March 12, 2010 10-K filing, the company indicated its cash will last through 2013.
The company has roughly 26.3 million shares outstanding of which one-third are held by insiders. Of the 17.63 million share float, institutional investors hold about 38% up nearly 10% from last quarter.
If I understand INFI's 10-K report correctly, it appears that the company expects to receive revenues of $65 million in 2010 and $85 million in 2011 from Purdue Pharma and Mundipharma, which INFI is collaborating on the development of two drugs. It is also worth noting that the company reported revenues of $46.5 million in 2009.
Potential Upcoming Catalysts
There are a number of events in 2010 that could affect INFI's share price and ultimately push it significantly higher from current levels.
Phase 2 data for IPI-504 in non-small cell lung cancer (NSCLC)

Preliminary Phase 2 data for IPI-504 in combination with Herceptin for HER2+ metastatic breast cancer

Initiation of Phase 2 study of IPI-504 for advance de-differentiated liposarcoma

Preliminary Phase 1 data of IPI-493 for advanced solid tumors

Initiation of and preliminary data for a Phase 1 study of IPI-493 for advanced hematological cancers

Phase 1 data for IPI-926 in advanced solid tumors and initiation of Phase 2 trial

Completion of Phase 1 trial of IPI-940
Pipeline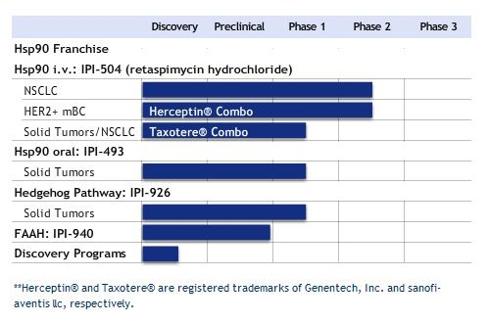 IPI-504 for NSCLC
These preliminary Phase 2 results of IPI-504 for NSCLC were presented at the annual ASCO conference in late-May 2009.
-- In this heavily pretreated NSCLC population (median of 2 prior chemotherapy regimens), there is clear evidence of biologic activity of IPI-504, with an overall response rate (ORR) of 14.2% in patients with wild-type EGFR tumors and 7% in the total population.
-- To date, all responses have been seen in the wild-type EGFR population. These patients had a median of 2.5 prior chemotherapy regimens.
-- The median PFS in the wild-type population (3.9 months) and the ORR compare favorably to second-line treatment with Chemotherapy.
-- IPI-504 has been generally well tolerated in this patient population.
-- Work is continuing to identify genetic predictors of benefit in this patient population.
-- The trial is ongoing, and enrollment is complete.
-- The dose of IPI-504 for patients currently enrolled in this trial has been changed to 225 mg/m2 in response to mortality seen in a phase 3 trial in patients with gastrointestinal stromal tumors. Evidence of activity has been seen at 225 mg/m2 including one patient on this trial who achieved a PR after a dose reduction to 225 mg/m2.
Sources:
IPI-504: A Novel HSP-90 Inhibitor (.PDF), an AACR presentation in 2010 and ASCO Poster Presentation (.PDF) in 2009.
Collaborations
INFI has strategic collaborations with Mundipharma as well as Purdue Pharma, the maker of OxyContin®.


Conclusion
While trading cheaper than its peers, INFI certainly appears to be underappreciated and thereby remains a hidden gem. A positive outcome on one or more of the upcoming events highlighted above should warrant a significantly higher price for shares of INFI. For these reasons, I believe that INFI represents a good investment opportunity right now.
As indicated above, INFI is an optionable drug maker. So, I strongly encourage that ALL investors hedge ALL of their long positions, common stock or calls, with put options. Manage the risks or you will lose your money in this high risk environment.
Targets
2010 Price Target: $8+

Longer-Term Target: $500 million market cap or $15 to $20 without further dilution
Disclosure: No position