Oceaneering International's (NYSE:OII) line of remotely operated vehicles (ROVs) enjoys impressive market leadership due to the company's history and technical expertise. In 2009, income from its ROV segment increased for the sixth consecutive year. Beyond ROVs, Oceaneering's focus extends to subsea umbilicals, field development hardware, ROV tooling and work packages, inspection services and offshore production systems.
The company's ROV and other oil and gas related segments accounted for 89% of Oceaneering's revenue in 2009. The balance was made up of revenues from its advanced technologies group, which offers a range of high-tech products and services, including systems for use in outer space (yes, you read that right) and other harsh environments.
Interestingly, Oceaneering's dominant status in ROVs might be an obstacle to its achieving even greater things, at least in the eyes of some customers. While the company's ROVs and other subsea products enjoy relatively strong marks for performance, HSE features and technical soundness in EnergyPoint Research's independent customer satisfaction surveys, the company ranks more toward the middle of the pack when it comes to respondents' overall satisfaction levels.
We note that the company's sales personnel carry relatively lower ratings, offset by higher scores for its field personnel. Our view is that this seeming mismatch between the company's recognized technical expertise and its overall customer satisfaction levels might signal a potential vulnerability, albeit a longer-term one. One company that might be positioned to challenge Oceaneering over the longer term is FMC Technologies (NYSE:FTI), which recently purchased ROV-maker Shilling Robotics.
Click to enlarge: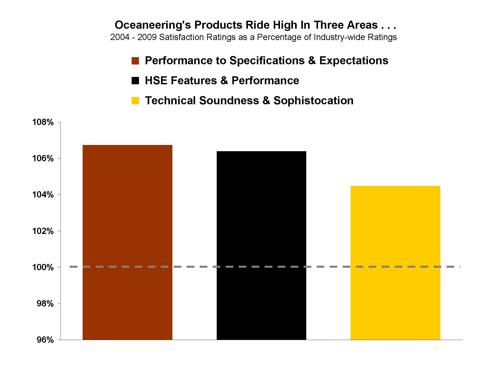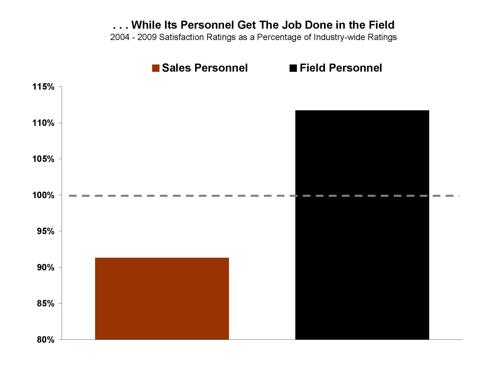 To further illustrate our point, many survey respondents acknowledge Oceaneering's ROV and subsea technical leadership (i.e., "technically sound"), but they also express frustration with "onshore management" and "follow-up support and inventory" issues. One survey respondent went so far as to summarize,
Overall [the] best at what they do (ROVs) and they know it, but they sometimes need to remember who's paying the bills….
Despite some customer concerns, the company's deepwater products remain in demand, as large numbers of deepwater projects and applications linger in the pipeline. That said, our data suggest Oceaneering's customers would respond favorably to improvements in sales support and service functions -- steps that should benefit Oceaneering's long-terms fortunes as well.
To read other EnergyPoint notes concerning the companies mentioned in this report, click on the following: Oceaneering and FMC Technologies.

Disclosure: No positions