2014 has seen a very volatile start to the New Year. The market is set to post its first monthly loss since August and its first down January since 2010.
The entire energy sector has underperformed the overall market during the first month of the year. This continues a trend that has been in play for some months (See Chart).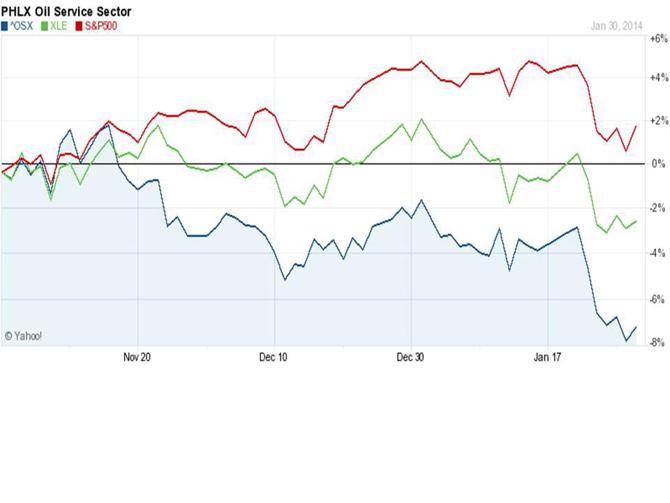 Particularly hard hit have been the oil services sector which has underperformed the S&P 500 by just over 10% over the past three months. A rash of earnings disappointments, analyst downgrades and tepid guidance has hit the sector pretty hard.
However, despite the overall disappointment in the sector, there have been a few oil services plays that have posted results that have come in better than expected and are bucking the overall trend. Here are two of these energy plays that look attractive here.
National Oilwell Varco (NYSE:NOV) provides equipment and components for oil and gas drilling and production; oilfield services; and supply chain integration services to the upstream oil and gas industry worldwide.
The company reported earnings of $1.56 a share, 17 cents a share above the consensus. Revenue was 5% above expectations and came in at ~$6.2B for the quarter. Barron's front ran this earnings beat with a positive piece on National Oilwell Varco in its weekly magazine earlier in the month.
Revenues rose by more than 12% in the just completed fiscal year and analysts believe gains of 8% to 10% are in store during FY2014. Earnings should increase by just over 10% in FY2014 and the shares are priced at just over 12x forward earnings, a ~20% discount to the overall market. The 28 analysts that cover the shares have a $92 median price target on the shares, more than 20% above the stock's current price.
Cameron International Corporation (NYSE:CAM) provides flow equipment products, systems, and services worldwide. This includes systems and equipment to control pressures and direct flows of oil and gas wells, and designs and manufactures structural components for land and offshore drilling rigs.
Cameron reported earnings of a $1 a share on Thursday. This was four cents a share above the consensus. Revenues came in better than 6% above expectations and came in at $2.94B for the quarter. The stock rose on results despite somewhat conservative forward guidance. One of the most impressive parts of the earnings report is that the company ended the year with a record backlog of $11.5B up 34% Y/Y.
Revenue grew ~10% Y/Y in the just completed year and analysts expect similar sales growth in the new year. Earnings per share are in a nice upward trend - FY2013: $3.29. FY2014: $3.78est. FY2015: $4.70est. The stock sells at 13x FY2015's earnings estimate and the stock sports a five year projected PEG of under 1 (.80).
Activist Jana Partners recently took a position in Cameron. It is one of the largest stakes the fund has and Jana is now also one of the largest shareholders in Cameron. Jana is pushing Cameron to rationalize its business portfolio as it believes the company should be performing better given its record backlog. The company just sold its reciprocating compression division to General Electric (NYSE:GE) for $550mm as a possible first step in that process.
Disclosure: I have no positions in any stocks mentioned, but may initiate a long position in NOV over the next 72 hours. I wrote this article myself, and it expresses my own opinions. I am not receiving compensation for it (other than from Seeking Alpha). I have no business relationship with any company whose stock is mentioned in this article.