In March 2011 Caterpillar presented investors with its vision going forward and provided an optimistic long-term goal of $15-$20 in EPS by 2015: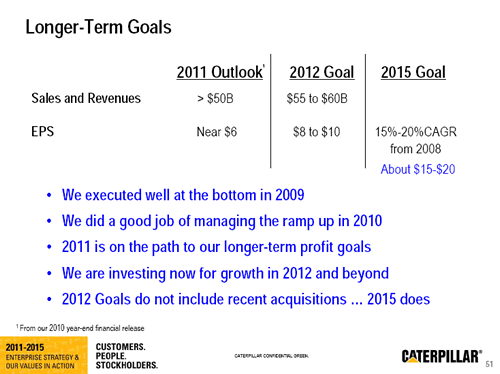 By 2012 Caterpillar (NYSE:CAT) seemed to be on track to achieve this goal as the company posted an EPS of $7.4 and $8.48 in 2011 and 2012, respectively-This post suggests that Caterpillar is a good short candidate for few reasons that will be explored in depth. First, Caterpillar's management seems to have a tendency to provide very rosy outlook statements and be more optimistic than facts may justify. An example can be seen in the table below with outlook and constant revisions of the 2013 EPS target:
| | | |
| --- | --- | --- |
| Date | EPS Guidance | Comment |
| January 28th, 2013 | $7-$9 | |
| April 22nd, 2013 | $7 | "…we said the first quarter of 2013 would be challenging, and it certainly was…" |
| July 24th, 2013 | $6.5 | "Overall end-user demand is similar to our previous outlook, but we now expect a more significant reduction in dealer machine inventory…" |
| October 23rd, 2013 | $5.5 | "This year has proven to be difficult…" |
| Final Result | $5.75 | "Caterpillar tops estimates…" This was mainly achieved thanks to $460m of one-time gains or $0.7/share. |
As the famous short-seller Jim Chanos commented lately, the 2013 outlook (and now it seems that the 2015 goal as well) was wildly off the mark. In addition, while the market got excited over the earnings beat, the company actually missed its $5.5 EPS target excluding the one time gains mentioned in the table above.
The EPS outlook for 2014 stands at $5.85 excluding restructuring costs and $5.3/share, restructuring costs included. Shall we take this target at face value given the management's tendency to be overly optimistic? Is the current valuation justified or is it being fueled by exuberant optimism?
Same Market, Two Different Stories - Caterpillar and Komatsu
Before we answer that question, lets look beyond the numbers and compare Caterpillar's management market commentary with that of its big rival, Komatsu.
In 2010, Caterpillar was very brief on its market commentary and focused mainly on the growth:
"As the global economy continued to improve, the demand for Caterpillar products increased with fourth-quarter sales and revenues up 62 percent. During 2010, we substantially ramped up production, improved factory efficiency, drove Machinery and Engines (M&E) operating cash flow to an all-time record, launched a number of capacity additions and new product programs to prepare us for the future and announced several acquisitions."
Komatsu, on the other hand, provides its investors with excellent commentary:
"During the fiscal year ended March 31, 2010, some of the world's economies showed signs of recovery, reflecting positive effects of the economic stimulus packages of their respective governments. In particular, the Chinese economy, with the support of its government's massive economic stimulus measures, lead the other economies by turning around its economy in the first half of the fiscal year and recording growth. The positive effects of China's economic growth have reached the surrounding Asian countries and countries that produce natural resources, helping such countries' economic recovery. On the other hand, the pace of economic recovery of developed countries and regions, such as Japan, North America and Europe, was dull, which resulted in a challenging overall business environment."
Seems like Komatsu is much more sincere about the impact of external factors on its performance. The same level of disclosure repeated in 2007, when optimism as was its peak, Komatsu was willing to share its view about the problems looming in the horizon. In 2007 Caterpillar reports:
"2007 was the fifth straight year of record sales and revenues and the fourth consecutive year of record profit. Our broad global footprint has enabled us to benefit from strong economic growth outside the United States, as global markets for mining, energy and infrastructure development are booming. In 2008, the company expects another record year with sales and revenues."
In contrast, Komatsu once again provided the reader with a very informative and objective description of the market environment:
"During the fiscal year ended March 31, 2008, the expansion of the world economy lost speed compared to the previous fiscal years. Economic activities in economically advanced regions decelerated sharply in the second half of the fiscal year ended March 31, 2008, mainly due to the effects of the subprime mortgage crisis on the financial markets and financial institutions. In North America, residential investments decreased and consumption and business investments slowed down, affected by the tighter lending conditions that resulted after a period of turbulence in the financial markets in August 2007."
As evident by the continuous outlook revisions and past disclosures, it is clear why a suspecting reader will become uneasy with Caterpillar's management tendency for what I call "unjustified optimism."
The following quote from Komatsu latest annual report will help us to be better prepared for the following discussion about the current valuation:
"Demand for construction and mining equipment plunged drastically under economic slowdowns worldwide as triggered by the financial crisis in the United States in September 2008, and then recovered rapidly, driven by Chinese and Indonesian demand. Today, we need to expect that demand will remain at a standstill for the time being, mainly against the backdrop of demand in these two countries entering an adjustment phase."
EPS - History and the future
Bearing in mind the comment by Komatsu's CEO and looking at the figures, one can observe that the eight years leading to 2004 were very different than the decade that followed: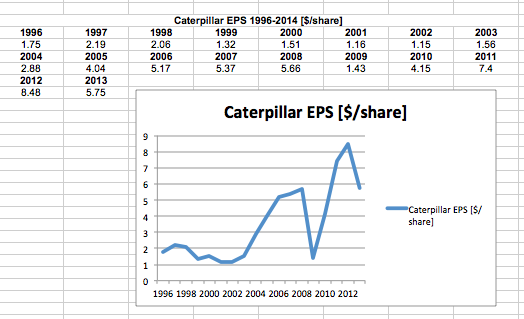 Examination of the facts suggests that the phenomenon that we have witnessed since 2004 is mainly driven by the infrastructure and real estate investment boom in China. The Chinese model of generating growth through massive investments in fixed assets and financing these investments with increasing levels of debt has come under question lately. Even Chinese officials came to admit that this credit-fueled growth is unhealthy and causes imbalances in the economy. Cash injections from the Chinese central bank to the leading Chinese banks have become a thing of the norm lately-Chinese officials came to understand that from this point on, every dollar invested in infrastructure will not impact GDP as much as it used to.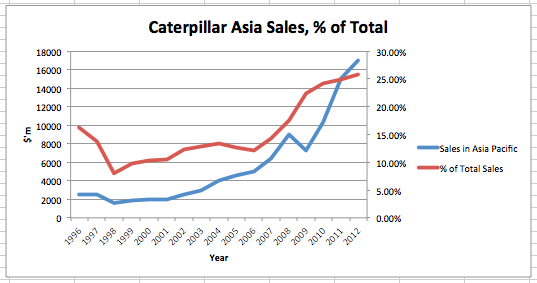 Sales to LATM (Latin America) have been booming in tandem with sales to China. This is no wonder given that many of the natural resources that are used to build the empty airports, bridges that go no where, ghost towns and high-speed trains that run empty come from countries in Latin America. China's appetite for commodities has led to high demand for Caterpillar's mining products in other regions of the world.
Investors who accept the premise that China's investment rate in fixed assets is not sustainable (see comment from Komatsu CEO above) may find Caterpillar's true earning power to be way below where it currently stands. As the Commodities Super Cycle comes to an end, Caterpillar's earning power may converge to its long-term average. It seems like Caterpillar enjoyed a once-in-a-generation boom led by China and the market seems to be wrong on assuming that the earning power during the boom years is representative of the company's true earning power going forward.
Investors today are asked to pay almost 16 times 2014 projected EPS to participate in Caterpillar's future. Given the data above, each investor can derive his earning power estimate for Caterpillar. Given the premise that what we saw between 2004-2012 will not persist going forward, this earning power may be much lower-even in the $3-$4 area. This implies that the current price is more expensive than it might seem. Should earnings converge to their long-term trend, investors who buy today may actually be paying 30 times normalized earnings.
On top of that lies what appears to be a corporate governance issue: Caterpillar took a $580m write-down on its $650m acquisition of Siwei in China. This acquisition brought some corporate governance issues into question as described in this excellent article.
What might exacerbate the situation is the fact that Caterpillar finances its customers-Caterpillar uses its high credit rating in order to borrow money on the cheap and lend it to its customers to help them finance their Caterpillar equipment purchases. Should customers experience a slowdown, not only would the demand for Caterpillar products slow down (as obviously already happens) but we may also see bad debts accumulate in Caterpillar financing segment.
Conclusion
In light of my research, it seems that Caterpillar's stock is over promoted by the management and the current valuation may offer a good opportunity to go short. The main reasons are:
High valuation based on normalized earning power post the Commodity Super Cycle.
The management is highly promotional as evident by its rosy forecasts and overly optimistic market commentary vis-à-vis that of its Japanese competitor Komatsu. In addition, a management that does an acquisition on the basis of synergies and then goes to write-down almost the entire investment can't be bad to bet against.
Should the cycle turn, the financing operation may further exacerbate a situation that is already difficult to begin with.
Going short Caterpillar is a great hedge against Emerging Markets growth risk as huge portion of its earning power comes from these markets.
I will end the article with two great Benjamin Graham quotes that apply particularity well in the context of this article:
"If you want to attempt a serious evaluation of a company… the only proper method is to take what you would assume to be its normal earning power, not its optimum earning power…"

"Many shall be restored that now are fallen and many shall fall that now are in honor"
Disclosure: I am short CAT. I wrote this article myself, and it expresses my own opinions. I am not receiving compensation for it (other than from Seeking Alpha). I have no business relationship with any company whose stock is mentioned in this article.