The Dividend Champions spreadsheet and PDF have been updated through 1/31/14. Note that all references to Champions mean companies that have paid higher dividends for at least 25 straight years; Contenders have streaks of 10-24 years; Challengers have streaks of 5-9 years. "CCC" refers to the universe of Champions, Contenders, and Challengers.
History in the Making
After a slow start, the pace of dividend-increase announcements picked up as January progressed, leading to net gain of a dozen companies to the CCC universe. The new Challengers boosted the number of companies to 488 and that number should grow to over 500 in short order. Even more remarkable is the growth in new "Near-Challengers," thanks to a new wave of firms headed toward declaring a fifth year of increases in early 2015. In Appendix B (on the Notes tab), you'll see 35 "NEW" notations, bringing the number of Near-Challengers to 201 companies, suggesting that the CCC universe could expand not to 600, as I've recently noted, but 700 by the Spring of 2015! Of course, that progress could be derailed by a major recession or an asteroid striking Earth, as Dividend Growth critics would be ready to point out.
January featured a sell-off of about 3% for the overall market, the worst January since 2010, but lower prices mean increased valuations, as can be seen in the table below. The average price of CCC stocks, which rose by 71¢ in December, fell by almost $2 in January, pushing the average yield up to 2.84%, from 2.73%. The average of the Most Recent Increases edged up, from 9.49% to 9.52%, exactly reversing the December change. No doubt the influx of new companies in the months ahead will have an effect on these averages. As always, please use the CCC only as a starting point for more in-depth research. Feel free to leave any suggestions in the Comment area below.
Quick Summary
The Summary tab includes a table comparing the composite numbers from the latest update to those from the previous month and the end of the previous year. Below that is a summary of the latest month's activity, in terms of companies added, deleted, or promoted. That is reflected below:
Quick Summary:

1/31/14

Champions

Contenders

Challengers

Total

No. of Companies

105

213

170

488

Ave. No. of Years

39.9

14.6

7.0

17.4

Average Price

61.16

62.38

57.77

60.51

Average % Yield

2.60

2.70

3.15

2.84

Ave. MR % Increase

8.70

8.43

11.53

9.52

12/31/13

Champions

Contenders

Challengers

Total

No. of Companies

105

210

161

476

Ave. No. of Years

39.8

14.5

7.1

17.6

Average Price

64.42

65.14

57.74

62.48

Average % Yield

2.49

2.60

3.06

2.73

Ave. MR % Increase

8.68

8.78

11.10

9.49

12/31/12

Champions

Contenders

Challengers

Total

No. of Companies

105

183

170

458

Ave. No. of Years

39.0

14.3

7.2

17.3

Average Price

53.48

50.89

45.25

49.39

Average % Yield

2.93

3.02

3.62

3.22

Ave. MR % Increase

7.75

8.58

10.43

9.06

MR = Most Recent

Additions:

Access Midstream Partners LP (NYSE:ACMP) to Challengers

Applied Industrial Technologies Inc. (NYSE:AIT) to Challengers

BlackRock Inc. (NYSE:BLK) to Challengers

Breitburn Energy Partners LP (BBEP) to Challengers

Broadcom Corp. (BRCM) to Challengers

DuPont Fabros Technology Inc. (NYSE:DFT) to Challengers

First Interstate Bancsystem Inc. (NASDAQ:FIBK) to Challengers

Cardinal Financial Corp. (NASDAQ:CFNL) to Challengers

Global Partners LP (NYSE:GLP) to Challengers

Mattel Inc. (NASDAQ:MAT) to Challengers

Simon Property Group Inc. (NYSE:SPG) to Challengers

Time Warner Cable Inc. (TWC) to Challengers

Tupperware Brands Corp. (NYSE:TUP) to Challengers

Deletions:

Stewart Enterprises Inc. (NASDAQ:STEI) from Challengers

Promotions:

Holly Energy Partners LP (NYSE:HEP) from Challenger to Contender

Teekay LNG Partners LP (NYSE:TGP) from Challenger to Contender

Williams Partners LP (NYSE:WPZ) from Challenger to Contender
(Table from author; may include underlying data from FinViz.com)
Every Picture Tells a Story
As a bonus, I'm inserting one of Chuck Carnevale's F.A.S.T. Graphs below, highlighting one of the companies listed above. When the price line is in the green area, it suggests possible undervaluation.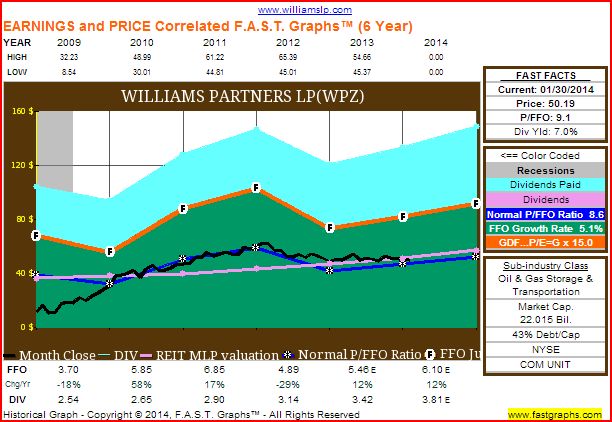 Disclosure: I have no positions in any stocks mentioned, and no plans to initiate any positions within the next 72 hours. I wrote this article myself, and it expresses my own opinions. I am not receiving compensation for it (other than from Seeking Alpha). I have no business relationship with any company whose stock is mentioned in this article.