"Bullish Percent Index (BPI) is a breadth indicator based on the number of stocks on Point & Figure (PnF) buy signals within an index." The following two tables show BPI values for multiple indexes and sectors of the market. Both broad market indexes and sectors are showing significant weakness over the last two weeks to where several indicators moved out of the overbought zone.
Market BPI: The following table tracks seven major indexes with the most important being the NYSE. Over the past two weeks, the number of bullish stocks within this exchange dropped nearly 8%. The defensive team took over this exchange in late 2013, and this past week all the major indexes are now under the control of defensive teams.
When the percentage of bullish stocks within a particular index is 70% or higher, the index is overvalued. This past week stocks declined to where four indexes moved out of the overvalued zone. Only the NASDAQ 100 and DJTA are still overvalued and both are on the verge of crossing below the 70% line.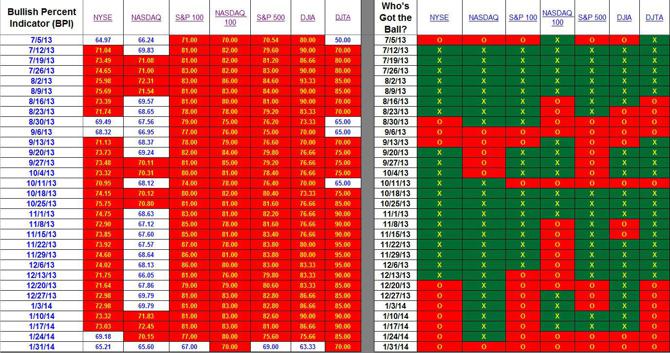 Sector BPI: As expected, market sectors followed the major indexes and turned further negative this week. Only Telecom and Utilities remain under the control of the offensive and the Telecom data is suspect as it seems to be stuck on 62.5% for many weeks.
While the defensive teams took control of another sector, Technology, the majority of sectors are still overvalued. We are a long way from seeing an under-valued market as only Energy is approaching the under 30% zone.
Even though I don't use PnF graphs to manage portfolios, this information provides a quick view of broad market conditions. When indexes have over 70% of the stocks generating bullish signals, it is time to be cautious and when the percentage drops below 30%, it is time to be an aggressive buyer. As we see in the following table, there are long periods when parts of the market remain above the critical 70% line.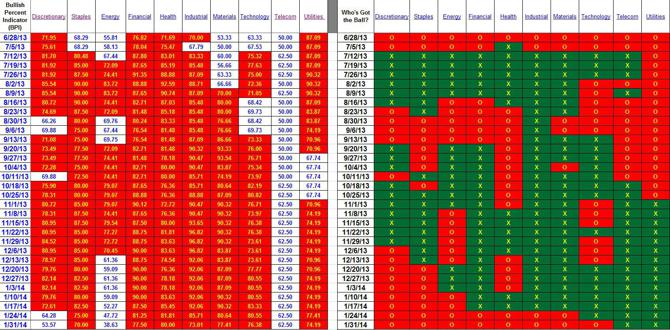 Disclosure: I have no positions in any stocks mentioned, and no plans to initiate any positions within the next 72 hours. I wrote this article myself, and it expresses my own opinions. I am not receiving compensation for it (other than from Seeking Alpha). I have no business relationship with any company whose stock is mentioned in this article.