Potash (POT) surprised the market by issuing a somewhat disappointing earnings outlook for 2014. The potash producer is facing tougher headwinds than anticipated resulting from the break-up of the cartel last summer.
Yet after shares have seen significant declines, the company is seeing modest signs of improvement as it has boosted the allocation of cash to be returned to shareholders in recent times.
Main Points For Fourth Quarter
Potash generated fourth quarter sales of $1.54 billion, which is down by 6.1% on the year before. Earnings took a big plunge, falling by 45% to $230 million with diluted earnings per share coming in at $0.26 per share.
Looking At The Numbers
Profitability was under pressure during the quarter and not just because of the declines in revenues. Cost of goods sold were actually stable in dollar terms despite the fall in revenues as gross margins fell by 3.8% to 38.7% of total revenues. In general sales were up in terms of volumes, offset by weak pricing which is not a surprise. Transportation costs were on the rise as well, increasing by 2 percent point to 8.9% of total sales.
That was just the start. Both absolute as well as relative selling, general and administrative expenses, as well as mining taxes rose. At the same time the share of earnings and dividends received were under pressure. Costs were on the rise as well due to one-time expenses as Potash took $60 million in severance-related costs to a reduction of its workforce.
As a result of all of this and higher effective tax rates, earnings fell to $230 million which is still a very respectable 14.9% of total revenues. It is just that after-tax earnings totaled 25.6% of revenues in the same period last year.
2013 Has Been A Bad Year
It is fair to say that 2013 has been a nightmare year for the company as the potash cartel broke up in July of 2013. Essentially there is a Russian as well as a Canadian cartel, with Russian Uralkali cutting prices to gain market share.
As a result, revenues fell by 7.8% to $7.30 billion for the full year. Note however that the entire impact of the break-up has not been felt in 2013 yet. As a result of a $341 million impairment charge in 2012, the fall in earnings for last year has been limited to 14.1% with earnings coming in at still a very respectable $1.78 billion.
Despite the massive profitability of the business, even nowadays, Potash operates with nearly $4 billion in debt, while it has access to little over $600 million in cash and equivalents.
Note that Potash has investments in other companies like the Arab Potash Company and Israel Chemicals, among others. These investments are valued at roughly $1.3 billion on the balance sheet, while the current market value is roughly $5.2 billion.
Looking Ahead
For the current first quarter, Potash sees earnings of $0.30 to $0.35 per share which compares to consensus estimates at $0.48 per share. Full year earnings could come in between $1.40 and $1.80 according to the company's current estimates. Analysts were looking for full year earnings of $2.00 per share.
Potash recognized that notably potash prices were very weak in the quarter, yet CEO Bill Doyle sees signs that uncertainty in the global markets might be starting to abate.
Potash volumes for 2014 are seen between 8.2 and 8.6 million tonnes.
Diversification Fails
Even as Potash has focused on three main products, being Potash, Nitrogen and Phosphate, the diversification did not help much over the past year.
Potash revenues for the final quarter totaled $564 million, up by 1.8% on the year before on strong volume growth. Gross margins totaled 40.4%, down from more than 50% last year. Customers took advantage of the break-up in the cartel with volumes up by 34% to 1.76 million tonnes. At the same time, average realized prices fell by 27% to $282 per ton, hurting margins significantly.
Similar volume increases combined with lower average selling prices were observed at nitrogen and phosphate, although to a more limited degree.
Nitrogen sales fell by 9.5% to $494 million while gross margins were steady at 38.1%. Phosphate remains a troubled business with revenues down by 10.9% to $483 million as margins more than halved to just 9.1% of total sales.
Confident About The Future
Despite the break-up of the cartel and the lower guidance for this year's earnings, Potash is a bit more confident about the future as the uncertainty from the cartel premium pricing is gone and continued worldwide demand improves operating conditions.
As a result, the global industry capacity utilization rates are expected to increase this year towards or above levels seen on average over the past two decades.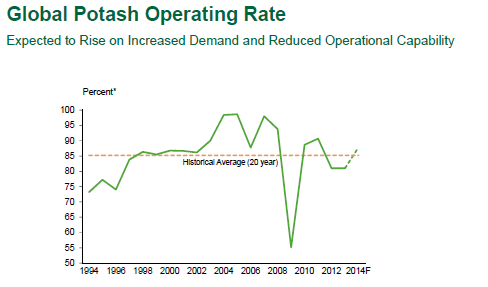 Combined with the lower capital spending forecasts for the coming years, this does allow for significant cash generation despite lower potash prices. To please investors somewhat and comfort them for the pain inflicted by the break-up of the cartel, Potash increased payouts to investors.
The recently hiked dividend to $0.35 per share provides investors with a cool 4.5% dividend yield, but does represent a nearly 90% payout ratio of 2014's projected earnings. The company spent roughly another $400 million in repurchases over the past year, at a rate of 1.5% per annum as repurchase pace picked up in the final quarter.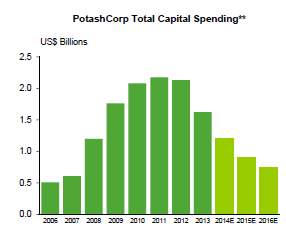 Valuation
At $31 per share the business is valued at roughly $27 billion. The projected earnings for 2014 imply that earnings could come in at $1.4 billion, implying a roughly 20 times earnings multiple as investors still have to get used to the new reality.
Yet operating leverage and possible higher market demand for potash and related products might improve earnings going forward, although it is to be seen if they can approach record earnings of $3 billion in 2011 anytime soon with the cartel being broken.
For now the company remains profitable as there are no signs of financial distress, while the generous dividend policy provides investors with a nice 4.5% dividend yield. On the plus side there is always a scenario in which the cartel could be restored, unlocking significant value if that would potentially happen in the future.
I am in doubt between the current premium multiple, although I do realize the potential for higher earnings, and the high current dividend yield amidst sky high payout ratios. As I don't have too convincing arguments myself for either a bull or bear case, I remain on the sidelines.
Disclosure: I have no positions in any stocks mentioned, and no plans to initiate any positions within the next 72 hours. I wrote this article myself, and it expresses my own opinions. I am not receiving compensation for it (other than from Seeking Alpha). I have no business relationship with any company whose stock is mentioned in this article.