Key takeaways
Ari Network Services, Inc. (NASDAQ:ARIS) is a possible value play. However, its recent acquisitions resulted in a 2013 EBITDA decline.
The company's management explained that the acquisitions will enable ARI return to its historic EBITDA level.
In the near future, the company's geographic expansion will add to its revenues as ARI deploys solutions to the market.
The company's entry into the automotive aftermarket should drive a significant rebound in EBITDA.
The stock history shows evidences that ARI is capable of a minimum 10% upside.
The downside is limited by diverse revenue streams both in terms of the company's industry and product.
Company Overview
ARI provides technology-enabled services that help dealers, distributors and manufacturers worldwide. The company delivers its services to outdoor power, power sports, marine, and appliance sectors. It focuses on vertically-oriented markets with a large base.
| | |
| --- | --- |
| Ticker | ARIS |
| Exchange | NASDAQ |
| Country | United States |
| Sector | Technology |
| Industry | Application software |
| Price | $3.42 |
| Shares outstanding | 13.13 million |
| Inside ownership | 14.67% |
| 52 week high/low | $1.51 - $3.51 |
| Debt | $4.58M |
| Market cap | $$44.91 million |
| Total cash Cash/equivalent | $1.12 million |
Source: Yahoo Finance
A possible value play
The recent EBITDA decline masks the prospects of the company. Its net income loss in 2013 was $753,000, compared to a net income of $1,055,000 for 2012. ARI generated an operating loss of $202,000 in 2013, compared with an operating income of $1,295,000 in 2012. Investors should note that the operating loss resulted from acquisition-related costs. They should also focus on the following four-takeaways.
First, revenue for the 2014 first quarter was $8.2 million, a 37.3% increase over the same period last year. Recurring revenues were $7.7 million, a 57.7% increase over the same period in the prior year. As a percentage of total revenues, recurring revenues were 94.7% versus 82.5% for the same period in the year prior. The company's acquisitions drove its revenue growth.
Second, the growth outlook is positive. The company successful entered the automotive aftermarket. It grew the business by adding new customers. It also invested in growing its market share and adding products that it believed would generate revenues in the future.
Third, ARI's management said revenues generated by its acquisitions will rise in fiscal 2014. For instance, 50 Below was a leading provider of website solutions to dealers in the powersports sector. ARI expects the acquisition to make the websites division the company's largest source of revenue. ARI's management also anticipates that revenues generated from the 50 Below products will have the highest year-over-year growth in its fiscal 2014.
Fourth, ARI has a diverse revenue stream. Its products are used in numerous areas. Additionally, its management grew the company's international sector. It developed business development resources solely dedicated to obtaining new international content offerings. ARI added over 10 new catalog content offerings in the international market and started to establish relationships with organizations in China and Europe.
($ in 000s)

FY 2013

FY 2012

FY 2011

FY 2010

FY 2009

Results of Operations

Revenue

$30,102

$22,494

$21,334

$21,484

$17,560

Growth

33.8%

5.4%

-0.7%

22.3%

3.8%

Gross Margin

78.0%

76.6%

79.0%

79.7%

80.6%

Operating Margin

-0.7%

5.8%

8.1%

2.4%

6.3%

EBITDA, adjusted†

$3,500

$4,351

$4,351

$5,031

$2,564

EBITDA Margin

11.6%

19.3%

23.6%

11.9%

15.6%

Diluted EPS

-$0.08

$0.13

$0.31

$0.10

$0.06

Operating Cash Flows

$2,404

$3,507

$3,471

$1,624

$2,745
Stock performance
The stock has made some pronounced movements in the past one year. Consider the chart below.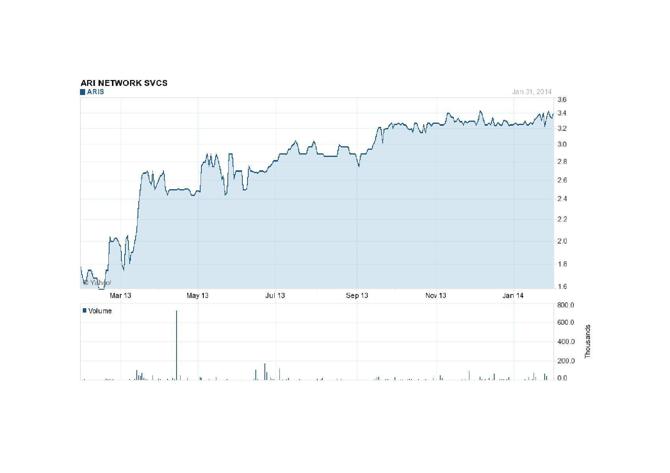 The stock rose around 25% in early March and 11% in the middle of the month. It climbed 55% in late March then rose 16% in May. It rose 16% in June and then went up 10% in September. Based on the trend in the past one year, the stock has a minimum 10% upside potential. Aggressive traders can initiate positions today. Of course, they need to carry out further research before they come to a decision.
Competitors
ARI competes with Snap-On Inc (NYSE:SNA) in the eCatalog business. In the lead management, websites and eCommerce sectors, ARI's competitor is PowerSports Network. IBM (NYSE:IBM) also offers products that could address ARI's customers' needs, but IBM does not directly compete with ARI. However, it could do so in future. ARI is unique because it maintains a competitive advantage in its core vertical markets. Besides, its customer churn rates have improved in its core market over the last few years.
Risks
There is a risk resulting from accumulated deficits on the balance sheet. While the company has been profitable in recent years, it experienced a net loss in 2013. Its overall net losses have resulted in accumulated deficits of over $88 million by July 2013. As a result of this, the company's financial position has been weakened.
There is also an international strategy risk given ARI's intention to increase its presence in non-U.S. markets. This presents a currency fluctuation risk. ARI also faces the challenge of managing more geographically diverse operations.
Also, ARI's core markets are competitive. The eCommerce area is rapidly changing with relatively low barriers to entry. With increased market entrants, ARI expects competition to remain fierce. This could result in reduced sales and reduced margins. The company might even fail to achieve a widespread market acceptance.
Conclusion
Though ARI suffered a net loss in fiscal 2013, the company is a possible value play. The net income loss resulted from ARI's recent acquisitions. But the acquisitions subsequently increased revenues in the first quarter of 2014. Going forward, the integration of the company's acquisitions should drive a rebound in EBITDA. The company's entry into the automotive aftermarket should drive its revenue growth. Finally, its stock price should show further appreciations due to revenue increases brought about by acquisitions
Disclosure: I have no positions in any stocks mentioned, and no plans to initiate any positions within the next 72 hours. I wrote this article myself, and it expresses my own opinions. I am not receiving compensation for it (other than from Seeking Alpha). I have no business relationship with any company whose stock is mentioned in this article.