PPL Corporation (NYSE:PPL) is one of the leading U.S utility companies serving about 10 million of customers in the US and UK with electricity and natural gas. PPL Corporation enjoys the wide geographical footprint of the PPL family of companies with more than 18,000 megawatts of generating capacity in the US. PPL Corporation is not only a wide-reaching company but also an effective and reliable source of power since it easily managed the peak power demand during the bone-chilling weather this winter. Its transmission and distribution systems delivered power without any disruption or notable problem. The company exhibited phenomenal operational efficiency.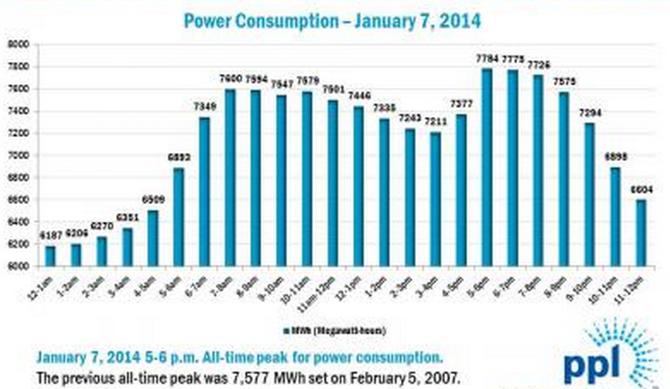 Source: Archived News
As with other Industries, PPL Corporation also has to face some risks that include its competition and stiff regulations. In this next section I will discuss PPL's strategy to deal with these risks and continue its current financial performance into the future.
Switching to Natural Gas: Reaction to Environmental Regulations
PPL previously operated various coal-fired power generation plants but the stringent regulatory requirements required the business to reduce its carbon footprint. In response the company had to retire 800 megawatts of its coal-fired generation and alternatively build a 640 megawatt NGCC (natural gas combined cycle generating unit) unit. This will cost $700 million to construct and add approximately 700 megawatts of capacity. However, the alternative method can only be adopted after the request made by the company this month gets approved by the Kentucky Public Service Commission. Once approved, PPL Corporation's generation capacity in the US will be comprised of 59% coal-fired, 40% natural gas-fired and 1% renewable. PPL already has one natural gas facility under construction and the announced additions will also be part of the company's fleet in the coming years. However, the realization of the plan remains dependent on the regulatory approval.
The construction of a $36 million 10 MW solar facility is also under consideration. PPL Corporation expects its solar facility to be online in 2016 followed by the NGCC unit in 2018. The above mentioned strategy will enable the company to continue fulfilling consumer demand with reliable and low-cost energy and meet stringent federal EPA regulations. Thus the company's management should be praised because the strategy enabled the company to overcome any legal hindrance in the path of its production and ability to meet consumer demand. This act will not only reduce the company's carbon footprint but will also enhance its image as a socially responsible company.
Fast Track Status: A Catalyst for the Company's Performance
PPL Corporation has moved its focus towards regulated operations and away from competitive operations. In this regard another supporting tool that can lift PPL Corporation's revenues and bottom-line figures to new heights is its WPD. PPL Corporation operates in the UK under PPL's Western Power Distribution (WPD). WPD owns and operates 4 electricity distribution networks in England and Wales and serves 7.8 million customers that represent a major proportion of PPR Corporation's total customer base (78%). This makes WPD a cornerstone in the PPL Corporation's vibrant portfolio. WPD is known for its high-quality operations in the UK and fast track status approval is indicative of the fact.
After reviewing the application submitted by the PPL Corporation for fast tracking its 8-year business plans, the UK Office of Gas and Electricity Markets (Ofgem) declared PPL Corporation's 8 year plans eligible for fast tracking by the end of last year. PPL Corporation is the only company among its peers that has been regarded eligible for fast track status for its cost-control plans. However, the final decision is expected next month and the price review process will determine and establish prices starting from April 01, 2015 up until March 31, 2023.
This status will offer WPD subsidiaries numerous benefits. One of these advantages is the ability to gain additional revenue of about $35 million per annum (calculated as 2.5% of total annual expenditures) during the price control period. UK Operations may experience an earnings boost of around $1.25 to $1.32 per share in 2014 from a $1.20 forecast in 2013 wand this will result in a payback to the parent company of $255 to $305 million this year. Greater revenue certainty and an increased cost savings will come as an added advantage. Less volatile earnings and enhanced cost control will certainly lift PPL Corporation's earnings and reduce the non-systematic risk this stock offers to investors. Keeping in mind the softening of power prices in the future this achievement can act as a catalyst for the company to attain its strategic objective of strengthening regulated operations and minimizing the adverse effects of competitive operation results.
Financial Analysis
With regards to some quantitative aspects, the performance measures of the company are evident of the superior performance of the PPL Corporation among its competitors and the industry.

Source: Reuters
PPL Corporation is generating attractive gross margins from its operations and is also offering a higher than benchmark return on equity. Similarly, the company is offering a dividend payout rate of 15 times better than that of the industry. A major risk arises out of the heavy debt lodged to the PPL Corporation's balance sheet. However, the interest coverage ratio seems paltry but in fact shows that the company is generating enough earnings to pay the interest expense. However, it is time for the company's management to pay attention to the rising debt levels and to try to reduce it as well as the financial risk so that investors can have a healthier financial picture of the company.
PPL Corporation has maintained its good reputation among investors since its dividends have experienced increases of 11 times over the past 13 years. In 2013, an increase in dividends of 2.1% led the annualized rate to $1.47/share.
Dividend Profile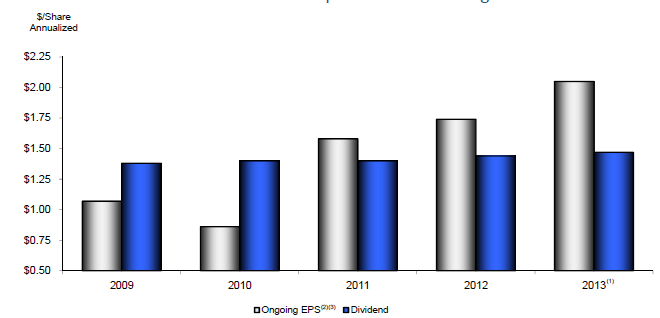 Source: Company Presentation
A dividend yield of 4.92 underscores the strength of PPL's vibrant business portfolio and prospects for future growth. The diversified business mix of the company provides stable earnings, good credit ratings and dividends. Nonetheless, it is trading at a steep level with a PE ratio of 11.94 whereas the industry average is 19.49.
Concluding Remarks
The strategic move adopted by PPL Corporation's management will allow it to survive through the Federal Environmental regulations. As a result, the reduced carbon footprint, cost control, and less volatile pricing are the features that will make the company a favorite not only for customers but also investors. Therefore, I believe this stock with its growth opportunities and decreased non-systematic risk clearly reserves the upside potential and can act as a cornerstone in the vibrant portfolios of dividend-loving investors.
Disclosure: I have no positions in any stocks mentioned, and no plans to initiate any positions within the next 72 hours.
Business relationship disclosure: The article has been written by a Blackstone Equity Research research analyst. Blackstone Equity Research is not receiving compensation for it (other than from Seeking Alpha). Blackstone Equity Research has no business relationship with any company whose stock is mentioned in this article