On Wednesday, Google (NASDAQ:GOOG) announced that it agreed to sell its Motorola business to China's Lenovo Group for almost $3 billion.
While there may be many different ways to analyze the deal, we'll address just a few points which we believe could represent food for thought for both Google and Microsoft (NASDAQ:MSFT) investors:
is this sale an implicit admission of a strategy failure by Google?
what are the implications for Microsoft's strategy in mobility, if any?
As a side aspect of the deal, we'll also try to answer the question:
is it possible to speculate that this move may generate a positive effect to other unrelated companies?
Buying for $12.5 billion, selling for less than $3 billion
A superficial back of the envelop calculation suggests that Google ended up paying a few billions for Moto's IP, the only asset out of its 2012 acquisition it didn't resell:
price paid: roughly $12.5 billion
cash on Motorola's balance sheet: $3 billion
sale of Motorola's set-top box division: $2.4 billion
sale of handset division to Lenovo: almost $3 billion.
As Google is retaining most of the intellectual property associated with its original Motorola acquisition, investors might assume that about $4 billion could represent Google's cost for Moto's 17,000 patents.
A slightly more refined analysis should take into consideration the fact that Motorola has represented a loss making division for Google over the last two years (negative), but, on the positive side, also the fact that Moto had some NOLs that might have positively impacted Google's tax rate in the meantime (although the numbers quoted may probably be inaccurate, as NOLs are often subject to some restrictions to the acquirer). Seeking Alpha contributor Marc Hibben estimates the full cost for the patent portfolio in $9.7 billion.
Forbes contributor Jean-Baptiste has a completely different take on the deal (the beauty of non-GAAP back of the envelop calculations), and sees a "profit" for Google, at least compared to the value of the IP it acquired:
Net-net, after the Lenovo (OTCPK:LNVGY) deal closes, Google spent less than a billion dollars for patents that it originally estimated was worth $5.5 billion. Admittedly, Motorola also ran up close to $2 billion in operating losses, but that still leaves Google with a $3 billion profit!
NYTimes Dealbook takes a similar route to conclude that "Google got a pretty good deal."
In all honesty, all these calculations sound like an attempt to give an exact number to the trees, forgetting about the fact that we should be really looking at the forest: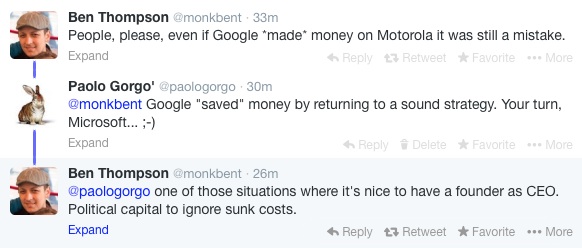 Google's strategy in mobility was inconsistent with owning Motorola
Ben Thompson's Stratechery perfectly explained (a while ago) why Google's business model could hardly justify owning Motorola: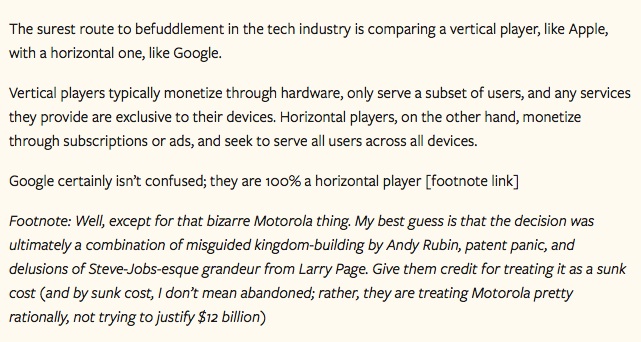 By selling Motorola's handset division to Lenovo, and retaining just the IP, Google is getting out of a "strategic mistake," and in the meantime it is utilizing the opportunity as a leverage tool with Samsung (OTC:SSNGY) to increase its influence in the Android open source world:
This week, Samsung and Google announced a wide-ranging deal to cross-license patents that cover mobile devices and other undisclosed categories. But there's more.

Although the exact details of those meetings could not yet be learned, sources familiar with the discussions say not only will Samsung consider dumping or altering the Magazine UX interface in future devices, but, more importantly, new Samsung devices will spotlight Google's suite of apps to get movies, music and other content at the expense of its in-house-developed software, which was once a proud showcase of Samsung's evolution as a mobile industry leader.
By disposing of Motorola to Lenovo, Google also succeeds in strengthening its influence on the Chinese market, where forked versions of its Android OS (or AOSP) are becoming a threat to Google's business model:
"The growth of AOSP is significant for Android's owner Google, because AOSP does not offer Google's services (due to their unavailability in China), impacting Google's ability to monetize the Android ecosystem," comments Nick Spencer, senior practice director, mobile devices.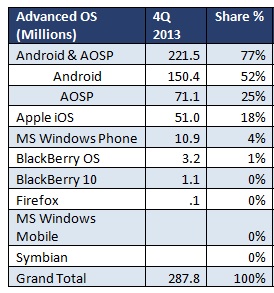 To come back to our original question ("is this sale an implicit admission of a strategy failure?"), the answer is probably yes, although Google has done its best to minimize the negative impacts resulting from being seen by its Android partners as a competitor, and the company seems to have come out of this situation having paid a relatively small price both in financial and strategic terms.
Impact of the deal to Microsoft
Lenovo is the number one PC company in the world, and a key partner to Microsoft. Through the Motorola acquisition, the Chinese company positions itself as the number three smartphone producer worldwide, with a strong brand for the US market.
Its choice for the OS in mobility is very clear: Google's Android.
We agree with Michael Cusumano, a professor at Massachusetts Institute of Technology's Sloan School of Management, that the Lenovo/Motorola deal may represent an anticipation of what could happen to Microsoft, unless it executes a stellar Nokia (NYSE:NOK) integration:
Microsoft is on track to close its $7.4 billion acquisition of Nokia's handset business this quarter, seeking to regain lost ground in a market where its 3.7 percent share is eclipsed by Android and Apple Inc.'s iPhone. Unless Microsoft can combine software and hardware as expertly as Apple has done with its products, the software maker will be better off without Nokia.

"It's interesting to see Google back out of trying to be a software company and a hardware company," Cusumano said. "I wouldn't be surprised if we're having the same conversation about Microsoft two or three years from now."
As a side note, Microsoft's move to becoming an integrated hardware/software company, at least in mobility and in contrast to its previous PC business model, is the last strategic decision taken by its exiting CEO. The new Microsoft CEO might review this strategic approach, as the market in mobility keeps evolving - in a direction which may not please the Redmond company.
Q4 results for Nokia's Lumia phones were quite disappointing, both in terms of number of units sold (which decreased Q/Q) and margins:

We wouldn't be surprised to discover that Microsoft management underestimated the importance of the Nokia brand perceived as an independent company, and the negative impact that Microsoft's acquisitions might have, especially on a few, non-US markets.
Here in old Europe, many consumers still keep a kind of Apple-like love for the Nokia brand, which is probably fading away as the company is becoming 100% Microsoft. As an example, see this very recent news: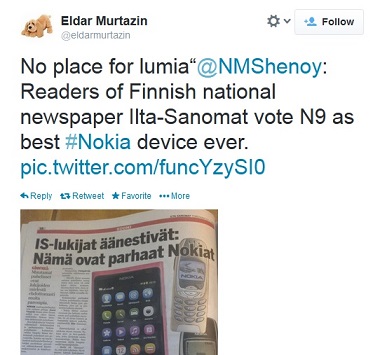 Can the Lenovo acquisition of Motorola represent a positive catalyst to other companies?
We believe that the sale of Motorola to Chinese Lenovo may act as a positive catalyst for Immersion Corporation (NASDAQ:IMMR).
In November 2012, Immersion Corporation entered into a settlement and license agreement with Google and Motorola Mobility LLC, resolving the patent infringement litigation pending between Immersion and Motorola.
As a result, Motorola agreed to pay a license fee related to any future shipments of Motorola devices with Basic Haptics - an intrinsic tool of Google's Android OS, covered by Immersion's extensive IP. Hopefully, this agreement could also have represented the start for a deeper collaboration among Immersion and Motorola for the implementation of advanced haptics in Moto's high end products.
In September 2013, Immersion entered into a broad licensing agreement with Xiaomi, one of the most rapidly growing OEMs in China. This arrangement represented the company's first direct licensing agreement with a mobile OEM in China, and includes both basic and select TouchSense and Integrator software solutions haptics.
Chinese OEMs may access Immersion's basic IP both through a direct licensing agreement, or through the purchase of Immersion's chip partner products, like it happened with Imagis Co., Ltd, which contributed to Xiaomi implementing haptics in its product range.
During the company's Q3 2013 conference call, Immersion CEO Vic Viegas explained how this strategy was working and that the Xiaomi win was expected to be the first of several other agreements in the Chinese market:
Vic Viegas - President & CEO

Xiaomi, one of the most disruptive innovators in the China smartphone market, has incorporated Immersion Haptics through our partner Imagis in their flagship M1 and M1S devices earlier in 2012. Most recently Xiaomi announced their powerful N2 Android smartphone with Immersion Haptics, which came to market in October. We're pleased with the progress being made in China and are actively engaged with additional OEMs. We expect to continue to see additional handsets with Immersion Technology emerge from this rapidly growing market.
While Lenovo has never been directly mentioned as a potential licensee, we believe that the Motorola acquisition will positively impact Immersion's negotiations with the company. As a license to basic haptics is already part of Motorola's business practice (and even without speculating that Moto's R&D might already be working on implementing advanced haptics), we believe that Immersion could see the timing of a direct license to Lenovo accelerated by the Google/Lenovo deal, with increased possibilities for advanced cooperation.
Lenovo's CEO has made it very clear that the company is looking to replicate in mobility the trajectory that made them the number 1 PC OEM:
With Motorola, Lenovo will be the No. 3 smartphone maker worldwide. Do you think your company can catch up with Apple or Samsung, who are still far ahead of you? And how long will it take?

Definitely, over time. Our mission is to surpass them.
By signing a direct license with Lenovo, Immersion might find itself in the position to multiply by 5 or even 10 times the potential revenue stream that Motorola alone did represent for the company, as the company is collecting a royalty per handset sold:
You've said that you plan to sell more than 100 million smartphones by 2015. That's roughly double both companies' combined 2013 sales: According to IDC, Lenovo sold 45 million devices for the year and Motorola about 10 million. Where is the growth going to come from?

Definitely both emerging markets and Motorola markets. Even though Motorola has a lot of influence in the U.S. and Latin America, the market share is still limited. So we still have very good opportunity to grow. We want to become a very decent player in these markets.
Disclosure: I am long IMMR. I wrote this article myself, and it expresses my own opinions. I am not receiving compensation for it (other than from Seeking Alpha). I have no business relationship with any company whose stock is mentioned in this article.