Yum (NYSE:YUM) is a U.S. based Fortune 500 company that encompasses the brands Taco Bell, Pizza Hut, KFC and WingStreet. Formerly of the Yum! family were the brands Long John Silver's and A&W Restaurants. It employs over 466,000 people.
Yum has been all over the map for the last twelve months. In the midst of a major bull market, Yum has returned only a little over 1% for the last twelve months. In 2014, the stock is down over 11% as the macro markets have been volatile and skittish.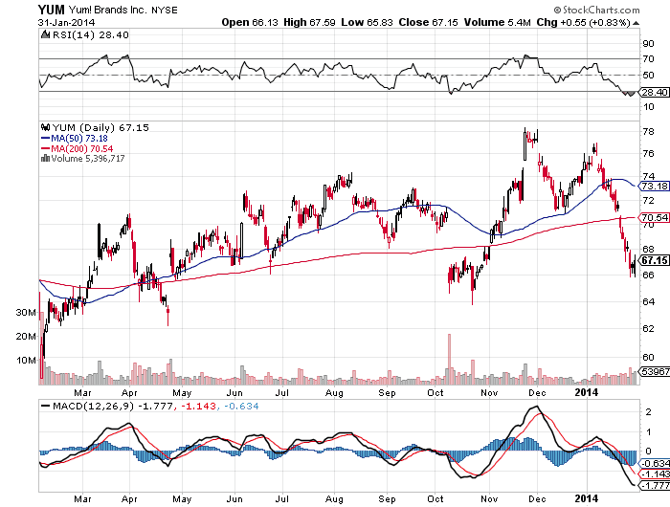 Yum is set to report earnings on Monday after the market closes. Analysts are expecting net income of $366.59 million on $1.27 per share. Analysts are expecting revenue of $4.27 billion, compares with $4.15 billion in the same quarter one year ago.
Dating back through the beginning of 2013, Yum's KFC operations overseas in China have been dealing with the residual setbacks to food safety concerns. Additionally, the company has been accused of using chicken suppliers that are guilty of using high levels of antibiotics.
China has really been the main market for Yum's success. In the next year Yum is planning to open 700 new restaurants in China. So, there's a direct correlation between Yum's success in China and the overall success of the company. I pointed this out in an article I wrote earlier in 2013 focusing on the company being too overleveraged overseas:
Much of the move sustained early Tuesday morning was behind Yum's momentum in China. China accounts for roughly 40% of all sales for Yum, and posting results that are not as bad as they were thought to be has acted as catalyst here.

The sales figures from China that will be coming in monthly are going to be scrutinized big time; if they start to wane, it's a sure fire sign to get out and go short.
Bulls have argued that 2014 could be a better year for the company as Yum posted small gains in China for same store sales to end 2013. The company should give further color on how it ended up 2013 in its earnings call.
Analysts have been in the middle of the road heading into Yum's earnings, with a consensus 12-month price target at $81.
(source - Nasdaq.com)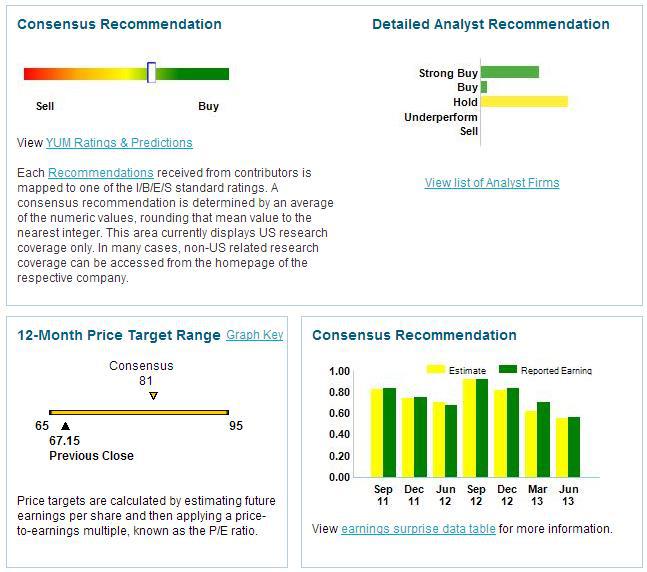 At this point, QTR has trouble getting behind stocks with as much leverage overseas as Yum does. It's been looking for the last two years that Yum may no longer be on the meat of the adopter curve with its KFC brand in China. As a result of more bureaucracy with food safety specifically on KFC, Yum could stand to be negatively effected.
Additionally, with the volatility that the markets have started the year with spawning from emerging market and currency issues, I'm recommending using caution with an investment in Yum going forward. Like many other earnings that have started 2014 out, the focus is going to be on the guidance for the upcoming year.
Best of luck to all investors.
Disclosure: I have no positions in any stocks mentioned, and no plans to initiate any positions within the next 72 hours. I wrote this article myself, and it expresses my own opinions. I am not receiving compensation for it (other than from Seeking Alpha). I have no business relationship with any company whose stock is mentioned in this article.