Green Mountain Coffee Roasters (NASDAQ:GMCR) has had one hell of a ride over the past couple of years. The company's future hinges on its Keurig 2.0 system - a system that is supposed to lock up Keurig specific to Green Mountain. The loss of the original K-Cup patent in 2012 was one of the main downward driving forces on the company's stock and it remains to be seen if alienating other people from making K-Cups remains the long-term solution for the company.
Due to the fact that the original K-Cup is still growing, who is going to be eager to "upgrade" their coffee maker and simply chuck the one they have now, that makes all brands accessible? Additionally, the original K-Cup machines that are in inventory all over the world are likely to sell faster once the "new" version comes out and the original goes on sale.
The company has said it's going to price the new version at a "value" in order to penetrate more markets with it. The question then remains whether or not GMCR will monetize 2.0 immediately or if the first push will simply be a push to get in your front door, with plans of monetizing from it once everyone owns the new system. It sounds uneasy, at best, to me - if you buy Keurig 2.0, you're actually limiting the amount of coffee that you can make. Green Mountain hopes to allow people access to Keurig 2.0 through striking revenue-sharing deals with the company.
K-Cups are everywhere. Since their inception years ago, they're predicted to be in 13% of all U.S. homes. It's likely that you see them in the office you work in, as well. My wife has one within arm's reach of her desk. And, interestingly enough and based on crude visual investigation, she's been plopping Starbucks brand K-Cups into it for the last couple of months.
So, most ears are going to be tuned into anything the company has to say regarding its new system in this week's earnings call.
Although off its highs that were, at one point in 2011, pushing $120 share, Green Mountain has done well to rebound over the last twelve months, up 72.6% for the prior 12 month period. It's also part of a small fraction of stocks that have eked out gains in 2014, up 7.2% year-to-date. Its chart shows a bullish technical flag, with the 50DMA recently crossing through the 200DMA. If GMCR can please investors with earnings, there's no doubt we'll see the stock run through its resistance near 90.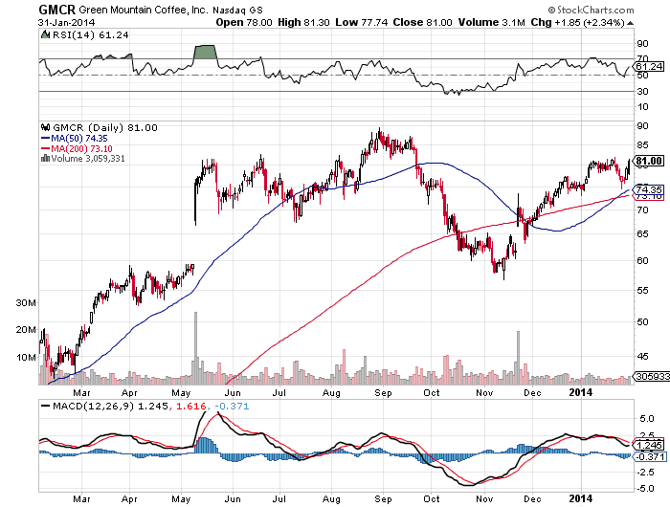 Green Mountain reports on Wednesday of this week, February 5th.
GMCR is my leading candidate for an options play based on earnings for the coming week - their recent earnings have been volatile quarter after quarter. Analysts expect an 18.4% rise in earnings to 90 cents per share, the slowest growth in five quarters. Revenue is seen rising 4.5% to $1.4 billion.
For the long term, I'm not sure that Green Mountain is the trade that I'm going to want to be in. With so much predicated on the success of Keurig 2.0, cautious investors are going to want to wait and see what kind of traction the new system gets before jumping in and potentially facing large risks, should it not work out.
For the short term, the trade should be an options straddle heading into earnings, as the stock is very likely to have a large move post earnings. So far this year, all three companies that I've bet on for volatility on earnings (Netflix (NASDAQ:NFLX), Facebook (NASDAQ:FB), Chipotle (NYSE:CMG)) have come through. Green Mountain is next on my list.
In his recent article "Earnings Still Matter", George Acs lists Green Mountain as having an implied post-earnings move of 11%. The options chain that I'm looking at is also forecasting a 10% move post earnings.
The options that I'm looking at for this trade are March 7th expirations. Going out two to three weeks from earnings, the premiums don't get much more expensive than the February 7th contracts, so we're going to buy the extra month's worth on the theta and hope that earnings sets off a trend in one direction or another for GMCR.
(Source - Nasdaq.com)

The $81 long straddle is going to cost us $10.90 to buy, and is going to put our break-evens at $91.90 or $70.10 - two levels this stock has run through in the past and should have no trouble getting to based on its earnings report.
Green Mountain has been volatile for the better part of the last year, and we're betting on that continued microscope on the company to push its price in one direction or the other. Green Mountain has been a tug of war for investors on the heels of hedge fund manager David Einhorn announcing that he was going to short the stock based on the aforementioned patent issues, coupled with some questionable accounting.
Again, I think that a good portion of how GMCR fares in the long term is going to be based on whether Keurig 2.0 can provide selection for consumers, ease, and affordable pricing. If it catches on, it'll breathe new life into the company. If it fails, Green Mountain is going to be back to the drawing board while investors likely bail.
Short term, this is going to be my trade this week. Long term, I'm not sold just yet on Green Mountain.
Best of luck to all investors.
Disclosure: I have no positions in any stocks mentioned, and no plans to initiate any positions within the next 72 hours. I wrote this article myself, and it expresses my own opinions. I am not receiving compensation for it (other than from Seeking Alpha). I have no business relationship with any company whose stock is mentioned in this article.