Facebook (NASDAQ:FB) has turned in some impressive earnings in the last couple of quarters. The most recent release of earnings of $0.31 per share saw the stock pop 15% as the market took heart from the pace at which Facebook has been able to monetize its mobile users.
Revenues of $2.6 billion were up almost 30% quarter over quarter and $1 billion better than the year-ago period with 90% of revenue coming from advertising.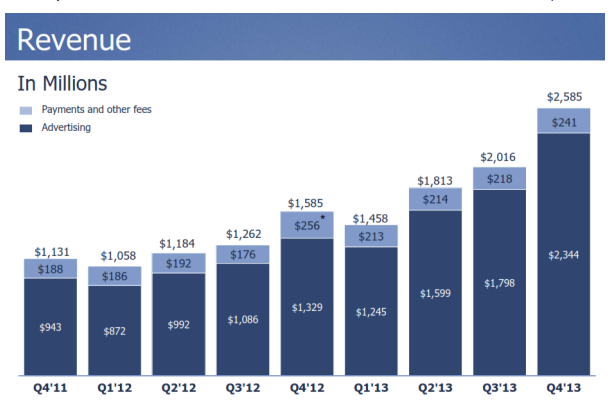 Source: Facebook
Daily active users continued to march higher in all regions, reaching 757 million.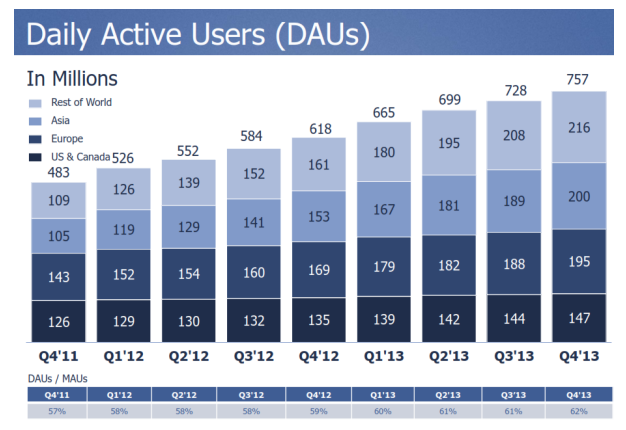 Source: Facebook
Q4 operating income was an impressive $1.5 billion.

Source: Facebook
With average revenue per user over $6 in North America but only $2.14 worldwide, Facebook is likely to see growth in ARPU in the coming quarters in Europe and Asia as these markets further develop.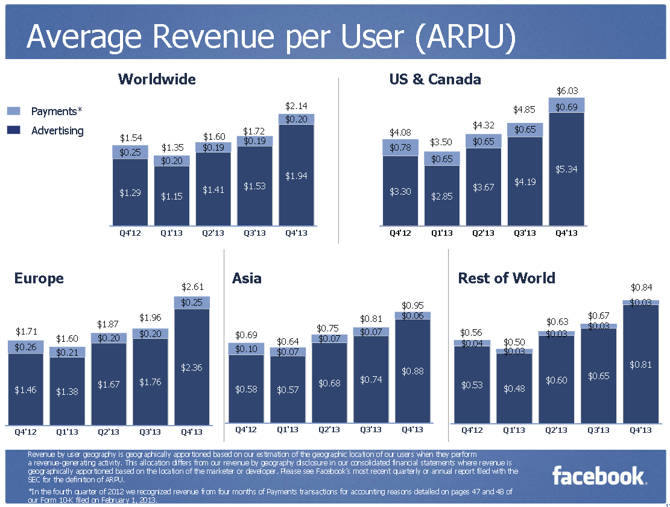 Facebook is still an expensive stock with a market capitalization of $150 billion more or less, but the pace of growth suggests the stock is reasonably valued barring any setbacks.
One area of concern is that the mix of Facebook's user population is shifting. In the United States, the number of younger users is actually declining while the population of middle aged and older subscribers is showing growth.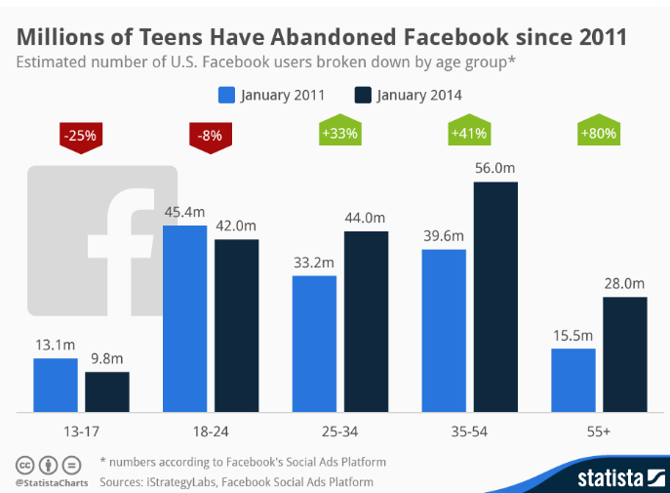 The shift shows a decline in the popularity of Facebook among younger users, since the United States population of persons aged 10 to 24 grew from 62,133 in 2010 to 63,722 going into 2014 while the number of Facebook users under 24 declined in the same period.
Facebook may be declining in terms of its relevance to teens...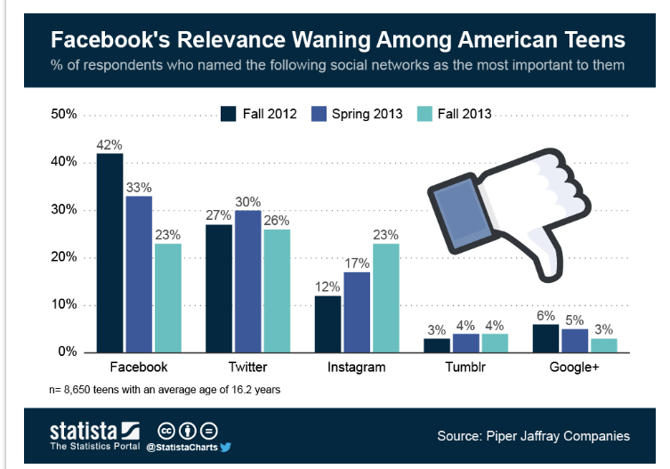 ...but it is rapidly emerging as a platform of choice to connect families with their loved ones.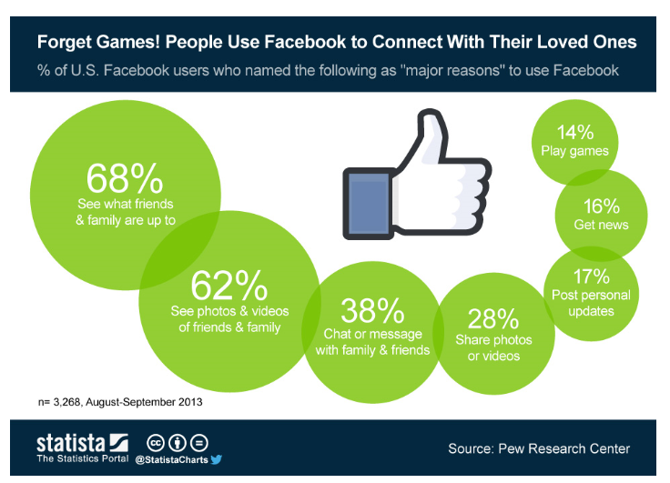 The attraction to families captures a broader and richer population of users very likely more attractive to advertisers than simply the youth market. In the short term, the shift to an older population comprises persons more apt to be employed and have money to spend on the items advertisers choose Facebook to promote. Longer term a decline in younger users may be headwind for Facebook and investors should watch the trend carefully since any material loss of its user base and the stock will take a trip south in short order.
Despite rapid growth, Facebook seems to have kept its costs under control and is now benefiting from the leverage that can come with size as its ratios of costs to sales are generally exhibiting favorable trends.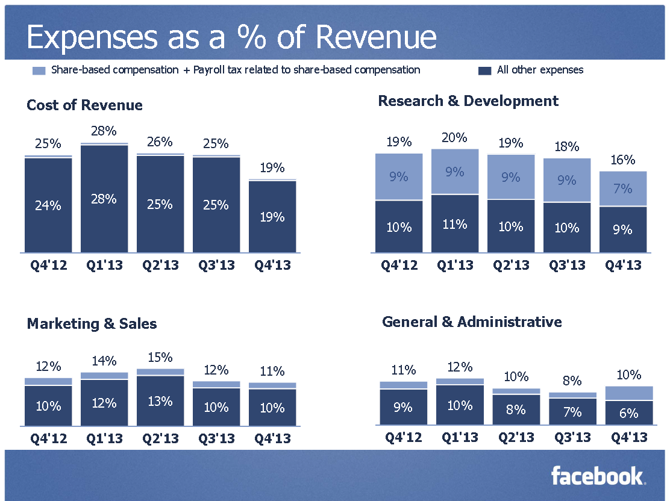 For the time being, Facebook has exhibited surprisingly fast growth and a particularly impressive ability to capitalize on the growing number of users who connect from their mobile devices rather than their personal computers.
Mobile ad revenues have grown from virtually none in the fall of 2013 to amount to more than half of Facebook's revenues today. That should pretty well lay to rest the concern expressed shortly after Facebook's initial public offering that it might be left behind by the rapid growth of mobile.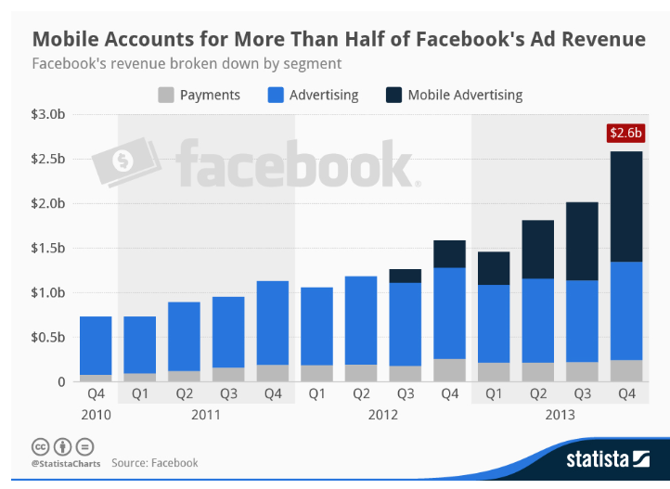 The power and reach of Facebook users as a market should make it a target for advertisers worldwide. It is easy to lose sight of its scale. Facebook is the number one smartphone app in the United States.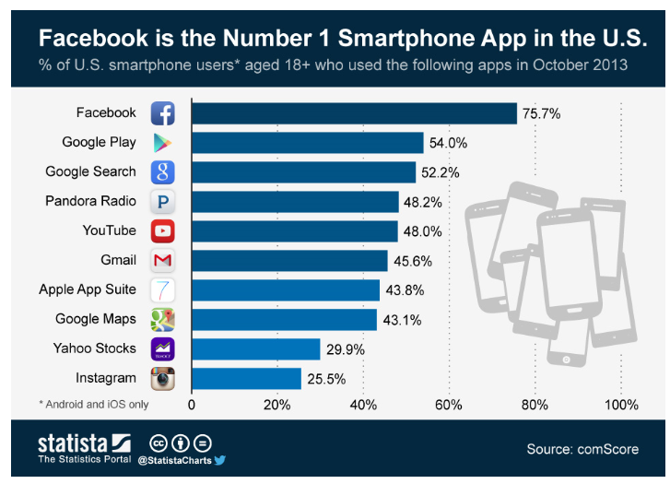 More importantly, Facebook is now close to surpassing China and India in total "population".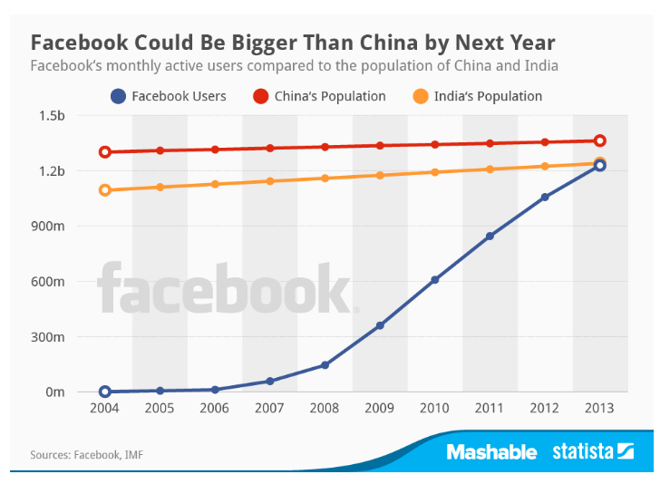 Unlike China and India, all Facebook users are both internet users and potential customers for online purchases. That makes Facebook a larger market than either of China or India and one that is easier to reach by vendors who have a unique ability to segment their target market with what must be the best consumer database in existence.
That alone makes me bullish on Facebook which I think is fairly priced. I believe the overall market is overbought and due for a correction. If it does correct and Facebook stock falls to below $50 a share, I will add a long position either by selling short puts or by just buying some stock.
Disclosure: I have no positions in any stocks mentioned, and no plans to initiate any positions within the next 72 hours. I wrote this article myself, and it expresses my own opinions. I am not receiving compensation for it (other than from Seeking Alpha). I have no business relationship with any company whose stock is mentioned in this article.