This is a series of articles that will attempt to find the 'best in class' BDCs to include in my updated "Total Return Portfolio" for 2014. Please read "Part 1" for complete description of the portfolio but basically it is for investors that want dependable regular dividends and the potential for special dividends as well as long-term capital appreciation from increased stock values. The other five portfolios that I cover are: General, Risk Averse, High-Yield, Value, and Underdog. This article will cover current dividend yields and combine the results from the sustainability and growth potential articles listed below.
Dividend Growth Potential
To estimate the potential for dividend growth in 2014 I have decided to use projected coverage over the coming quarters along with portfolio growth potential without the need for issuing additional shares. The following table is from Part 3 and shows a simplistic view, as of September 30, 2013, of the available growth capital as percentage of the current portfolio. Basically this assumes that using the same debt-to-equity ratio plus cash how much each BDC could increase the current portfolio that would hopefully translate into increased earnings at around the same rate.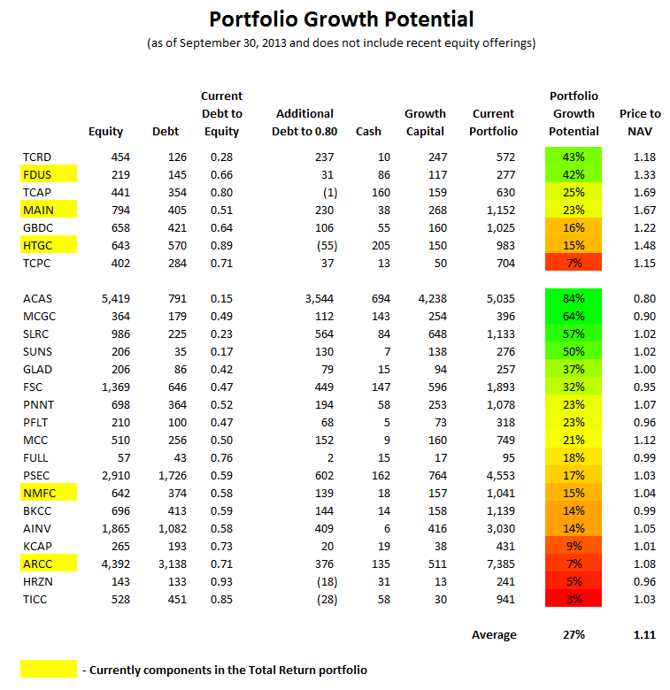 To project regular dividend growth over the next twelve months I assumed that each BDC used 50% of the previously discussed growth capital to increase income, averaged with projected dividend cover over the coming quarters. The table below these assumptions and the resulting projected dividend yield. I have also included special dividends using either the most recent special dividend payments or the anticipated amounts for 2014. Main Street Capital (NYSE:MAIN) has committed to a semi-annual supplemental cash dividend of $0.25 and TCP Capital (NASDAQ:TCPC), New Mountain Finance (NYSE:NMFC), Ares Capital (NASDAQ:ARCC), Fidus Investment (NASDAQ:FDUS) and THL Credit (NASDAQ:TCRD) have recently paid out special dividends at least a couple times over the last year.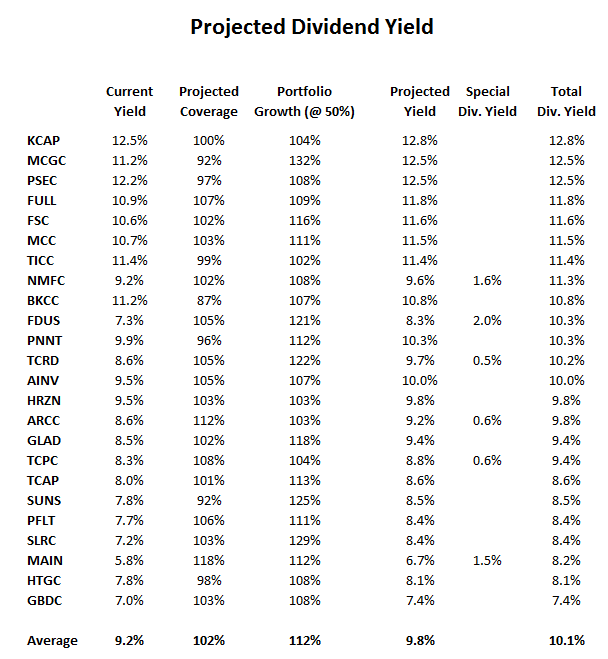 As discussed in Part 4 many of the BDCs with higher yields have less net asset value ("NAV") per share growth due to paying out a higher amount of gains and income such as KCAP Financial (NASDAQ:KCAP), MCG Capital (NASDAQ:MCGC), Prospect Capital (NASDAQ:PSEC), Full Circle Capital (FULL), Fifth Street Finance (FSC), Medley Capital (NYSE:MCC) and BlackRock Kelso Capital (NASDAQ:BKCC). NMFC, FDUS, PennantPark Investment (NASDAQ:PNNT) and TICC Capital (TICC) all have higher than average yields with decent amounts of NAV per share growth and will be considered for this portfolio.
The rest of this series will continue to look at historical results and projected performance of each BDC to uncover the best BDCs for this portfolio. The remaining key criteria I will be analyzing are:
Relative valuations
Risk to reward ratio
At the end of this series I will combine the analyses to project total return to shareholders from income and distributions as well as price appreciation. Most likely I will split this into two portfolios with one being higher returns and the other more for the risk averse investor and I will most likely be investing in most of these BDCs personally. Investors should only use this information as a starting point for due diligence. See the following for more information:
Disclosure: I am long FSC, MAIN, TCPC, ARCC, FDUS, TCRD, PSEC, NMFC. I wrote this article myself, and it expresses my own opinions. I am not receiving compensation for it (other than from Seeking Alpha). I have no business relationship with any company whose stock is mentioned in this article.