Ideas for stocks that could be potential dividend growth selections come from a few different sources. As described in Part 1, Dividend ETFs and Dave Fish's superb list of Dividend Champions and Contenders offer some lists to begin research. However, on a rare occasion, utilities may warrant researching that are not on these lists due to a lack of sufficient trading history. ITC Holdings (ITC) is one of those types of stocks.
ITC Holdings is the only pure-play utility offering exclusive exposure to electric transmission assets. ITC operates 15,000 miles of transmission lines making it the third largest transmission company in the US. Founded in 2003 and public since 2005, ITC has expanded its regulated assets while remaining under the jurisdiction of the Federal Energy Regulatory Commission FERC. This important difference should allow for continued dividend growth that is substantially above the average regulated electric utility.
A good description of the mission of ITC is from their website:
The Value of Transmission: ITC Holdings Corp. is the nation's largest independent electricity transmission company. Our record of accomplishment and the value of our independent transmission model are clear and demonstrated. In just our first decade of operation, ITC has successfully acquired, integrated and improved the reliability of three transmission businesses. Apart from the systems, we have acquired and improved, in our first 10 years we pioneered a transmission-only greenfield utility, identified and facilitated critical regional transmission infrastructure, established a portfolio of actionable transmission development projects and partnered with local utilities on transmission projects. ITC continues with its quest to improve power quality for consumers throughout the United States and enhance reliability.

ITC's regulated operating subsidiaries include ITC Transmission, Michigan Electric Transmission Company, ITC Midwest and ITC Great Plains. ITC operates regulated, high-voltage transmission systems in Michigan's Lower Peninsula and portions of Iowa, Minnesota, Illinois and Missouri serving a combined peak load in excess of 25,000 megawatts. ITC is also focused on new areas where significant transmission system improvements are needed through subsidiaries ITC Grid Development, ITC Great Plains and ITC Panhandle Transmission.
Transmission is defined as the bulk transfer of electricity from generating facilities to distribution sub-stations near demand centers. The following graphic from ITC website visualizes this segment of electrical distribution:

Below is a graph of ITC's service areas: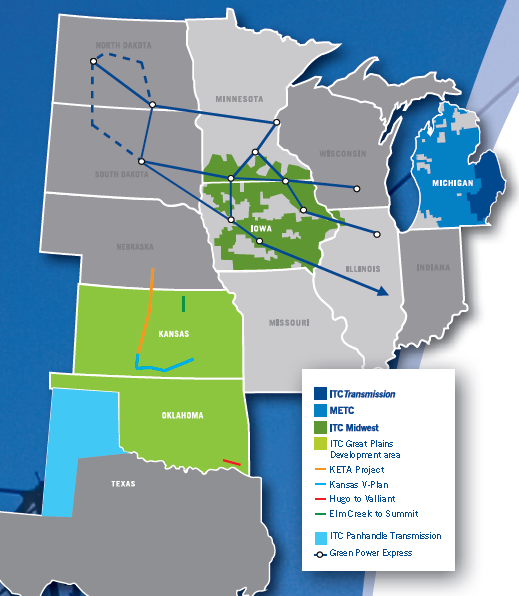 Alternative wind farm connections are the sweet spot for additional transmission projects and future earnings growth. As shown below in the graphic from naruc.org (pdf), the largest potential wind resources are in the middle of the country. There is a lack of high voltage transmission assets currently available in this area and is the geographic focus of ITC. The overlapping of these factors will add investment opportunities for ITC over the next three to five years.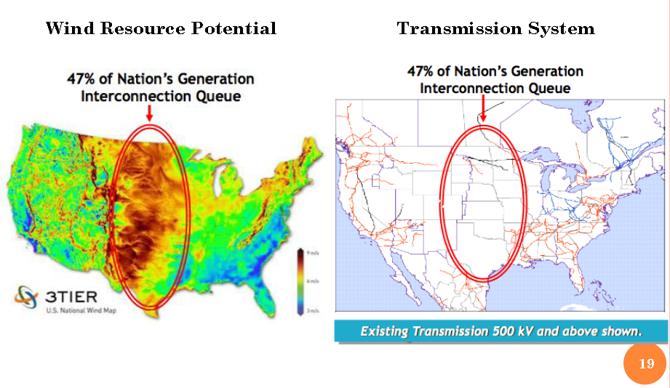 ITC recently ended a complex merger agreement whereby it was purchasing the transmission assets of Entergy (NYSE:ETR) located mainly in Texas, Mississippi and Louisiana. This merger would have doubled the size of the company and gained added exposure to wind generating geography. However, the state regulators could not be economically appeased in exchange for their approval and the merger was unfortunately terminated. One of the turf war considerations was ITC is regulated by the FERC and the wire assets of ETR are regulated by the individual state agencies requested to approve the merger. If the merger had been approved, the regulatory jurisdiction would have moved from the state agencies to the FERC. What is a shame for ITC is ETR may now apply for federal jurisdiction over these assets and the state agencies will end up losing their control over these same assets regardless of the merger.
Since going public ITC has been a powerhouse of dividend growth. Below is a graphic of the quarterly dividend growth from 2005 to 2013, taken from the most recent investor's presentation (pdf).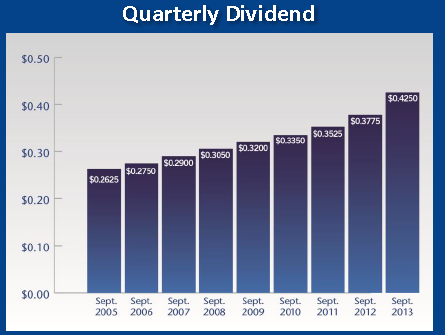 In Sept 2013, the quarterly dividend was increased to $0.425 or $1.70 a year. This would equate to an average annual dividend growth rate of 18.3 % over the past 8 years, as calculated by fastgraph.com. Management is looking for future dividend growth in the 10% range. EPS are expected to grow by 12% to 15% annually, and maintaining a steady 35% payout could provide for consistently high dividend growth.
Of interest to ITC investors should be the difference between FERC-allowed return on equity ROE and state-agency allowed ROE. Currently there is about a 25% to 30% spread differential, favoring FERC-regulated assets. However, there are several lawsuits working their way through the courts that seek to reduce the FERC-allowed rates and to unwind the added incentives put in place by legislation aimed at increasing transmission infrastructure investments.
As with most regulated utilities, increasing rate-based assets leads to higher earnings. ITC announced recently their capital budgets in light of the failed merger. Management expects to invest $730 million to $830 million in 2014. Cap ex in 2015 could be about $950 million. Over the next five years, ITC could invest upwards of $4.5 billion in transmission projects, driving rate-based assets higher.
Management also offered 2014 operating EPS guidance between $5.50 and $5.80.
S&P Capital IQ recently picked ITC as Stock of the Week. ITC is currently rated five Stars by S&P. From their press release:
"We think ITC's fundamentals, growth projects, and ability to raise rates with increases in its rate base will attract investors to the stock and help drive its valuation relative to peers, pushing the stock to higher levels," said Christopher Muir, equity analyst at S&P Capital IQ.
A video of the announcement and an interview with the analyst can be found here. Of interest should be S&P's projected 14% increase in the dividend this year.
Below are four graphs courtesy of fastgraph.com. It tells the tale of a currently fairly-valued stock with an above sector average potential return of 12.5% annually, based on an ending PE ratio of 15.5. I think this level is too low and would look for a PE of closer to 19 that would take the ending 2019 stock price from $183 to $220 or higher. Return on invested capital ROIC is a tad bit below my target of 5.0%, but the upwards trend is very strong.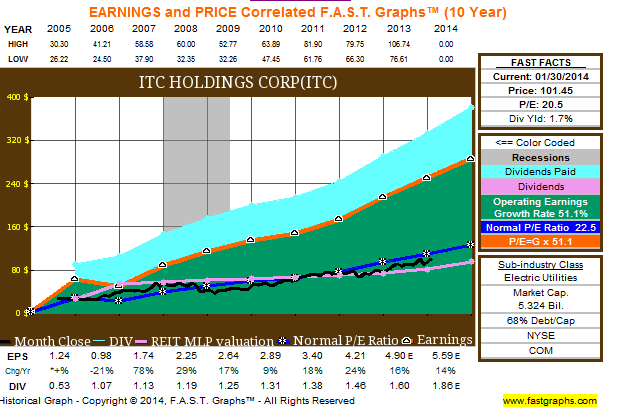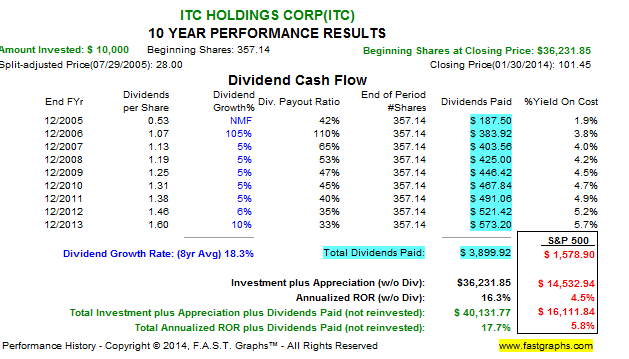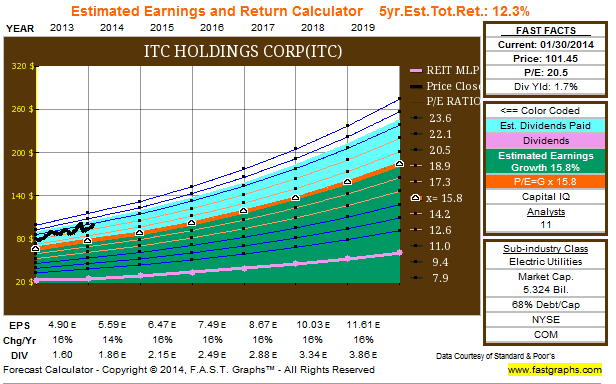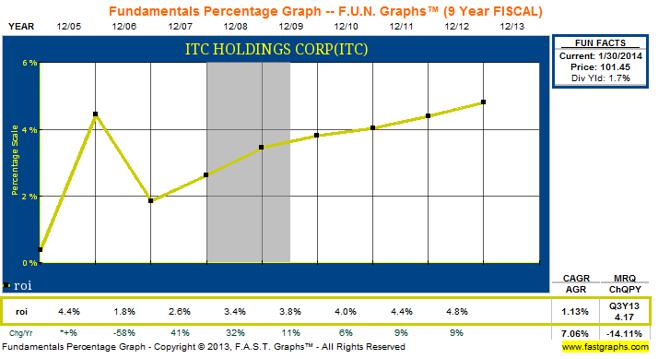 ITC is a unique niche electric utility with substantial dividend growth potential. While fully valued at its current price, ITC deserves further research by both traditional utility investors and those seeking above average dividend growth. More information can be found in the SA article dated September 10, 2013 when ITC was trading at $89.
Author's note: Please review important disclaimer in author's profile.
Disclosure: I am long ITC. I wrote this article myself, and it expresses my own opinions. I am not receiving compensation for it (other than from Seeking Alpha). I have no business relationship with any company whose stock is mentioned in this article.