What a week for Chevron (NYSE:CVX). Shares of the $212 billion company continued to fall after the company posted a whopping 32% y-o-y earnings decline. Chevron shares quoted at $125.07 on January 7, 2014 and are down 11% to $111.63 after falling more than 4% in Friday's trading session under abnormally high volumes.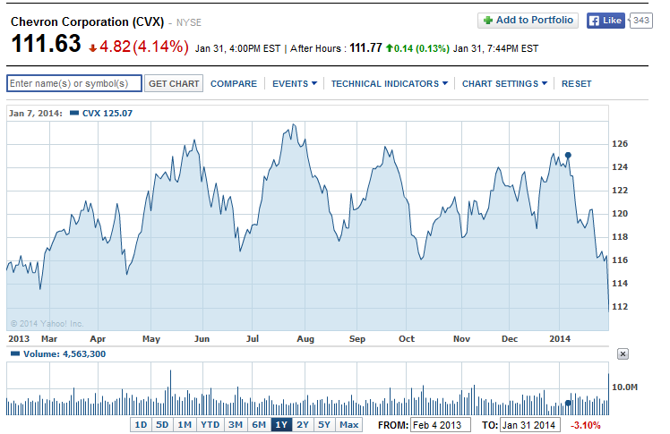 Precipitating the decline in share price was the release of Chevron's Q4 2013 results, which disappointed investors. Since the markets have run up so much already over the last six months, investors are easily convinced to sell their shares if companies run into profit-growth constraints. The current earnings season shows that many shareholders will use any excuse to dump their shares. However, I am still bullish for US equities over the next couple of years and I think investors should use setbacks to load up on equities.
Economic growth in the US, Europe and Asia, particularly China, is still sluggish, with low interest and inflation rates and high unemployment rates in the US and Southern Europe. I still believe we are in the midst of a prolonged economic expansion stage and profit growth could accelerate again at the end of 2014 and in 2015.
Energy players like Chevron will benefit from higher global economic growth and increasing energy demand particularly from developing countries going forward. Chevron is a cyclical bet that economic growth and fossil fuel energy demand will increase in the coming years as manufacturing and construction activity regains momentum. I think that energy companies like Chevron make excellent investments over the next couple of years, as oil prices increase as the output gap closes and inflation starts to hit consumers in the form of higher energy prices. Energy companies also offer investors some degree of inflation protection: As energy prices increase and consumers shell out more money for transportation, energy and food, Chevron's profits should see a meaningful boost.
Quarterly results
Chevron reported fourth-quarter earnings of $4.9 billion after the company earned $7.2 billion in the year-ago quarter (down 32%). Chevron's diluted EPS stood at $2.57 in Q4 2013 vs. $3.70 in the fourth quarter of 2012 (down 31%). For the full-year 2013, Chevron reported earnings of $21.4 billion compared to $26.2 billion in 2012 (a decrease of 18%) and earnings per diluted share of $11.09 vs. $13.32 in 2012 (down 17%). Lower production volumes and lower prices hit the company in the fourth quarter, which wasn't really a surprise after the company issued an interim update on January 9, 2014. Chevron also gave a 2014 net production guidance of 2,610 MBOED (2013 actual: 2,597 MBOED): An increase of less than 1%. While the company reported record capital expenditures of $41.9 billion in 2013 for its upstream and downstream businesses, the growth in production is disappointing in the short term. However, growth will likely return in 2015 and 2016 as major capital projects come online. In the meantime, Chevron is busy purchasing its own shares: In the fourth quarter of 2013, the company repurchased shares worth $1.25 billion, bringing the yearly total to $5.0 billion (same quarterly and yearly amounts applied in 2012).
Intrinsic value estimate
From a free cash flow-to-equity perspective (free cash flow after changes in debt capital), Chevron has about 17% upside potential given my estimated intrinsic value of $130.29 per share. I project that Chevron can grow its free cash flow by around 4.4-4.5% over the next two years and reach a terminal FCFE growth rate of 4% due to favorable supply/demand dynamics in the fossil fuel energy sector (limited and depleting supply vs. growing demand). Assuming equity cost of capital of 10%, Chevron has about 17% upside potential after the recent sell-off in oil and gas majors.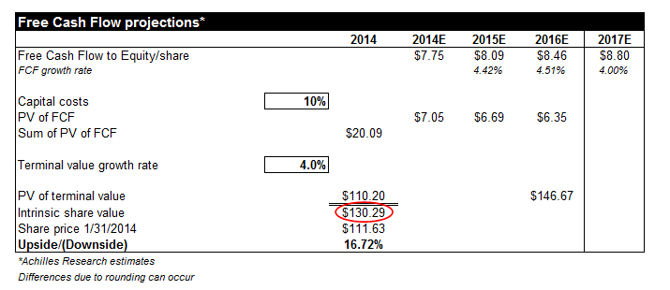 Market valuation
One of the best buying points for Chevron is its low earnings valuation that seems to be detached from its fundamentals. While the company is a worldwide player in fossil fuel exploration with strong cash flow generation (2013 saw operating cash flows of $35 billion), the company trades at just 9.63 times forward earnings (which is equivalent to an earnings yield of 10.4%) and I think investors are hardly overpaying at such levels. My investment philosophy can generally be described as contrarian, which is why I am always looking for beaten-down stocks that suffer from short-term distress. The distressed security in the large-cap oil and gas sector is BP (NYSE:BP). BP is exposed to extraordinary headline risk stemming from its 2010 oil spill in the Gulf of Mexico. Many investors wouldn't want to touch the company due to unquantifiable legal liabilities as a consequence of the Deepwater Horizon platform explosion.
As a result, BP has been driven down to irrationally low levels (BP trades at just 9.24 times forward earnings). Chevron doesn't face litigation and settlement risk like BP does, but the company is hardly more expensive: At 9.63 times forward earnings after the sell-off last week, Chevron is a steal.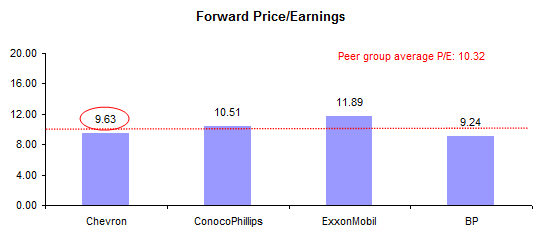 Chevron pays investors a quarterly cash dividend of $1.00 per share, translating into an annualized forward dividend yield of 3.58%. While other companies in the sector like ConocoPhillips (NYSE:COP) or BP have higher yields, I still consider Chevron to be extraordinarily good dividend value. Chevron has a long-lasting dividend track record and has actually doubled its quarterly dividend since 2006. Exxon Mobil (NYSE:XOM) has the lowest dividend yield in the peer group, with 2.73%.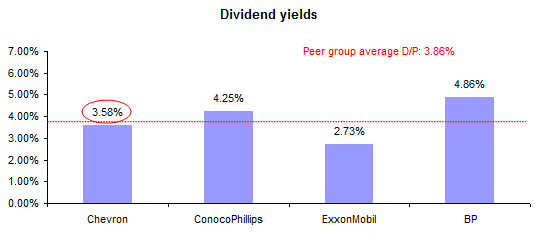 Valuation metrics for Chevron and its peers are summarized below:

Conclusion
I think the sell-off in the stock market and the oil and gas sector in particular offers long-term oriented investors a good entry point. Chevron is a true heavyweight in the industry, with a market capitalization of over $200 billion, and the company has an extensive mergers and acquisitions record: Chevron is not going to go away. Given the favorable long-term energy demand drivers such as emerging market population growth, increasing fuel consumption per capita, few new field discoveries etc., Chevron makes a good addition to long-term portfolios. In addition, investors limit their downside risk by purchasing a company that trades at less than 10 times forward earnings, has a healthy dividend yield above 3% and is present in nearly all drilling theaters around the world. Long-term BUY on market sell-off.
Disclosure: I am long BP. I wrote this article myself, and it expresses my own opinions. I am not receiving compensation for it (other than from Seeking Alpha). I have no business relationship with any company whose stock is mentioned in this article.