Editors' Note: This article covers stocks trading at less than $1 per share and/or with less than a $100 million market cap. Please be aware of the risks associated with these stocks.
The month of January was the worst start to the year for stocks since March 2009, with the S&P 500 dropping about 3.5%. Unlike the past two years, where the market jumped the first day and never looked back, 2014 looks to be a bit less easy for investors. One corner of the market where making money is a bit too easy is the cannabis stocks sector. For some perspective, let's look at the prices in the sector over the past 13 months: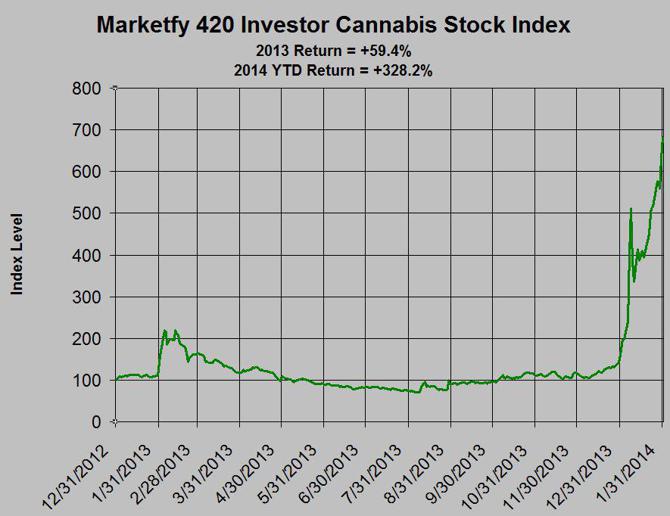 As you can see, the move in 2014 has been more powerful than the February 2013 doubling. In case you are wondering about this index, I want to be clear about how it is calculated. Let me say first that it's not easy to properly construct an index of primarily penny stocks. There is another index in the market place that is highly flawed in my view due to its being market-cap weighted, and this index is designed to be more representative by including 20 names that a small investor could have owned at the beginning of the year. For 2013, the index was based upon the same 8 stocks throughout the year, but in 2014, the index will be adjusted for new names each quarter.
As I mentioned, the index has 20 names, but I am currently tracking 40 different companies. As you can see in this expanded table, this was a month where almost everything related to cannabis climbed: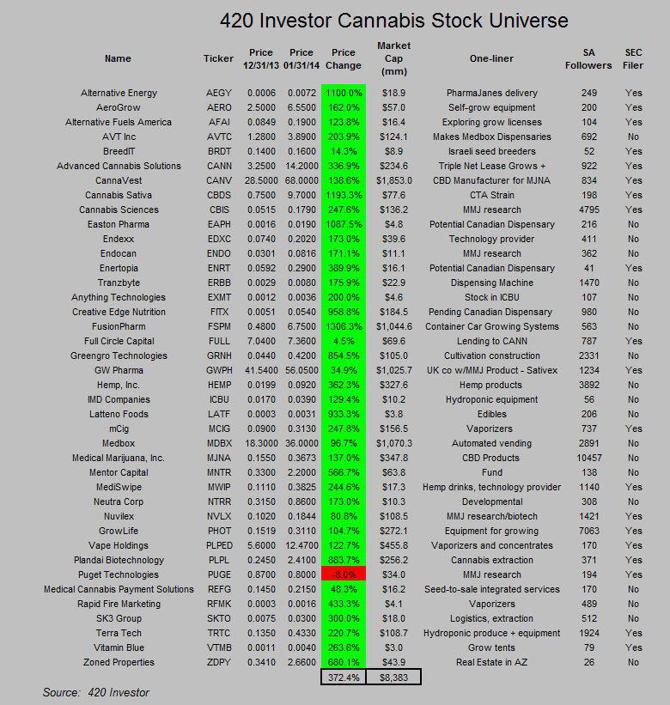 Before I go on, let me explain some of the data. First, the market cap is based on conversion to equity of any debt or preferred stock with conversion rights. By this measure, the universe is valued at $8.4 billion ($210mm average, $60mm median). The number of Seeking Alpha 'Followers' is intended to gauge interest in the name. I also include whether or not the company files with the SEC. The average stock on this expanded list has performed slightly better than the index. Only one stock has declined so far in 2014, and there are six ten-baggers (stocks trading at 10X their year-end price).
Is the Rally Sustainable?
As the year began, I shared my view after the first few days that we had come "too far, too fast" and predicted a short but steep correction, which played out over the next few weeks. Some of the larger names have failed to exceed their prior highs, but investors have bid up less familiar names.
While I remain cautious on the sector, I believe that some of the names could continue to rally. My recent segment on Fox Business was strangely titled "Expert: Marijuana Stocks Not A Good Investment," and this certainly didn't match the commentary I shared. I think that the disconnect was that I think the sector, for the most part, is not ready for "investment." Instead, it is a trader's paradise, at least for now. This was the reason Fox Business reached out to me, as they had seen my views shared in a New York Post article a week ago with that same theme. My view, then, is that many of the high-fliers have significant risk of another correction and would expect the index to decline, but 2014 won't be a repeat of the fizzle the sector experienced last year.
I had the good fortune to visit the ground zero of the rapidly evolving legal cannabis market two weeks ago when I visited Colorado. It is very difficult to walk away from something as profoundly exciting as what's going on there and not project how this will play out over the next 3-5 years. I have heard this from several other investment professionals who have made the trip recently as well. With Washington State's implementation later this year and more legalization likely ahead, the 'green rush' is in full force. Please realize that the vast majority of the transformation is happening at start-ups and small companies, but there are some opportunities for public companies as well. Further, I expect that the vast gulf between public and private valuations will lead to the better companies serving as consolidators. As an example, mCig (OTCPK:MCIG) announced the acquisition of Vapolution in late January. Additionally, the public companies with access to capital, like GrowLife (OTCQB:PHOT), which announced a JV last year with a private investment group and detailed its first GIFT transaction this past week, have the potential to participate in the sector's growth.
While the potential of the cannabis sector's investment potential really hit me last summer, after the famous reversal of his views on the validity of medical marijuana by CNN Chief Medical Correspondent Sanjay Gupta and the clarity provided by the DOJ in the 'Cole Memo' later that month that permitted the will of the voters in Colorado and Washington to take effect, many are now waking up to the private and public investment potential in the cannabis industry. The table above shows the number of Seeking Alpha 'followers' per name, and many have more than doubled. I monitor the media, obviously, and it has allocated significantly more air-time and print space to the sector. But, for investors, this may be the biggest tell of all: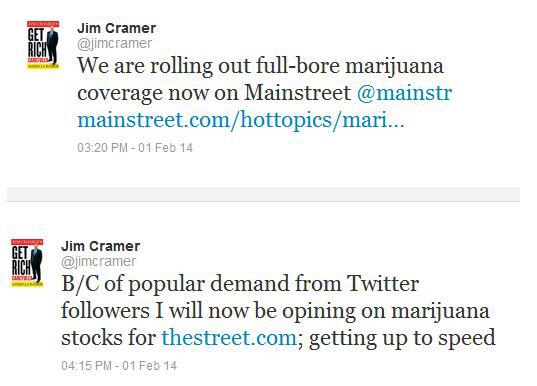 Yes, it's better late than never, and I can understand his hesitancy to weigh in on a space that has been dominated by cute tickers without business models, but the point is that the sector has now hit 'main street' officially. In fact, that is where you can read about the sector:
Cramer or no Cramer, I am a huge bull on the sector, but the CFA in me struggles with valuations. My own take is that the technicals are very strong and that there is a massive opportunity for the industry to come out of the shadows. The bottom-line is that many of the stocks are overvalued and likely not good investments, but some, at the current prices, could see further gains.
The Low Float Game
If you are investing or trading in marijuana stocks, it is essential that you understand three different terms that relate to the share structure: Authorized Shares, outstanding shares and the float. My subscriber questions and posts I see on message boards suggest some confusion, so let me explain the terms and then discuss how this is really impacting certain stocks.
The authorized share count (A/S) is the maximum number of shares permitted by the shareholders of a company (a limit). Penny stock investors, rightly, have been trained to fear high numbers, as they are often precursors to dilution. In my view, it's important to realize that not all dilution is dangerous. In a rapidly growing industry that is short on cash, the currency used to consolidate and to grow will be shares, so, if you trust management, give them a credit card with a high limit, so to speak. If not, you will be stuck in pennyland forever (note, this is a not-so-subtle shout-out to PHOT shareholders, who will be voting on February 7th to increase the A/S from 1 billion to 3 billion).
The outstanding shares (O/S) represent the total number of common shares that currently exist. This number will be lower than the A/S, sometimes substantially. Many data services lag on the actual O/S, by the way. The best source is to go the filings directly. OTC Markets is a good place to find this information. A basic calculation of "market cap," which is the price times the O/S, can also be distorted. I have discussed this before (you can access all of my articles on the sector here), but several of the cannabis stocks (like many penny stocks) have convertible notes and convertible preferred stock. To figure market cap misses the real calculation, which is 'enterprise value' or total value of the company. I will return to this point in a few paragraphs.
The float is at most equal to the O/S, but it is typically less, as it represents the number of shares available to the public to trade. The main difference is shares held by insiders and/or that are restricted. In other words, the pool of stock available to trade may be much smaller than the number of shares that exist. As I will explain, the float can be substantially smaller than the O/S.
There is an old adage about confusing brains with a bull market, as nothing makes one look "smarter" than to see one's stock soar after purchasing it. Going back to the table above, some of the biggest gainers are those stocks with the smaller floats. It's not my intent to go through all of the names here, but let me share just a few examples.
The most radical example of a tiny float is CannaVest (CANV). This is the spin-out from Medical Marijuana, Inc. (OTCPK:MJNA) that manufactures the cannabidiol products. When the deal was done, there were 7mm shares, almost all held by insiders, with the potential addition of up to 7mm shares to MJNA (5.6mm) and CannaBank (1.4mm), though this ended up being less due to a collar on the deal and some cash payments. Insiders turned a $6mm loan into 10mm shares (yes, that is $0.60), while at the same time the company potentially sold 10mm shares at $1 (all restricted). In this case, at least until the restricted stock becomes unrestricted, there are very few tradeable shares not held by insiders or MJNA. The current O/S could be as high as 34mm shares (if they sold all the $1 shares, which I am hearing may be the case) and is at least 25mm, but the stock has never traded more than 22K shares in single day. The conclusion I reach is not to trust the price action - it doesn't represent reality.
Another example is Advanced Cannabis Solutions (OTCQX:CANN), which reported a float of about 1mm shares but an O/S of about 15m shares. I have been very impressed by this company's moves, but the stock price got way ahead of itself earlier this month. At the peak price of $23.35 on 1/16/14, over 600K shares traded. My view is that the tight supply led to an artificially high price at the time.
I have discussed FusionPharm (OTC:FSPM) previously, and the stock has soared beyond reason. In this case, there are 8mm common shares outstanding. The CEO and, to a lesser extent, his brother own 1.47mm convertible preferreds (100-1 conversion ratio). The float is 5.5mm roughly, but the fully converted share-count, which is less than the A/S, is 155mm (495mm).
A final example is Plandai Biotechnology (OTCPK:PLPL). This is a company that in my view was potentially heading towards big problems financially, but it seems to have pulled a rabbit out of a hat with a recent deal to license the Diego Pellicer brand for its potential cannabis extracts. The stock has quintupled since the announcement, though no one knows what they had to pay to get that done. The insiders own the vast majority of shares, so those who want in are forced to bid up the minority of shares available for the public.
The bottom-line is that investors need to understand share structure. I have previously discussed that many of these stocks have large convertible preferreds that many investors don't seem to consider as part of the overall valuation, while today I have shared the point that companies with small floats may be enjoying undeserved spikes. I will add that there are penny stock traders, in my opinion, who are well aware of this and are exploiting it to their advantage. Don't get caught holding the hot potato!
Conclusion
My almost one-year coverage of the sector has been transformational both personally and professionally. I am "all-in" now, devoting most of my time to the sector and to building the most dynamic and engaged community devoted to capitalizing on cannabis. But, that doesn't mean that investors can buy blindly and expect to enrich themselves. I surveyed the members of 420 Investor recently and learned that about 75% of those who responded (more than half of the members at the time) characterize themselves as novices or only somewhat experienced when it comes to investing. The combination of a theme that draws a passion that is unrivaled, a large number of inexperienced investors, a universe of primarily very small companies (most of which are penny stocks) and strong industry fundamentals should lead to a lot of volatility ahead.
I will be continuing to focus on trying to distinguish between those companies with sustainable business models and uncovering new companies. I expect to be hosting many more webinars and interviews in the near future, with MCIG's Paul Rosenberg likely to address us in February as well as PHOT's new President, Marco Hegyi. Vincent Mehdizadeh of Medbox (OTCPK:MDBX) has indicated that he will be speaking with us in March. I also plan to roll out a series of videos created by a leading consultant to cultivation facilities (and an officer of one of the publicly-traded companies). All of these will be available to the public, so stay tuned. The game is early: Educate yourself and try to find the most talented (and honest) entrepreneurs, the most dynamic business models and the companies with the best access to capital. For now, the trading opportunities are rich, while the good investments in the public markets may be scarce. If you are investing and are able to do so (accredited investor), try to find a vehicle to invest privately or to get public equity at a steep discount.
Disclosure: I have no positions in any stocks mentioned, and no plans to initiate any positions within the next 72 hours. I wrote this article myself, and it expresses my own opinions. I am not receiving compensation for it (other than from Seeking Alpha). I have no business relationship with any company whose stock is mentioned in this article.
Additional disclosure: The author has a paper portfolio for alerts provided at 420 Investor and has positions in EDXC, FULL and MCIG at the time of publication.