Aflac (NYSE:AFL) is the largest provider of supplemental insurance in the U.S. It's based out of Columbus, Georgia and was founded in 1955. In addition to the U.S., Aflac has a large constituency in Japan consisting of over 19,000 sales agencies. Aflac is a consistent dividend payer and holds a market cap of roughly $30 billion.
I went long on the company at the start of this year, based on Aflac's monster fundamentals. It's a position I plan on adding to for growth - it's part of a "foundation" of long positions that I have in my portfolio. My main points for buying into Aflac were that barring any macroeconomic disaster in Japan, Aflac looks like to be a great candidate for dividend and growth based on:
Trading at a low multiple - P/E under 10, while comps trade near the low 20's coming out of 2013
Consistently increasing dividends, offering a warm security blanket to any long-term oriented investors
Consistent fundamental growth in EPS and net income
Aflac is going to release fourth quarter financial results after the market closes on February 4, 2014. Analysts are going to be expecting $1.40/share on revenues of $5.96 billion. These figures represent decreases for both metrics from the same quarter one year ago.
(source - Yahoo! Finance)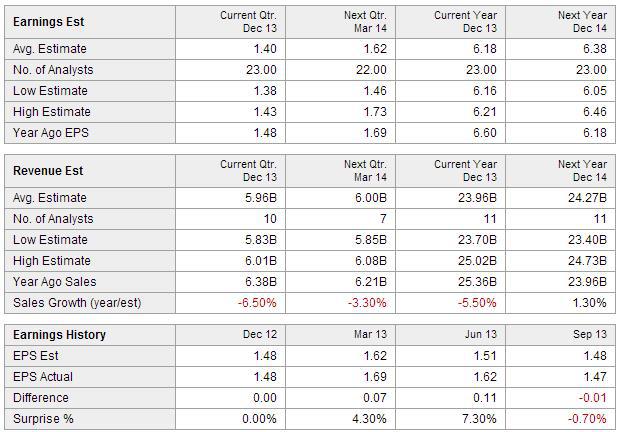 Along with Aflac, other insurers like Allstate (NYSE:ALL), Aetna (NYSE:AET) and Cigna (NYSE:CI) will be reporting in the coming week, which should provide perspective as to how Aflac's performance compares to its peers.
Aflac's EPS for the last ten years is hardly something that you can ignore. The company continues to grow and monetize at an impressive clip: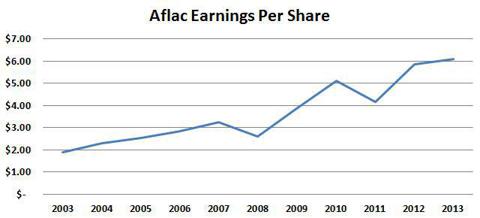 Additionally, and consistently with its EPS and its revenue, look at how Aflac continues to grow its dividend.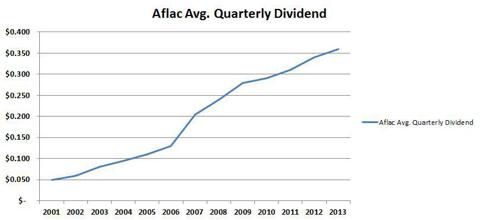 As I stated in a previous article about Aflac:
Some of the risks associated with Aflac lie generally with the company's exposure in Japan. Japan makes up a strong part of the company's clientele (it claims it insures one in every four households in Japan) - and Japan could be headed for an economic downturn. Additionally, Aflac holds a significant amount of its own investments in Japanese bonds.
Aflac's current P/E of right around 10 is lower than the P/E of 14 which it has averaged during its span as a public company. There is no doubt that the risk associated with Japan is the number one caveat that investors have with investing in Aflac. However, it hasn't stopped the company in the past.
Aflac has a consensus price target of $71 from analysts, and its median analyst recommendation is "buy".
(source - NASDAQ.com)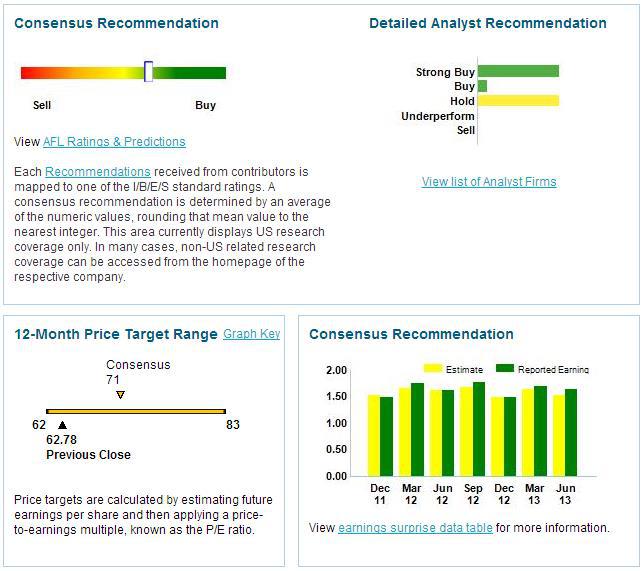 If you can get comfortable with the company's holdings and reliance in Japan, Aflac becomes an easy stock to love. The Amos family has a track record of success that I will continue to bet on - buying on any pre or post earnings dip.
I'm bullish and long on Aflac. Best of luck to all investors.
Disclosure: I am long AFL. I wrote this article myself, and it expresses my own opinions. I am not receiving compensation for it (other than from Seeking Alpha). I have no business relationship with any company whose stock is mentioned in this article.