"October: This is one of the peculiarly dangerous months to speculate in stocks. The others are July, January, September, April, November, May, March, June, December, August and February."

-Mark Twain
With the major averages pulling back from all-time highs and volatility on the rise, many equity investors are questioning what to do with their capital. The quote above, generally speaking, offers some pretty good advice and speaks to my core belief of investing - to preserve and grow your capital over time, you need to focus on company specific information and not speculate on the direction of the market, economy, or other complex and unpredictable macro factors. While no one can know for sure what the market will do in the year ahead, it is possible to identify stocks that possess attractive characteristics that investors should hold dear; high levels of free cash flow, high returns on capital, reasonable valuations, and a demonstrated commitment to allocate capital back to shareholders.
Over the last several years, higher profit margins and reduced capital expenditures have left many firms with a "war chest" of cash on their balance sheet and limited reinvestment opportunities. The willingness of management teams to put that cash to work is helping separate the winners from losers, as record low interest rates create a tremendous opportunity cost for enterprises hoarding cash. Companies returning capital back to shareholders through stock repurchases are being rewarded with higher valuation multiples, as the $500 billion spent by S&P 500 companies this year buying back their equity has served as a "quantitative easing" program of sorts.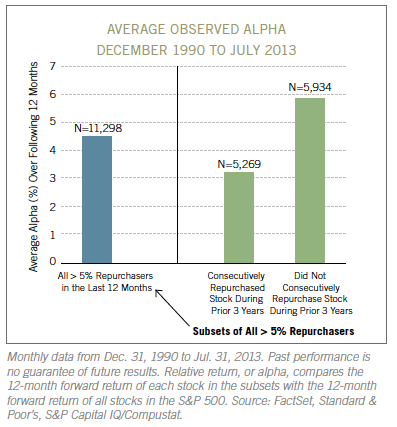 Historically, corporate managements have tended to repurchase shares following periods of stock price underperformance. The above analysis from Fidelity Investments suggests that over the past two decades, companies who have repurchased over 5% of outstanding shares in the prior 12-month period have outperformed the S&P 500 by 4.79 percentage points in the subsequent 12-month period.
For the purposes of this article, I've identified four companies below that possess many of the characteristics which I feel are indicative of a worthy investment at today's prices. While not intended to present a full analysis of any companies mentioned, this list should be considered a starting point for further due diligence.
The Mosaic Company (NYSE:MOS)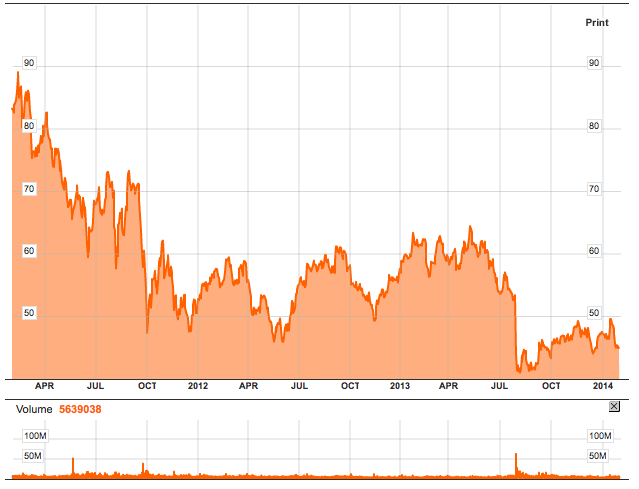 Mosaic is one of the world's leading crop nutrition companies with a focus on potash and phosphate, two of the three most vital nutrients to the worldwide farm industry. The company owns and operates high-quality assets in stable geographies, and serves customers in over 40 countries across the globe. Secular trends in world food demand and farm economics underpin demand for the nutrients that Mosaic supplies, and the company is well positioned in this oligopolic industry with high barriers to entry. The company represented nearly 12% of estimated global phosphate production, and an estimated 59% of North American production, during fiscal year 2013.
Once a high-flying wall street darling, the company's dismal stock performance of late is a direct result of weakening outlook for global potash and phosphate. Distributors and investors alike have remained extremely cautious following the breakup of the Belarusian Potash Company, an event which has significant implications for supply and pricing in the global potash markets. However, these markets represent an important component of the worldwide agricultural supply chain, and secular demand and pricing for these commodities will likely remain strong in years and decades to come.
Recently, the company entered into an agreement with CF Industries (NYSE:CF) to purchase its phosphate business for $1.4 billion, with the deal expected to be immediately accretive to earnings per share. The company also recently entered into an agreement with the Margaret A. Cargill Trust and the Anne Ray Charitable Trust to repurchase 43 million restricted MOS shares over the next 8 months. This repurchase is valued at roughly $2 billion, or 10% of the company's market cap, at current prices. Accounting for these two transactions, the company still has over $2 billion of excess net cash that can be used to repurchase shares in the coming year.
There is a case to be made for Mosaic shares repricing to a higher valuation multiple as idle cash is put to work via the CF deal and large repurchase program. As recent fears around global potash and phosphate demand subside, a case can be made for shares approaching $55 as investors reevaluate the company's high margins, strong balance sheet and solid cash flow. This would still represent a 10% discount to Mosaic's historical forward price to earnings ratio of 20X, applying an 18X multiple on Bloomberg consensus estimates for $3 per share in 2014, and implying 23% upside from current prices.
Albemarle Corporation (NYSE:ALB)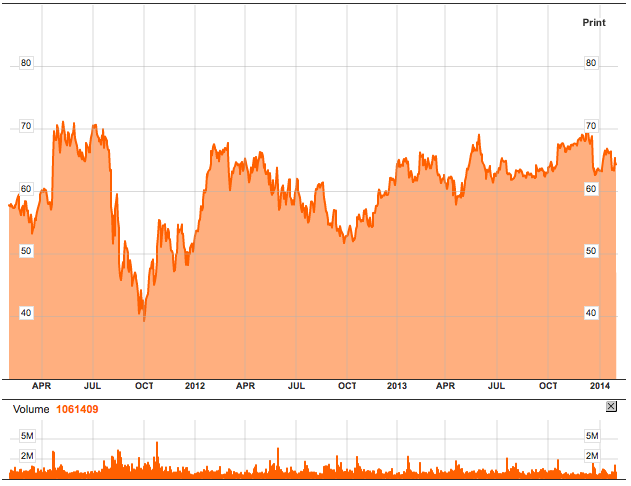 Albemarle develops, manufactures, and markets a broad range of specialty chemicals used by its clients in almost every global industry, including energy, transportation, pharmaceuticals, manufacturing and utilities. The niche chemical compounds it develops are a key ingredient to the success of Albemarle's clients' operations, and require substantial resources to develop and market on a global scale. While specialty chemicals are not a high organic growth business the margins are high, and global trends are providing Albemarle the opportunity to build on its core competencies and drive future earnings momentum.
The company has a high quality portfolio of special chemicals, and operates in what is essentially a global oligopoly in bromine and catalysts. Management has respectably navigated a challenging operating environment in 2013, and the company's financials are as strong as ever with good growth prospects heading into 2014. With net debt of slightly more than 1X 2013 EBITDA and a 6% free cash flow yield, Albemarle is in a strong position to continue repurchasing shares after buying back approximately $450 million worth of stock last year.
After reducing the float by around 10% in 2013, management is likely to continue its repurchase program as the stock continues to trail the S&P 500 and remains priced at a considerable 10% discount to the specialty chemicals industry. Should shares approach valuations consistent with historical norms, the stock could easily surpass $74 which, factoring in a dividend of $0.96 per share, represents 17% upside from its recent price around $64. I also feel there is an upside scenario for the stock to approach $90, which I highlighted in a previous Pro article.
TRW Automotive (TRW)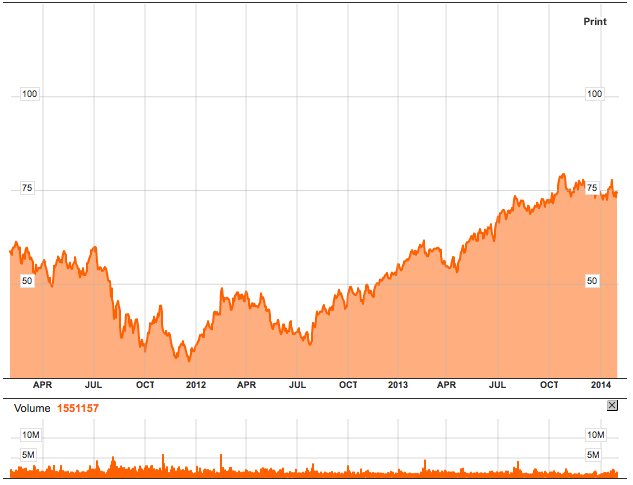 TRW Automotive is one of the top global suppliers to the automotive industry, and its deep expertise in steering, brake and safety systems put the company in a unique position to capitalize on growing demand for active safety components in today's vehicles. Even after a strong performance in 2013, the company's shares still trade at discount to the auto supply group despite above-market growth in sales, solid free cash flow, record margins, and the lowest net debt profile in 9 years.
One of the most notable measures that management has taken since the 2008 crisis was to drastically reduce TRW's outstanding debt. This has lowered overall cost of capital and reduced leverage by over 75% since 2009. Today TRW has net debt of under $900 million and an EBITDA run rate over $1.7 billion, giving management great flexibility in regard to utilizing the balance sheet and free cash flow. With cash on hand of over $1 billion as of the third quarter and an undrawn revolving credit facility of $1.4 billion, TRW has ample liquidity to pursue strategic acquisitions or return capital to shareholders.
The company currently has an outstanding share repurchase program that authorizes the repurchase of $1.47 billion worth of stock - this would represent roughly 16% of outstanding shares at current market prices. Management has stated that the repurchase program is not a "one-and-done" event; rather, it is a first step in the company's ongoing evaluation of various options to enhance shareholder value over time. In a previous Top Ideas article, I highlighted the case for TRW shares trading up to $100 in the coming years.
Cadence Design Systems (NASDAQ:CDNS)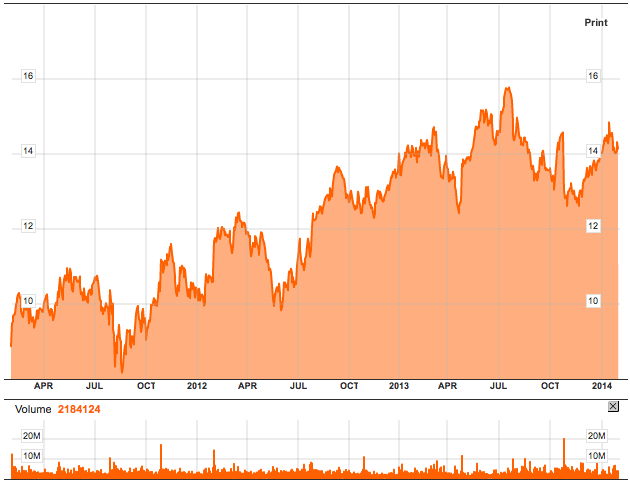 Cadence Design Systems is one of the largest providers of electronic design automation tools and systems, with roughly 18% share of the $5 billion EDA market. This small cap industry leader operates a high-margin, asset-light business which benefits from an attractive recurring revenue model. According to company filings, the firm generates roughly 90% of projected quarterly earnings from its backlog, which stood at $1.7 billion as of December 2012. Its average contract term is slightly under 3 years. Cadence has consistently generated operating margins and return on equity in the mid-to-high 20% range with strong free cash flow yield (currently around 6%).
After several years of double-digit revenue growth, Cadence still seems poised to grow revenues in the mid single digits in absence of further accretive acquisitions. The semiconductor industry has gone through an extended period of weakness in conjunction with slumping PC sales; should the industry experience a rebound or enter a meaningful cyclical recovery it would be possible to see sustainable revenue growth of 10% or greater over the coming years. Even assuming a modest slowing in sales momentum from 10% to ~7% year over year, revenues should top $1.5 billion in 2014 with EBITDA in the area of $500 million.
After retiring a convertible bond issuance in December of 2013, the company announced on its most recent conference call that it was initiating a $100 million stock repurchase plan, and expects to buy back $50 million worth of shares in 2014 and 2015. This represents roughly 5% of the outstanding float at current market prices. The news comes just months after the CEO purchased 20,000 shares on the open market following the October conference call, signaling that management clearly views the stock as undervalued. In a recent Top Ideas article, I illustrated why I feel the stock's intrinsic value is $17.50 today and the reasons why the market is mispricing its shares.
Conclusion
The companies mentioned in this article possess common qualities that I believe should be important factors for potential investors to consider; high market share and a dominant position in their industry, high projected free cash flow yield, solid returns on capital, and a management team committed to adding shareholder value through stock repurchases. As a starting point for your own due diligence, I would encourage you all to consider the merits and risks of each company independently. While some of these traits have proven to be reliable indicators of future outperformance, past performance is no guarantee of future results.
Disclosure: I am long MOS, ALB, TRW, CDNS. I wrote this article myself, and it expresses my own opinions. I am not receiving compensation for it (other than from Seeking Alpha). I have no business relationship with any company whose stock is mentioned in this article.
Additional disclosure: I am a fiduciary over client accounts that are long MOS, ALB, TRW, AND CDNS at various prices. While I have no plans to initiate new positions in the next 72 hours, this may change at any time. This article is not a solicitation to invest in shares of any company mentioned and should not be construed as bona fide investment advice. You should always conduct your own due diligence and consult your financial advisor before investing. Past performance is not a guarantee of future results.