Unisys (NYSE:UIS) is a technology products and services provider. The company operates through two units, which are simply called services and technology. Services is by far the largest unit, at over 80% of revenue. This group is further broken down into information technology outsourcing (ITO, 70% of the segment), and business process outsourcing (BPO). ITO consists of things such as systems integration, consulting, and management of customer's IT infrastructure. BPO is when customers outsource a particular function, such as payment processing or cargo management, to Unisys. Most of the company's clients here are in financial services.
The technology group is product-oriented, marketing and selling ClearPath enterprise servers along with related operating system and middle-layer software. While this was traditionally Unisys' bread-and-butter, it now represents under 20% of sales and will continue to decline going forward. The bulk of legacy clients for technology products are in the public (government) sector.
There is no denying that Unisys has an ugly financial history, and the balance sheet is still far from attractive. The company has delivered net losses in 6 of the last 10 years, and 4 of the past 5. Today, the balance sheet is still not that great. Cash balances are at $648 million, versus $911 million in total debt. Operating earnings only cover interest payments about 3.6 times over, below the 5 times minimum I like to see. And that is after major operational improvement in 2009. Looking at the past does not inspire much confidence here.
However, it is the future we need to look at. After examining the results and considering the plan going forward, I actually believe Unisys looks like a classic turnaround story that is still under-appreciated by the market. Therefore, MagicDiligence has a solid positive (buy) rating on the stock, and it makes a good choice for your Magic Formula portfolio.
The positives here are several. First is new management. J. Edward Coleman was installed as CEO in 2008, and he has a lot of experience in the field, including stints at Computer Sciences (CSC) and IBM (NYSE:IBM). Under Coleman's leadership, Unisys has been cutting costs by selling off low margin businesses, reducing headcount, moving hiring to lower cost countries, and focusing the company on 4 areas where they hope to build competitive strengths: security, data center outsourcing, end-user outsourcing, and applications outsourcing. In a nutshell, Unisys is moving from its historical reliance on hardware sales and into services, which are higher margin and "stickier."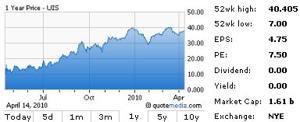 Early results have been solidly positive. Although revenues fell last year, operating margins improved drastically to 7.5%, causing operating earnings to increase more than 8 fold. Cash flow followed suit, allowing Unisys to pay down over $200 million in debt. Management is targeting 8-10% margins - still lower than premium players like IBM (who runs 13-15% op margins), but still a significant upside from current results. If they can accomplish this, the stock is very undervalued at a MFI-adjusted earnings yield of 16.5%.
Can they do it? There is good reason to believe they can. For one, there is still potential for cost improvements. Most of Unisys' competitors have about 35-40% of their labor force overseas, while Unisys has just barely gotten to 20%. Moving more labor offshore will reduce costs. Unisys will continue to drop revenues as they divest older businesses, but the move towards services should greatly improve the predictability of year-to-year results, as most services contracts are long-term and carry high switching costs for the customer.
Another thing we have going for us is the wide disparity in expected 2010 results for this lightly covered stock. Zacks forecasts 2.27 in earnings per share, and S&P comes in much higher at 3.26. My analysis tends to jive more closely with S&P - I see no reason Unisys cannot continue to produce good margins going forward. With those results, the balance sheet should continue to improve, which lowers interest costs and enterprise value, in turn improving both earnings and valuation.
There are some additional risks here. IT outsourcing is intensely competitive, with big domestic players like IBM, large foreign firms like Infosys (NASDAQ:INFY), and smaller companies like Dell's (NASDAQ:DELL) Perot Systems. Unisys also has some very large pension liabilities, that are currently underfunded by about $1 billion. This could cause the company to commit some cash towards it in the next few years. Finally, Unisys has a poor history of implementing turnaround plans, and there is no guarantee this one will work either.
While it is not a Top Buy candidate, Unisys still looks like a good turnaround play, and a fair choice for investors.
Disclosure: No positions