ARMOUR Residential REIT, Inc. (NYSE:ARR) is a residential mortgage company whose principal and interest payments are guaranteed by government. I retain my bullish stance on the company because its stock price has bottomed out. It is trading at the bottom end of its 52-week range and is selling at a significant discount to its book value. Furthermore, I think tapering has not remained a big concern for investors as interest rates are more predictable.
Valuations
Just like its peer companies, ARR has been selling at a discount to its book value. But ARR has been selling at a much larger discount than its peer companies as shown in the table below. So, even if we average out the price-to-book value of its competitors in the table below, the ratio comes out to be 0.81x. It means the price target comes out to be $4.70 (0.81xBVPS), which equals price appreciation of nearly 14.5%. However, my price target is $5.22, based on 0.90xBVPS, with a price appreciation of 29.44%. So, ARR has excellent potential for multiple expansions, as the book values continue to stabilize in 2014, which will help enhance its bottom line.
| | | | |
| --- | --- | --- | --- |
| Companies | Price/Book Value | Dividends Yield | Payout Ratio |
| ARR | 0.70x | 14.67% | 69.92% |
| American Capital Agency (NASDAQ:AGNC) | 0.82x | 12.53% | 76.25% |
| Annaly Capital Management (NYSE:NLY) | 0.83x | 11.43% | 47.14% |
| CYS Investments (NYSE:CYS) | 0.77x | 16.33% | - |
| Hatteras Financial (NYSE:HTS) | 0.82x | 11.44% | - |
Source: Reuters
Moreover, the company also offers decent dividend yield of 14.67%, which gives a compelling total return opportunity of 44%. ARR's management has also announced that it is expected to continue with its monthly dividends of $0.05 per share for 2014. But I think it's a long shot and investors should focus more on the confirmed $0.05 dividends for the first quarter of the year. But the payout ratio stands at a comfortable level and it ensures dividend safety.
Insider Transactions
The table below confirms my thesis that the shares are undervalued, as insiders are buying. In the last six months, 41,300 shares were bought by insiders. There have been no sales orders during the last six months since the prices started to drop because of tapering. Another encouraging sign for investors is that institutions are also trying to take advantage of the lower prices, as they have bought around 6.75 million shares in the span of three months.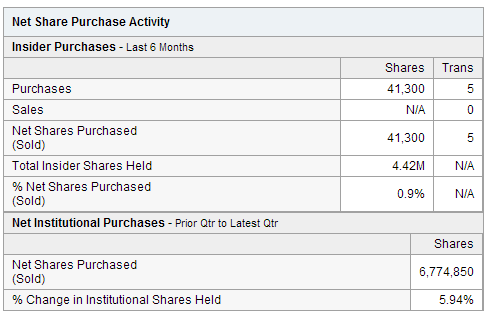 Source: Yahoo Finance
Why tapering is not a serious concern for Mortgage REITs?
On Wednesday, the Fed announced to cut down $10 billion from its monthly asset purchases. I believe it was a sensible approach by the Fed, as it has helped bring back certainty and confidence in the market. The market has been expecting a gradual cut down on asset purchases and stable short term interest rates for the year with sustainable economic growth. So the companies could manage their duration and leverage effectively and increase their net interest margins.
In the last year, the news of possible tapering took the market by surprise, which triggered a sharp rise in 10-year treasury rates, as shown in the figure below. For the first seven months after the announcement, the rates reached almost 2.65% and not even a dollar was cut by the Fed. After that, when $10 billion was cut each time in December and January, the rates remained approximately at the same level. It clearly shows that the market has overreacted to the news of tapering.

Source: Yahoo Finance
It also forced companies to adopt defensive strategies, which forced book value deterioration and eventually resulted in dividends cuts. So, I believe in 2014 the companies are well equipped to perform better with a gradual rising interest rates and growing economy. Furthermore, short term interest rates are expected to remain flat for the year.
Risks
ARR has been aggressively selling its 30-yr mortgage backed securities to reduce its duration. However, rising interest rates remains one of the primary concern for mortgage REIT companies. Also, huge duration mismatch between asset and liability, which could raise serious liquidity concerns for companies. Also poor performance by the U.S. housing market continues to remain a concern for investors.
Conclusion
I believe that $4.11 is a strong entry point, as prices are at all time low in the last six years. The stock is not only attractive for income seekers with a yield of 14.67%, but it has significant potential for price appreciation. I also believe that the market has overreacted to the news of tapering as the actual cut down in asset purchase in the last two months was not accompanied by the sharp rise in interest rates. Also, the Fed has finally managed to bring certainty in interest rates environment, which will help mortgage REITs to plan accordingly.
Disclosure: I have no positions in any stocks mentioned, and no plans to initiate any positions within the next 72 hours. I wrote this article myself, and it expresses my own opinions. I am not receiving compensation for it (other than from Seeking Alpha). I have no business relationship with any company whose stock is mentioned in this article.