One of the greatest mysteries in our market has continued for another quarter. A few weeks ago, I called Google (NASDAQ:GOOG) the most overrated stock in the market. Again, that is overrated, not overvalued, as valuation is a different discussion. Google's stock has continued to soar higher, despite results that are not up to par. The company continues to be a mystery through complex results, and now a stock split that might make this name a complete mess.
Well, the magic show continued last week. Google missed its earnings per share estimate by a decent clip, yet the stock hit a new all-time high. Google also admitted a mistake in regards to the Motorola Mobility deal, and the stock rose on that news before earnings as well. Today, I'll look at the latest quarter, the Motorola sale, and continue the discussion of why the company keeps getting rewarded for failures.
Fourth quarter and full year 2013 results:
Last Thursday, Google announced its quarterly and full year results. On the top line, the company reported Q4 GAAP revenues of $16.86 billion. That number beat analyst estimates for $16.75 billion. Google's paid click growth grew by 31% year over year, but the cost per click actually fell by 11% year over year. Motorola Mobility had revenues of $1.24 billion, down 18% year over year, and an operating loss of $384 million. More on the Motorola debacle later.
On the bottom line, Google came in with non-GAAP EPS of $12.01. Analysts were looking for $12.26, so this was a clear miss, and earnings growth trailed revenue growth. GAAP EPS were just $9.90, as non-GAAP earnings continue to be 20% or so higher. Yet, Google's stock soared to new all-time highs on the news. Might I remind you that Apple (NASDAQ:AAPL) announced a record quarter for revenues, beat on the top and bottom line, and was crushed. Apple was hit because it missed on iPhone sales and provided weak forward looking guidance. Google doesn't provide guidance, but is rewarded for its lack of transparency.
For the year, Google reported GAAP net income of $12.92 billion. Apple in its holiday quarter alone reported over $13.07 billion of net income. Yet, Google's market cap is getting closer to Apple's by the day, as the gap is down to just $51 billion. But the most interesting part is that Google's stock continues to soar for results that are just blah. In the following table, I've put together Google's 2013 estimates for 2013 revenues and earnings - where they stood going into Google's Q1 2013 report, and where they stood going into Google's Q4 2013 report. I also included the stock's close on that respective day.

In the end, Google came out with $59.825 billion in revenues, and under $44.00 in EPS. But yet, the stock was up nearly $370 going into the Q4 report, a gain of 48.24%. So revenues were just in-line, and earnings per share missed by more than a dollar, but the stock had a massive rally. Going back to 2012, 2013 estimates were even higher, and I'll have more on this later.
Continued misses:
In my above "overrated" article on Google, I provided a table showing Google's beats/misses on revenues, courtesy of the Seeking Alpha earnings page for Google. I've updated the table, and you can see the results below. They may shock you.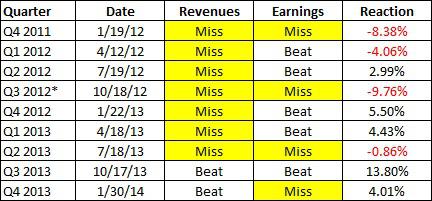 *Reaction includes day of earnings and day after. You may remember that Google's results were mistakenly released early, which caused shares to be halted for quite a while, then drop after re-opening.
So it was another miss for Google, and the stock ended up more than $45, and that was after a nearly $30 gain on the day leading into earnings. It is amazing how this company has missed on one or more lines in 8 of the past 9 quarters, and yet the stock just goes higher. In fact, there's been a miss in four of the past five quarters, and Google has ended higher four of those five occasions, and the only time the stock went lower it was a decline of less than one percent.
The Motorola flop:
Less than two years ago, Google completed its purchase of Motorola Mobility. The following quotes are taken from the press release:
Larry Page, CEO of Google, said, "I'm happy to announce the deal has closed. Motorola is a great American tech company, with a track record of over 80 years of innovation. It's a great time to be in the mobile business, and I'm confident that the team at Motorola will be creating the next generation of mobile devices that will improve lives for years to come.

Dennis Woodside, CEO of Motorola Mobility, said: "Motorola literally invented the entire mobile industry with the first-ever commercial cell phone in 1983. Thirty years later, mobile devices are at the center of the computing revolution.

"Our aim is simple: to focus Motorola Mobility's remarkable talent on fewer, bigger bets, and create wonderful devices that are used by people around the world."
So I guess that's not in the plan anymore, as Google is selling Motorola's phone ops to Lenovo for $2.91 billion. The Motorola division has been losing money for Google quarter after quarter, but Google will hold on to some patents. What did the Motorola deal do for Google? Well, it helped to stop a revenue growth slowdown and accelerate Google's revenue growth. The Motorola segment brought in more than $4.3 billion in revenues for Google during calendar 2013.
In the end, CNBC's Jon Fortt had the best article. Google kept talking the talk, making promises it would never keep. In the end, Google now is being rewarded for selling off the losing-money division. As Fortt details, some Motorola employees even moved because Google promised a new urban headquarters. Fortt tells us the lesson we should learn about Google moving forward when it comes to hardware and manufacturing:
Its mouth writes checks its body can't cash.
Google's stock rallied 2.57% on Thursday leading into results thanks to the announcement of the sale to Lenovo. Google was again rewarded for failure, and a Nomura analyst echoed this thought on Thursday. There aren't too many companies out there that can make a $12 billion plus acquisition that loses them money and be rewarded while they lose money and on the announcement of a sale. Google apparently is one.
Another potential issue is when will the deal be completed, and maybe if it will be completed. There is an expectation that the deal will face large Federal scrutiny because Lenovo is partially backed by the Chinese government. While the above linked article states that similar deals have usually gone through, it could take more time than expected and a bunch of concessions may be needed.
The final issue is taxes. Google's tax rate for all of 2013 was a paltry 15.74%, compared to 19.41% in 2012. While Motorola's operating losses will be eventually be gone, one must wonder if Google's tax rate will start to rise after a 367 basis point fall. Google's tax for the year on the income statement was more than $300 million less, despite a pre-tax income jump of more than $1.1 billion. As a point of reference, Apple's tax rate for calendar 2013 was 26.22%, nearly 10.5 full percentage points higher than Google's. Had Google's tax rate been the same as Apple's, Google's GAAP earnings in 2013 would have been more than $5 lower.
Balance sheet / more dilution:
Google ended 2013 with more than $58.7 billion in cash and short-term investments, up from $48.1 billion at the end of 2012. Are investors critical of Google for not returning capital? No way. Apple is going to return $100 billion over three plus years, and Apple is being criticized for not returning more. Google doesn't have a dividend or a buyback. Google's cash pile just keeps rising, but you don't hear anyone complaining. Why not?
In fact, Google shareholders are actually losing out as each quarter passes. The amount of Google shares is continuously rising. The diluted share count, used to determine EPS, rose from 332.305 million in 2012 to 338.809 in 2013. That's nearly 2% dilution in just one year, and this wasn't a one year event. Google's diluted share count for the 2008 year was 317.514 million. What did Apple do in 2013? Apple reduced its diluted share count tremendously. But remember, Apple is not doing enough with its cash, and Google is fine for not using it or spending it on acquisitions that don't make sense.
The confusing stock split:
By now, many investors probably forgot that Google planned to split its stock in a somewhat complex form. This was because a number of lawsuits were filed to prevent the split, and they finally have been settled, although they still have implications going forward if the split doesn't go well. Here's how the split will work, and you can read about the entire process here.
Google's split will create a new class of "C'' stock that carries no voting power. One share of C stock will be distributed for each share of voting Class A stock owned as of March 27. Initially, the value of the current stock will be divided equally between the two types of shares. But they will then trade separately with different ticker symbols. Class C shares will get the company's existing "GOOG" ticker symbol, while Class A will change to "GOOGL."
The lawsuits were filed because some believed that the new Class C stock will end up trading at a severe discount. If the class C shares do end up trading at a discount, Google will have to compensate investors. Here's how that process will work, taken from the same article above.
Google will have to pay the Class C shareholders if the average price of their stock is at least 1 percent below the Class A shares during the first year after the split. The size of the payments will escalate as the gap widens, with the maximum payout required if the gap between the average prices of the Class C and Class A shares is 5 percent or more.

In the most expensive scenario for Google, Class C stockholders will get 5 percent of the average trading price of the Class A shares. So if the Class A stock has an average trading price of $600 during the first year after the split while the Class C stock averages $565, Google would have to pay $30 per share in cash or additional stock.
The split is scheduled to take place April 2nd. I think the split is going to add another layer of complexity to Google, a company that's already complex enough due to its GAAP/non-GAAP reporting and such. I hope that Google has insurance on this split, because I'd hate to see them have to pay a few billion dollars if this goes bad. Would a disaster like that knock down the stock? Not if history repeats itself.
Higher and higher:
I referenced my past article when I mentioned Google was last downgraded in April 2013. Yes, one downgrade in about ten months. Apple was downgraded 4 times after its latest earnings report. Remember, Apple only announced the greatest revenue quarter in US technology history, and Apple's quarterly net income was larger than Google's yearly net income. With Google missing earnings estimates, you might think it would be time for a downgrade.
Not by a long shot! In fact, we got plenty of analyst price target raises! Let me first start with Goldman Sachs. The analyst there has now raised her price target twice, from $1,060 to $1,125, and $1,125 to $1,200, all while maintaining a Neutral! In fact, in her Q4 write-up, the analyst noted that the cost per click decline miss was larger than the beat in terms of paid click growth. This analyst has had a Neutral rating on the stock since her price target was $950. But even after a $230 jump, still no downgrade, just a continuation of a Neutral rating.
A Cowen analyst raised his earnings estimates but cut his revenue forecast due to the Motorola sale. After the earnings, he maintained his Outperform rating and $1,384 price target on Google. At that price, Google would have a market cap of about $475 billion, meaning the analyst believes that Google should be worth almost as much as Apple (the same firm has a $590 target for Apple). Remember, Apple's revenues and profits are about three times as much as Google's. So why should they be worth the same?
The third analyst note was from Needham and Company. The analyst there made a move, upping his price target by $200 to $1,350. I guess that's what a small revenue beat and an earnings miss gets you these days. This was the same analyst that raised his price target from $1,000 to $1,150 after Q3 earnings, when he raised his EPS estimate to $44.08 for 2013. Google missed that number. In fact, this story gets even more unreal. Back in early 2013, the analyst had a $900 price target with an expectation of $46.89 in 2013 EPS. So Google misses that by about $3, but the stock is worth $450 more, or 50% more? Wow.
Finally, RBC analyst Mark Mahaney raised his price target by $100 to $1,400, which is close to the high on the street. Mahaney cited strong Google core performance, and 16 straight quarters of 20% organic revenue growth. I'm not sure how he calculates that number, as Q3 2013 Google-only (not counting Motorola) revenues were up just 19.33%. Additionally, Q2 Google-only revenues were up just 19.55%. In the other two quarters of 2013, Google-only revenue growth was around 21.7%. Google's growth is slowing down, and those 16 past quarters won't translate into the future. Growth should fall into the teens in 2014.
What's the key takeaway here? Well, Google is held to a different standard, especially compared to Apple. Google missed earnings estimates by 25 cents, and shares are racing to new all-time highs. At least 13 sell-side firms upped their price targets. Apple beat estimates by 41 cents, and shares got crushed. Google is now being rewarded because it is selling off the Motorola division that was losing money. Google's future earnings should now be higher, so Google deserves a higher price, according to analysts. That makes sense. However, Google was not punished for the same Motorola division that was losing it money. No matter what Google does, Google always seems to get a pass. 8 revenue and or earnings misses in the last 9 quarters, and the stock is up more than 84% over that time. Simply amazing.
So where does Google stand now?
How does Google stack up against other large cap tech names? Well, in the table below, I've compared Google against Apple, Microsoft (NASDAQ:MSFT), Intel (NASDAQ:INTC), and Cisco Systems (NASDAQ:CSCO). While some of these may not seem exact competition, they are some of the largest tech names out there. All five of these names are considered established tech names, and this is the comparison group I've used in the past, so I want to stay consistent in this article.

*EPS Growth and P/E values are non-GAAP.
When you convert Google earnings to GAAP, the premium shares trade at is even more. When it comes to Google, you are now paying significantly more than twice what Apple's valuation is. No dividend, no buyback, just some more growth and you get a huge valuation. Plus, EPS growth is expected to accelerate due to the Motorola sale, but Google was never punished when EPS growth lagged due to Motorola's lack of profitability.
There's an important point to make here. One reason Apple was punished was due to its weak fiscal Q2 forecast. As I will detail in an Apple article later this week, analysts set the bar way too high for Apple, to the point where Apple could not guide in line. In fact, for fiscal Q3 (the June ending quarter), there was one analyst who had a revenue growth estimate of just under 30%. Again, this is for Apple! Apple got punished because analysts were calling for growth that was equal to or higher than Google? That has forced estimates down, and Apple's stock has dropped as well. It's not Apple's fault that one analyst was calling for 75% more growth than Google in the quarter. If an analyst thought that Apple was going to be achieving that much growth, why is Apple trading at a valuation roughly half that of Google? This is the double-standard we see in regards to Apple versus Google.
Final thoughts:
You would think after everything I've presented today, I'd be arguing pretty hard for investors to short Google. Well, you'd be wrong. I cannot responsibly do that, and I said likewise in my previous article. Google continues to be held to a different standard. Despite all of Google's failures recently, the stock continues to go higher and higher. Just to prove how ridiculous the situation is, going into Google's Q3 report in October 2012, analysts were looking for $49.76 in non-GAAP EPS from Google in 2013. At that time, Google shares fetched $755 a share. Google ended up around $44.00 in EPS for 2013, and shares now fetch $1,181. You do the math.
If you want to play the short side in Google, the only way I can recommend doing so is to buy at the money puts, and sell out of the money puts to where your cost basis is zero. This way, you don't lose any money if Google races higher. I provided an example of this trade in my past article. For now, as more and more analysts upgrade the stock and send their price targets towards $1,500, I think Google probably goes higher, at least until the stock split. At that time, I think a new evaluation is needed. In the end, Google missed on the bottom line and soared $45, while Apple beat on the top and bottom line and fell by $44. Until the market stops giving Google a pass, you have to invest with your head, even if that's the opposite of what your heart thinks.
Disclosure: I have no positions in any stocks mentioned, and no plans to initiate any positions within the next 72 hours. I wrote this article myself, and it expresses my own opinions. I am not receiving compensation for it (other than from Seeking Alpha). I have no business relationship with any company whose stock is mentioned in this article.
Additional disclosure: Investors are always reminded that before making any investment, you should do your own proper due diligence on any name directly or indirectly mentioned in this article. Investors should also consider seeking advice from a broker or financial adviser before making any investment decisions. Any material in this article should be considered general information, and not relied on as a formal investment recommendation.