As most investors know, 2013 was an extremely difficult year for the entire mREIT industry. The presence of the Fed in the MBS market and uncertainty as to their exit strategy plagued the asset class for the entirety of the year, as each quarter included significant variance in MBS pricing. As shown below in the graphic of the market for Fannie Mae 3.5% 30-year MBS, there were unprecedented changes in MBS pricing, including multiple two-month runs during which value changed by >4% (in both directions). This variance wreaked havoc on mREIT investors, with the Market Vectors Mortgage REIT Income ETF (NYSEARCA:MORT) taking an 8.1% hit from January to December, and industry leaders Annaly Capital Management (NYSE:NLY) and American Capital Agency (NASDAQ:AGNC) enduring 29% and 33.3% respective free falls in market price throughout the year.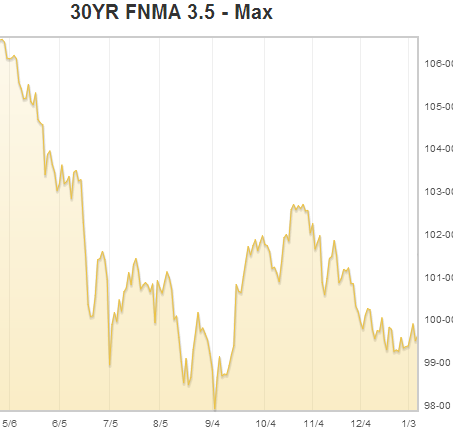 Retrieved and edited February 3, 2014
Despite this turbulence, the fourth quarter may have shown the sector a glimpse of the light at the end of the tunnel. The Fed has begun to taper QE3, and appears on track to completely exit the MBS market before the end of 2014. Rates, in turn, rose in anticipation of this announcement, and once again Q4 saw agency MBS of all coupons depreciate materially.
The fourth quarter also gave investors some notable events to digest regarding AGNC in particular. In Q3, AGNC cut the dividend in sequential quarters for the first time in the company's history, and in Q4, Gary Kain and the rest of the management team were forced to make yet another cut from $.80/share to $0.65/share. Simultaneous to the dividend announcement, management announced that they had taken advantage of AGNC's material discount-to-book value and repurchased 7% of the outstanding common shares in the company, spending almost $600M in capital.
With optimism for a 2014 turnaround, mREIT investors are eagerly awaiting industry bellwether AGNC's earnings report to be released after hours February 3, 2014 and get some perspective as to exactly how the company is positioned. We are going to break down what we know about AGNC's position based on its Q3 figures and the information management has made public in the past quarter; we will use this analysis to try and get a range on where we can expect book value to be for the upcoming earnings announcement, determine what other figures will be in focus on the release, and gain perspective as to where risks and opportunities might exist for AGNC investors in the near term.
MBS Portfolio Movement
Overall, the pricing delta on agency MBS looks favorable for AGNC compared to some of its peers. Gary Kain's approach to shift capital to higher-yield MBS and to focus on 15-year rather than 30-year assets was significantly beneficial, as both shifts exposed AGNC to less depreciation than it otherwise would have experienced. That being said, MBS of almost all coupons and classes experienced material depreciation, and despite its strong position relative to its peers, AGNC was not by any means exempt from losses.
To begin assessing how the depreciation affected AGNC, we will take a look at AGNC's MBS portfolio at the end of Q3 to get a feeling of how it was positioned going into Q4 and what rates are the most relevant to it.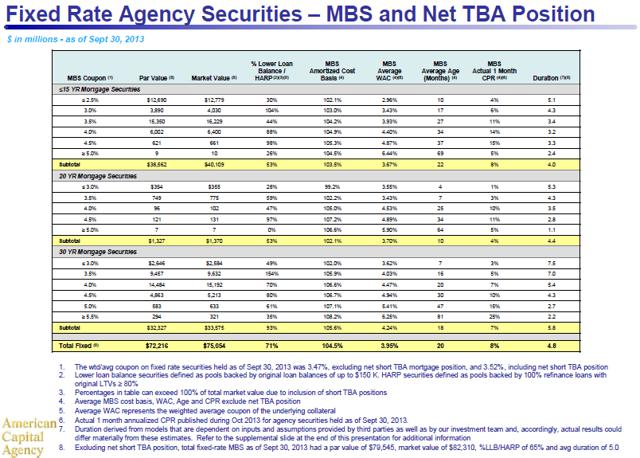 Page 26 of American Capital Agency Q3 Shareholder Presentation, Retrieved February 2nd, 2014
If we look at page 6 of AGNC's Q4 presentation (above), we have the fair value of its MBS as of 9/30/13. If we map that to the market pricing on 12/31/13, we get the following changes.
30-year MBS

9/30/2013

Holdings

12/31/2013

Δ

Δ%

Projected Fair Value

3

97.70

2584

95.13

-2.57

-2.631%

2516.03

3.5

101.83

9632

99.50

-2.33

-2.228%

9411.61

4

104.86

15192

103.09

-1.77

-1.688%

14935.56

4.5

106.80

5213

106.06

-0.74

-0.693%

5176.88

5

108.45

633

108.50

+0.05

+0.046%

633.29

5.5

109.03

321

109.91

+0.88

+0.807%

323.59

15-year MBS

6/30/2013

Holdings

9/30/2013

Projected Fair Value

2.5

100.61

12779

98.88

-1.73

-1.720%

12559.26

3

103.53

4030

101.94

-1.59

-1.536%

3968.11

3.5

105.58

16229

104.50

-1.08

-1.023%

16062.99

4

106.25

6400

105.75

-0.50

-0.471%

6369.88

4.5

106.25

661

106.22

-0.03

-0.028%

660.81

*Holdings and Projected Fair Value Figures in Millions of $
In summing these figures, we derive that the portfolio AGNC held at the end of Q3 would have lost around $1.056B or $2.97/share. These figures reflect that AGNC's MBS assets experienced a weighted average of 1.38% in losses during Q4.
Since we have only derived one figure and taking it as the best estimate, there is great importance in qualitatively accounting for the additional information we have about the portfolio in Q4. Share buybacks have certainly had a material effect on AGNC's exposure to the MBS market, and that suggests the derived figure is almost certainly an overestimate of the losses. Buying back 28.2 million shares @$20.82/share suggests a $587M haircut to total equity. If you assume a constant at-risk leverage of 7.2x, that would suggest roughly a $4.23B contraction of its aggregate MBS portfolio. Given the average pricing of its buybacks relative to where AGNC's common stock was priced throughout the quarter, it is safe to assume that the majority of the contraction occurred before the drop in MBS prices in December and that the portfolio was smaller by the time of the decline. Assuming management maintained a distribution of asset holdings roughly parallel to that shown in the Q3 presentation, AGNC would save approximately $59M were that amount not subject to this depreciation. Additionally, management's strategy to move away from lower yield 30-year holdings was certainly beneficial, as this asset group was hit the hardest in Q4. If we assume any transition of the portfolio continued to reflect this strategy, then our derived figure would be increasingly negatively biased compared to AGNC's true realized depreciation.
Overall, there are not many risks to suggest our derivation is too optimistic given the pricing trends of the quarter. Had management increased leverage near the end of November and increased its exposure to the December drop, then we would see a realized drop greater than our derivation. This, however, directly contradicts its defensive strategy and management's guidance from the Q3 earnings announcement. The aggressive approach to using its excess capital for equity buybacks also suggests that this scenario is highly improbable.
Since there appears to be more room for negative biases in our derivation than positive biases, we will establish a favorable range for possible values. Our analysis yields that AGNC's likely MBS depreciation was somewhere in the range of $900M to $1.06B (between $2.53 and $2.98 in losses per share).
Interest Income
As of 9/30/13, the net spread on AGNC's portfolio excluding its aggregate short TBA positions was 1.37%. Rising rates through Q4 would normally suggest that AGNC's CPR will come in lower than projected, however the material rate change was mostly in December and AGNC's trend of movement into the higher CPR 15-year securities counters this effect. Given that, we assume CPR to be roughly what was projected. At the end of Q4, AGNC's hedges covered 91% of repo, so they were significantly hedged but there was a bit of room to increase hedge activity if management chose to. Any expansion of expensive positions such as swaptions would surly weigh on these figures, however there is no strong reason to suggest AGNC pursued this approach. Since there is no basis to suggest a material change of AGNC's net spread in either direction, we will assign our confidence range as +- 5% (~7 Bps).
Beyond simply determining its portfolio spread, it is relevant to recognize that significant book value changes will cause management to alter the size of its portfolio to maintain the same leverage. As noted above, if we assume a relatively constant leverage, AGNC's buybacks would have reduced aggregate MBS holding by over $4B (>5%). Any book value losses would also cause AGNC to reduce its aggregate holdings, and book value almost certainly declined materially in Q4. Most of the decline was due to effects in December, however, so we assume this would have a minimal impact on AGNC's interest income.
Based on our derivations, let's place our net spread projections between 1.30% and 1.44% and the average portfolio value between $67B and $75B. Those figures would mean AGNC earned between $218M and $270M, or between $0.61 and $0.76 per share in interest income in Q4.
Hedges
Given the MBS depreciation in Q4, it was very important for AGNC's hedges to perform, and from the pricing, it appears likely that they received significant benefits from hedging activities. United States ten-year treasury yields rose 43 Bps in the fourth quarter from 2.61% to 3.04%, five-year treasury yields rose 36 Bps from 1.39% to 1.75%, and two-year treasuries rose 7 Bps from .32% to .39%. Using U.S. Treasury pricing as an estimate for interest rate swap movement, we find that AGNC derived significant profits from its swap portfolio. The composition of its swap portfolio (shown below) suggests significant exposure to all three of these terms, with an average swap maturity of 5.2 years and average duration of -4.7 years. Unfortunately, the lack of details provided on specific durations on the various sub-categories of holdings prevents an extremely accurate forecast of the movement on the swap portfolio using AGNC's average swaption duration. To derive the best estimate possible, we will aggregate disclosed swap positions into 3 groups and use the information that we have. We will group the <5-year swaps to estimate with the 2-year figures and assign an estimated duration of -8 years. The 5-7 year swaps will be estimated with the 5-year figures and an estimated duration of -4 years. All swaps with >7-year terms will use the 10-year figures and be assigned a duration of -2 years. Using those figures, we would estimate an aggregate of $369M in appreciation from the swap portfolio. For the same reasons discussed in the "MBS Portfolio Movement" section, this is almost certainly too optimistic of an estimate, but since this segment is a noisy estimate, we won't imply a significant negative bias and will instead focus more on the general variance in the estimate. We will assign $300M and $400M as a reasonable range for the performance of the swap portfolio in Q4.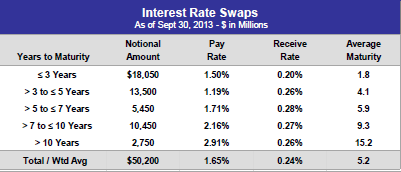 Page 28 of American Capital Agency Q3 Shareholder Presentation, Retrieved February 2nd, 2014
The composition of its swaption portfolio is weighted toward longer swap terms (7.0 year average). Extrapolating that on average the related move for underlying swaps related to the swaptions moved up about 40 basis points, and applying the average duration of -2.6 years as quoted by AGNC, we derive an estimate of $162M in gains on swaptions (not including time depreciation of the swaptions or transaction costs). This is a more accurate calculation than the swaps, however the transaction costs and depreciation on these assets can be expensive, so we will assign a range of $125M to $175M in benefits from AGNC's swaption portfolio in Q4.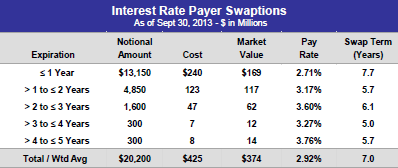 Page 28 of American Capital Agency Q3 Shareholder Presentation, Retrieved February 2nd, 2014
Lastly, AGNC's net treasury positions do not suggest any benefits, as the portfolio was actually net positive on treasury securities going into Q4. Its treasury futures were net negative an approximately comparable amount, so to simplify we will assume these positions roughly cancel each other out.
In aggregate, we estimate that AGNC has seen between $425M and $575M, or between $1.19 and $1.61/share in gains from hedging activities. In performing these derivations, we make the assumption that management's Q4 strategy can be roughly estimated by its 9/30/13 positioning, which can be a loose assumption when it comes to these hedges, so we must consider any catalysts that would have lead management to significantly alter its hedging strategy and these assets are extremely liquid. Overall, the shift in rates through Q4 was relatively smooth, and significant movement was not realized until the latter part of the quarter when it appeared probable the Fed would taper QE3, so we can assume with relative confidence that in this case, the hedge portfolio throughout Q4 was close to parallel with the 9/30/13 snapshot and we will not build additional uncertainty into our estimate.
So What is Our Book Value Estimate and What Does it Mean?
If we apply our derived figures above, we arrive at the following figures for quarterly losses on book value through Q4:
MBS depreciation + Hedge appreciation + Interest Income + Buyback benefit - Dividend Payout
Best Case:
-$900M + $575M + $270M + $125.5M - $231.5M = -$161M
Worst Case:
-$1.06B + $425M + $218M + $125.5M - $231.5M = -$523M
Those losses would represent operating losses of ~$0.45 to $1.47/share and a new approximate NAV of between $24.82 and $23.80. Given the $0.65/share dividend, this suggests that AGNC likely experienced a negative total return quarter in Q4, however AGNC is likely still trading at a significant discount to its Q4 book value, with market value closing at $20.95 on 1/31/14 as the Fed tapers QE purchases.
Conclusions
The most important figure for the dividend is the taxable income figure, which only includes the realized items on the balance sheet. This includes interest income, any closed-out MBS positions, and any expired or closed-out hedge positions. For Q4, our projections suggest between $0.61/share and $0.76/share in interest income. A great deal of AGNC's portfolio was repositioned in the past two quarters, so there most likely were not overwhelming basis losses on its MBS holdings going into the quarter, however continued depreciation has made it likely that any significant repositioning activities would have a negative impact on this figure. With only $219M in undistributed taxable net carried over from Q3 ($0.61/share for the adjustment in outstanding shares), taxable income is certainly an important metric for projections going forward after dividend cuts in 3 consecutive quarters, as management is operating with less than a full quarter's implied distribution in its coffers. There is no basis to project with any confidence what total value of the losses AGNC will realize in order to reposition given the current environment, however what we do understand is that as rates began rising in December, management deemed a $0.65/share dividend appropriate. Although there was continual movement in the market, the movement wasn't extreme enough to suggest management's view at that juncture didn't properly reflect Q4 performance.
With respect to current book value and Q1 movement thus far, we have seen price appreciation in the MBS market, and current book value is almost certainly above the figures AGNC will report on 2/3/14 (which we believe will be materially higher than current market price to begin with). That being said, management may have lost its appetite for buybacks in the near term, having spent just over $925M on buybacks since the measures were approved roughly a year ago, including $850M in the past two quarters. Management is only approved to spend $1B in aggregate on buybacks through its program, and since further measures have not been announced, we assume that management is not waiting in the wings to support the stock price should earnings significantly miss expectations.
From an actionable perspective, assuming a positive scenario for the taxable income figure, AGNC's implied discount to book value (>10%) leaves significant room for market appreciation in the short run. This upside potential is particularly significant as the Fed's exit from the market likely signals a shift in market pricing for mREITs to more closely align with book value. We are optimistic about AGNC's position going into earnings, with the caveat that the lack of buyback protection adds additional downside exposure to investors in a negative scenario. We feel comfortable holding an exposed AGNC position through Q4 earnings, while acknowledging that there is potential for high variance in either direction.
Disclosure: I am long AGNC. I wrote this article myself, and it expresses my own opinions. I am not receiving compensation for it (other than from Seeking Alpha). I have no business relationship with any company whose stock is mentioned in this article.