Progenics Pharmaceuticals, Inc. (NASDAQ:PGNX) has been making headlines and is likely well known at this point for its recent drastic depreciation of share price. Within the past trading week alone, shares of PGNX have decreased over 25% to end up in the mid to high $4 range. My goal within this article is to provide a fair insight as to why this current level might be a great opportunity to invest within this company.
PGNX was sitting at a 52 week high only two weeks ago, where it peaked at $7.45. A series of recent events, deemed negative, have since dropped the price to the current level. The reasons why I believe the bears got it wrong, and PGNX is a buy, are outlined below:
PSMA ADC Phase II Results Presented at Genitourinary Cancers Symposium 2014
PSMA ADC is a proposed prostate cancer treatment by PGNX. The details of the mechanisms by which this drug works have been outlined in a previous article.
Data from the Phase II results for PSMA ADC was first made available to the street in the form of a poster abstract - which was later to be presented. It was outlined within this abstract that two deaths had occurred during treatment. This immediately sparked a selloff in PGNX shares, as the stock price plummeted to an open of $5.29 the following day compared to a previous day close of $6.20. The selloff continued due to worries about positive data and patient deaths, resulting in lows of $4.26 a share.
The answer to the patient deaths worry has been quite clear - the Wall Street selloff was a misguided overreaction. As stated above, PSMA ADC is used for cancer patients. Deaths are unavoidable due to many complications that can arise. Additionally, the Phase II results released thus far have been with taxane-refractory metastatic castration-resistant prostate cancer patients. To put it bluntly, the type of cancer these patients deal with has progressed to an advanced stage (metastatic), and resists both other medications (taxane-refractory) and even castration itself (castration-resistant). Unfortunately they are the sickest of the sick.
Experts agree. A medical doctor at Memorial Sloan-Kettering Cancer Center in New York City, Dr. Susan Slevin reported the following to Medscape Medical News: "The deaths were unrelated to treatment. One death was due to line sepsis and the other to urosepsis. These are events that can occur during any other cancer treatment and, therefore, are of minimal concern."
The executive vice president of medical affairs at Progenics, Dr. Robert Israel, had something similar to say. He was quick to note that both patients who died of sepsis had underlying causes. "One had an indwelling central line and the other had repeated urinary tract infections. The patients were heavily pretreated and didn't have much in the way of other options."
Apart from this, results for PSMA ADC were positive, despite bearish critics claiming "mediocre at best." I find it is much easier to put a negative spin on a stock that is free falling than a positive one. As outlined in the clinical Phase II study, Progenics looked to monitor:
Changes in tumor assessments (RECIST)
Changes in serum PSA
Changes in circulating tumor cells (CTCs)
The most underwhelming result came from RECIST measurements, shown below: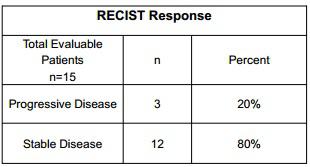 A RECIST measurement is used to determine if a patient is improving, staying the same, or worsening. In the case of stable disease, a patient is staying the same. Before you deem the treatment worthless based off of these results, remember the patients that are being treated. A cancer that has become metastatic is continually worsening, and day by day, reducing the time a patient has left. It is already known that other chemotherapies will do nothing in preventing disease progression due to the cancer's resistance. Castration is also, obviously, not an option. As an endpoint for FDA approval of cancer drugs, either Overall Survival (called OS) or Progression-Free Survival (called PFS) are deemed suitable measures. OS compares the amount of time a study patient survives compared to other treatments, and PFS describes the length of time patients survive without disease progression. From the data above, it is clear that PSMA ADC is able to i) prolong patient survival time through stability of metastatic cancer and ii) provide patients with extended durations of progression-free disease. Each of these determinants would prove to be positive data in the eyes of the FDA.
With that said, PSMA ADC still has much more to offer to prostate cancer patients. The advantage of prolonged life that PSMA ADC can offer to patients where "nothing else is effective" has already been mentioned. However, the benefits also extend to taxane-naive patients. PSMA ADC can easily prove to be an effective treatment due to the apparent advantage over current chemotherapies and become the gold standard for prostate cancer. Confidence from the ongoing Phase II PSMA ADC trial in resistant and metastatic cancer has resulted in PGNX currently recruiting patients for an extended trial.
With respect to serum PSA and CTC reductions, PGNX saw the greatest amount of positive data. There was a PSA reduction >= 30% in ~38% of patients.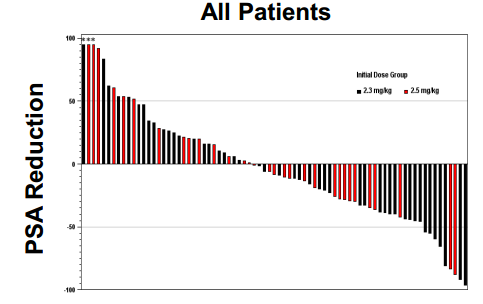 In addition, there was a reduction of >= 50% CTCs in >70% of patients.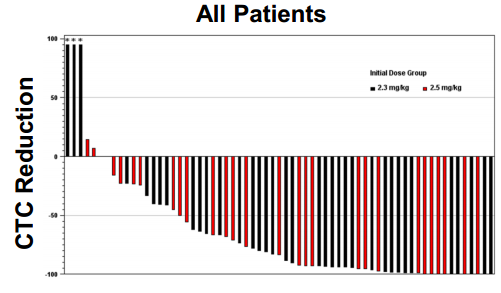 A recent study has indicated that CTC counts are effective at estimating treatment benefits. This, coupled with the results mentioned above, paint an overall positive picture for PGNX. Additional data from an "easier" trial cohort (taxane-naive) will further boost this claim.
PGNX has also been developing a type of imaging for diagnosing prostate cancer, deemed MIP 1404. The results from the Phase II study for this procedure have been overshadowed by the reported deaths for PSMA ADC debacle. Despite this, it should be known that MIP 1404 displayed outstanding results with "high sensitivity (94%), specificity (100%) and accuracy (94%)." In fact, it outperformed MRI measurements by characterizing prostate cancer better. MIP 1404 characterized prostate cancer in 94% of patients matched with MRI, which only fared 81%. It is of my opinion that these outstanding results have not been priced into PGNX over the recent commotion.
Many investors have been led astray due to the recent mixed shelf filing on January 23, 2014 by PGNX. It is worrisome due to the depreciation in value a share price can experience after such an event. However, I would like to note that it is still nearly two weeks away before it can even possibly be used. Thus, at the time of this article, an investor need not consider this for quite some time. It is also in my opinion that PGNX would not make use of this filing at the devalued share price. As a company, it would not be within their best interested to follow through with such an action at such prices.
Company Confidence Going Forward
I always like to consider the confidence of a company and other partners in going forward. The recent appointment of Dr. Karen Ferrante to the Board of Directors is a good sign in my eyes. She specializes in oncology and clinical development, and thus demonstrates the confidence PGNX displays for their future in oncology with respect to PSMA ADC and MIP 1404. In addition, a recent SEC Form 4 Filing by Dr. Karen Ferrante on January 30, 2014 signifies the confidence she maintains within these treatments going forward. Lastly, it is also noteworthy to mention that BlackRock, Inc. recently doubled their position in PGNX. This indicates the confidence partners have within the company in going forward. All demonstrate a positive outlook.
To wrap it up, I've determined that the recent events regarding PGNX have provided investors with an opportune buying point. The reported deaths within the PSMA ADC study was widely blown up within the media, leading to a massive selloff. The fact that PSMA ADC is not causative for each of the deaths has yet to reach the street. Furthermore, the selling of PGNX shares overshadowed positive data for both PSMA ADC and MIP 1404. Each of these should help to boost current share price levels. Lastly, recent moves within (and outside) the company have displayed a great degree of confidence in going forward. It is of my opinion that we should display that same confidence.
Disclosure: I am long PGNX. I wrote this article myself, and it expresses my own opinions. I am not receiving compensation for it (other than from Seeking Alpha). I have no business relationship with any company whose stock is mentioned in this article.